This healthy homemade chicken sausage has a lot going for it. It has great chunky texture, fantastic flavor and has no added fat. Instead, it uses a little bit of unflavored gelatin to hold the meat pieces together and help the sausage retain all the moisture. I loved the results so much that it will become a regular in my kitchen. A chicken sausage that has the same amount of calories as a baked chicken breast, if  you use all chicken breast meat.
A typical chicken sausage is made of finely ground chicken meat, including white and dark meat, as well as fat, skin and trimmings. Sometimes pork fat is added to improve texture. It's also more often poached rather than smoked or baked. The end product has that bologna texture to it, which I am not a big fan of.
Instead, I wanted to make my chicken sausage chunky, with defined texture, and free of any added fat. I recalled that some sausages make use of gelatin as a bonding agent so I decided to use it for my homemade chicken sausage. I found a source on chicken sausage formulations with gelatin which mentions that commercial formulations use 0.5% of gelatin. That's the ratio that I went with.
Evaluating the end result, I think 0.5% gelatin content worked quite well. You don't see much of it in the sausage, but it did help the sausage retain all the liquid released by the meat and filling up cavities between the meat chunks. As you eat the sausage, gelatin melts, releasing all those flavorful juices.
For this chicken sausage I wanted well-defined texture, so I hand cut the meat into 1/4-1/2″ chunks, which worked really well. It doesn't matter which meat you use – you can use all chicken breast meat, or a combination of different parts. Since I am a big fan of baked chicken breast meat, I went with 3/4 breast meat and 1/4 chicken thigh meat, which I liked a lot in the end. Although, I think 100% chicken breast meat would have worked just as well.
For the spices I went with the usual salt, pepper, a little bit of cayenne pepper and Spanish smoked sweet paprika, a combination that worked so well in my Baked Chicken Breast recipe. In an effort to increase flavor and add more moisture, I also added some finely chopped yellow onion and pressed garlic.
I went with 6 cloves of garlic which resulted in garlic coming through a tad too strong, so in the final recipe I cut garlic in half.
Overall I am extremely happy with the results. The flavors are great. The appearance is very nice. The sausage slices very nicely. Once you remove the casing it holds together surprisingly well. You will have a chunk or two separate from a slice here and there when you peel it, but that's not a big deal. The sausage peels much better after a day in the fridge, but you will have some spots that are harder to peel where the sausage was touching hot metal during baking.
Homemade chicken sausage – illustrated preparation steps
Step 1 – prepare the the meat and the spices.
Step 2 – mix the ingredients.
Mix the meat, the spices and cold water with both hands, until all ingredients are mixed really well.
Step 3 – stuff the meat into fibrous sausage casings.
You can get creative and use something like oven bags but using 60mm (2 1/2″) Fibrous sausage casings is the best way to go. They will hold the liquids inside the sausage much better and help the get distributed evenly. You will get a much better shape too.
You can use a sausage stuffer to stuff the meat. However, doing it by hand works really well too as the casings are fairly wide and you don't need to worry about air pockets. This is not a salami we are making here. Either spoon the meat right into the casing, or use a wide funnel or sausage stuffer attachment with a thick enough stick. It took my daughter and I about 15 minutes to stuff 2 sausages.
Push the meat down to the bottom of the casing, trying to expel as much air as possible. Tie with a piece of twine and you are ready to bake.
Step 4 – bake you homemade chicken sausage.
I think the best way to cook this homemade chicken sausage is to smoke it low and slow. You would need to add pink salt when cooking low and slow. But we are not doing that today. We are baking. I set the temperature to 375F to expedite the baking time. Even at this temperature it took a whole 1 hour and 10 minutes to get to 160F internal temperature.
I prickled one sausage at the top with a thin needle and inserted a BBQ thermometer probe in it. I left the other sausage as is just to see how each turns out.
Both sausages finished baking nice and plump, with no bursts and no juices leaking out. However, as soon as I removed the probe from the sausage hot juices started vigorously squirting out. Bad idea! All those juices could have stayed inside the sausage.
Caution!!!
Do not check internal temperature of the sausage in this recipe with an instant read thermometer. A small prickle towards the end of baking will cause hot juices to be released vigorously and may cause burns.
If using a BBQ thermometer, do not pull out the probe until the sausage cools down a little. As the sausage is cooling down, it will start to wrinkle. That's a good indication that you can remove the probe. Give it 30 minutes to be sure.
If not using a BBQ thermometer, I suggest you bump the baking time to 1 hour and 15 minutes just to be on the safe side. Remove the sausages from the oven and don't cut them until they have wrinkled up.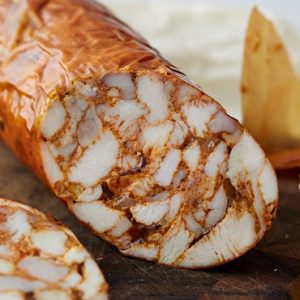 Healthy Homemade Chicken Sausage
Print
Pin
Rate
Cook Time:
1
hour
10
minutes
Total Time:
1
hour
30
minutes
Ingredients
3

lbs

boneless

skinless chicken breasts, cut into 1/4-1/2-inch cubes

1

lb

boneless

skinless chicken thighs, cut into 1/4-1/2-inch cubes

1 1/2

tsp

freshly ground black pepper

2

Tbsp

Spanish smoked sweet paprika

30

g

about 6 level teaspoons kosher salt

3

garlic cloves

minced (plus more for a more garlicky taste)

1/2

cup

yellow onion

very finely chopped or grated

1/2

tsp

cayenne pepper

for a very mild spicy taste, plus more to taste

1

pouch flavorless gelatin

about 7.5 grams by weight

1/2

cup

cold water

2 60

mm

2 1/2 inch by 20 inch fibrous sausage casings
Instructions
Preheat oven to 375F.

In a large bowl, mix all of the ingredients really well, using both hands.

Divide the sausage mix into two equal parts and stuff into fibrous sausage casings.

Expel as much air as you can, slightly tighten the meat and tie with a piece of twine.

Place the sausage on a baking pan lined with aluminum foil and fitted with a cooling rack.

Bake at 375F for 1 hour and 10 minutes, until the internal temperature reaches 160F.

Carefully remove from the oven and let cool for about 30 minutes. If you were using a BBQ thermometer, DO NOT REMOVE THE PROBE UNTIL THE SAUSAGE HAS COOLED DOWN AND STARTED TO WRINKLE. DO NOT CHECK THE TEMPERATURE USING INSTANT READ THERMOMETER. As soon as you remove the probe or prickle the casing hot juices will squirt out under pressure, which may cause burns and will cause the sausage to taste dry later.

Refrigerate overnight or for 24 hours before slicing and serving.