Have you ever tried leek pate? How about Georgian leek pate made with leeks and walnuts? If you like walnuts you will definitely enjoy this. If not so much, you can skip the walnuts or substitute them with other nuts, it will still taste great. Though, instead of the traditional bread or chips, serve it on lettuce leaves with sliced grilled or baked chicken breast. You will have some of the most delicious and healthy chicken lettuce wraps.
As much as I like trying dishes from the Caucasus, I was completely unaware of the Georgian leek pate until I saw the recipe in the book called Taste of Persia, which takes you on a wonderful culinary tour of Armenia, Azerbaijan, Georgia, Kurdistan and, of course, Iran.
I tried it and immediately fell in love with it. Rich, nutty and very flavorful, it could complement many different dishes I thought. It's great as a dip for chips, lavash, crackers or simply spread on a piece of toast or a slice of freshly baked sourdough bread.
But most of all, and I can't recall how exactly I came up with this idea, I like it spread generously on a leaf of lettuce and topped with sliced grilled chicken breasts. Baked or roasted chicken breasts are great too, both hot from the oven and cold from the fridge.  I use the cold ones for lunch. It only takes minutes to get some lettuce rinsed and some chicken sliced and your lunch is ready to go.
Enjoy!
The Georgian Leek Pate recipe is adapted from Taste of Persia by Naomi Duguid.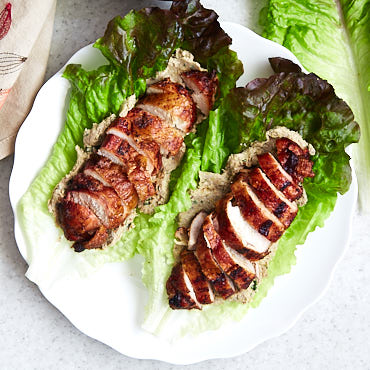 Healthy Chicken Lettuce Wraps with Leek Pate
Ingredients
4

skin-on or skinless

boneless chicken breasts, grilled

4

lettuce leaves

For the Georgian leek pate:

6

medium leeks

white and tender green parts, sliced and rinsed well

1½

cups

walnuts

1½

tsp

pressed garlic

½

teaspoon

powdered dried red chiles

or to taste

1

teaspoon

ground coriander

1½

tsp

ground dried fenugreek

¾

tsp

sea salt

or to taste

1

Tbsp

white wine vinegar or cider vinegar

or to taste

¼

cup

finely chopped fresh coriander

or a mix of coriander and tarragon
Instructions
Place the chopped leeks in a large pot, add about 2 cups water and bring to a boil. Cover

and simmer for 10 minutes. Then remove the cover and continue simmering for another 10 to 15 minutes until the leeks are very tender. Drain and set aside.

Grind the walnuts and garlic to a coarse paste in a food processor or a large mortar. Add the spices and salt and pulse or stir if mixing by hand. Add the leeks and the vinegar and process or pound to a coarse paste.

Transfer to a small deep bowl and stir in the chopped herbs. Taste and adjust the seasonings if necessary. Cover the bowl and refrigerate for a few hours, preferably overnight before serving.

Spread the pate on lettuce leaves and top with sliced grilled or chicken breasts.

Serve immediately and enjoy your healthy chicken lettuce wraps.
Recipe Notes
The Leek Pate recipe will make a lot more than you will need for 4 chicken lettuce wraps, about 4 cups. You use it for other purposes, it will keep in the fridge for at least a week, or scale down the recipe accordingly. If you do decide to scale it down, it may be a challenge to use a food processor with small quantities of ingredients.