I found this recipe while browsing through a very old book of desserts from Karpaty region in Ukraine.  It's one of those old fashioned caramel cake recipes from scratch that I am very fond of. The name of the cake in the book is 'Very Tasty Coffee Cake'. Oh boy, is it very tasty! This turned out to be one of the best caramel coffee cakes I've ever made or tasted.
The cake is airy and soft. Moist, but not tiramisu cake moist. It feels light and is full of coffee and nut flavors. I used freshly made espresso in the filling to get a more pronounced coffee flavor, similar to what I do when making red velvet mini cupcakes. The filling is like soft caramel, coffee caramel. The cake was heavenly. This recipe is a definite keeper.
We couldn't wait to try it, so we only let it set in the fridge overnight before cutting. It was delicious. I then tried another piece a day later – the cake tasted even better – moister and more delicate. If you can make it a day or two in advance – do it, it's definitely worth it.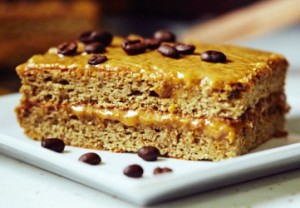 Hazelnut Caramel Coffee Cake
Ingredients
8

large eggs

160

g

powdered sugar

150

g

roasted hazelnuts

finely ground

3

Tbsp

dry unseasoned bread crumbs

finely ground

1

Tbsp

roasted coffee

finely ground

For the filling:

100

g

espresso or strong black coffee

3

egg yolks

mixed

200

g

butter at room temperature

200

g

granulated sugar
Instructions
Preheat the oven to 375F.

Separate egg yolks from egg whites. Place egg yolks in a large bowl, add powdered sugar and whip until the the mix nearly doubled or even tripled in volume. Keep whipping the egg yolks while slowly adding hazelnuts, bread crumbs and black coffee a little bit at a time.

Whip egg whites to firm peaks. Using a spatula, gently fold whipped egg whites to the egg yolk mix.

Turn the batter onto a 16 x 12 inch baking pan lined with parchment paper and spread evenly.

Bake at 375F for about 30-35 minutes. You may want to check for donness at 20-25 minutes with a toothpick.

Remove from the oven and let cool on a cooling rack without removing from the baking pan.

Now prepare the filling. Place sugar in a medium size pot, add espresso (or strong coffee), bring to boil and simmer over medium-low heat until the liquid thickens, about 10-12 minutes. Remove from the heat and let cool for about 3-5 minutes. The temperature should be no higher than 175F - 180F - use your candy thermometer to check the temperatures if you have one. Now slowly pour egg yolks into the syrup while constantly stirring. If the temperature is too high egg yolks will cook and turn into hard pieces. Start with a few drops first, if the syrup is too hot way a minute or so and try again. Once egg yolks are incorporated, add softened butter and beat until the cream is soft and airy.

Once the biscuit has cooled down, gently remove from the pan and cut in half. Spread the filling on top of each layer. Decorate with coffee beans and refrigerate overnight or longer. This cake gets better the more it is refrigerated. You can make it a day or two in advance.
© 2018 i Food Blogger. All rights reserved. All images and content on this website are copyright protected. Please do not use my images, as is or modified, without an explicit permission. If you wish to republish this recipe or post content, please rewrite it in your own unique words and link back to this post, or to ifoodblogger.com. Thank you!