I love late summer – early fall. The harvest season. The peach season. Local Ontario peaches are marvelous. I can think of dozens of things to make with them, like peach jam, Homemade Peach Ice Cream, Fresh Peach Dump Cake and many more. Grilled peaches taste especially delicious due to deeper, enhanced flavor as a result of cooking over direct heat. Grilled pork tenderloin is also one of my favorite meats. It's lean and very tender. And it pairs really well with sweets, like grilled peaches. The sweet, smoky harmony of grilled pork tenderloin and grilled peaches. Delicious!
To complete the dish I am going to add baby arugula which is a very good accompaniment to both peaches and pork. Arugula is often paired with a sweeter balsamic vinegar, which balances well with its peppery notes. Its leaves are soft and chewy and feel pleasant in the mouth. Peaches are also often paired with balsamic vinegar to add some acidity and balance out sweetness.
To complete the dish I am going to add a couple of splashes of good extra virgin olive oil and some roasted pine nuts.
Though tender and juicy, pork tenderloin on its own is not a very flavorful meat. You can change that quite easily by applying your favorite spices. I like to use the usual salt, pepper, garlic and onion powder, as well as herbs, like marjoram which goes well with pork. Herbes de Provence, a mixture of herbs typical of the south of France, is another good accompaniment to pork tenderloin that I like to use.
I think Herbes de Provence work really well in this recipes as the floral notes of the herbs work well both with the pork and the peaches, bringing the flavors of both together.
There is no need to marinate pork tenderloin, it will come out perfectly tender and juicy as long as you cook it to 140F internal temperature.
When grilling peaches, I use grapeseed oil since it has very high smoking point. Two-three minutes per side is all that's needed to get some grill marks and soften them up.
I grill both peaches and tenderloin over high heat, about 400F-450F at the grate, keeping the lid closed. This way I can easily monitor the temperature inside the grill and prevent flareups.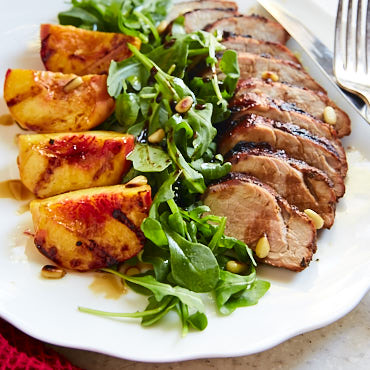 Grilled Pork Tenderloin, Peach and Arugula Salad
Print
Pin
Rate
Ingredients
4

cups

baby arugula

2

pork tenderloins

4

large fresh peaches

pitted and cut in half

4

pinches

of good quality sea salt

Grapeseed oil for brushing peaches

For the grilled pork tenderloin rub:

1

Tbsp

olive oil

1

Tbsp

dark soy sauce

optional

2

tsp

salt

plus more to taste

2

tsp

granulated garlic

2

tsp

granulated onions

2

tsp

Herbs de Provence

1/2

tsp

freshly ground black pepper
Instructions
Preheat the grill to 400F-450F at the grate level

Rub the tenderloins with olive oil, then apply the salt and the spices. If using soy sauce, apply together with oil, then apply the salt and the spices

Grill pork tenderloins over direct heat with the lid closed about 5 minutes per side, until the internal temperature of 140F. Remove from the grill and let rest

In the meantime, brush peach halves with grapeseed oil and place on the grill cut side down. Grill about 2 minutes per side, until you see visible grill marks and the peaches have softened

Slice the peaches in quarters. Slice the pork tenderloin to the desired thickness. Plate and add baby arugula. Sprinkle about a pinch of sea salt per peach to help balance out sweetness. It's optional, but I like it that way. Sprinkle some pine nuts. Drizzle some olive oil and balsamic vinegar, and serve hot
Notes
Herbes de Provence is a mixture of dried herbs typical of the Provence area of France. It's available at most grocery stores. If not, you can get them from Amazon. I like these
Herbes de Provence imported from France
. I like to use a tablespoon of dark soy sauce for flavor and the color it gives the meat. It's completely optional to use. Keep in mind that dark soy is thicker and less salty than regular or light soy. If you make a substitution you need to account for that.