When I think of grilled corn on the cob I think of elotes, Mexican street food which is basically grilled corn smothered with a mix of mayo and Mexican crema, spiced with Ancho or Guajillo chili powder, and sprinkled with Cotija cheese, chopped cilantro and lime juice. Those are so delicious that I can eat two or three of them at one sitting. I normally like to stay true to authenticity and use all original ingredients. No substitutions. Except this time around.
Depending on where you live, getting Cotija cheese and Mexican crema may or may not be a challenge. Not a huge challenge for me, living in a large multicultural city, but I try to experiment and come up with new recipes, especially the ones that use the ingredients that you readily have in your kitchen.
This recipe uses four easy to find ingredients – corn, mayonnaise, fresh garlic and bacon. Bacon makes almost any food better, like Bacon Wrapped Chicken Breast Kebabs or Deep Fried Oreos, and grilled corn on the cob is no exception. Add salt and cayenne pepper to that if you count them as ingredients. Chopped parsley, lime juice and grated Parmesan cheese are the icing on the cake. They are not required, but very nice to have.
I like to grill corn in husks, followed by a short period of 'naked' grilling. This gives me better control over final product and prevents charring and burning of corn. If you like, you can grill the corn 'naked'  or wrapped in foil. There is a link at the end of this post to a resources that explains various grilling methods in detail.
Start with the freshest corn possible.  Grill over direct heat for about 30 minutes, turning every few minutes. The corn now will be nice a soft and ready to eat. Almost.
This step is not totally necessary, but I highly recommend it – pull the husks back and grill the corn for another 10 minutes or so, frequently turning. This will give the corn nice caramelizaiton and flavor.
Now, smother each cob with the garlic and mayo mix, sprinkle with bacon and other optional garnishes and enjoy.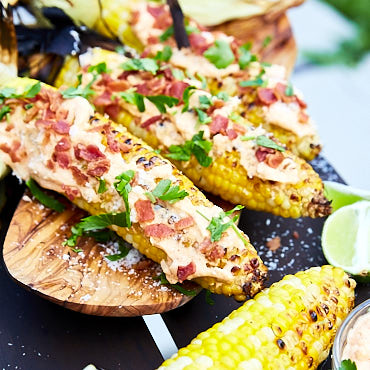 Grilled Corn on the Cob with Garlic, Mayo, and Bacon
Print
Pin
Rate
Ingredients
4

very fresh corns on the cob

1/2

cup

+ 1 Tbsp mayo

1/2

Tbsp

minced garlic

add 1/2 Tbsp more for a really garlicy version if you like garlic

1

tsp

kosher salt

1

tsp

cayenne pepper

add 1/2 tsp more for a bigger kick

2

Tbsp

bacon bits

1

Tbsp

chopped parsley

1

lime

quartered
Instructions
Preheat the grill to medium heat, about 325-350F.

In a medium size bowl, combine the mayo, the garlic, the cayenne pepper and the salt. Set aside.

Peel back the husks on the cobs, remove all the silk, then fold the husks back into place. I find it easier to deal with the corn silk when it's not burning hot.

Grill the corn in husks for about 30 minutes, giving each husk a quarter turn every 7-8 minutes, until the corn is soft and ready to eat. Carefully remove each cob from the grill, peel back the husks and return to the grill. Continue grilling for another 10 minutes, frequently turning, until the corn is nicely browned and caramelized.

Remove the corn from the grill and place on a large tray. Smother with the mayo mix, sprinkle with the bacon, chopped parsley and Parmesan cheese on top.

Serve your grilled corn on the cob hot with a wedge of lime.
Links:
The Food Lab: 3 Ways to Grill Corn