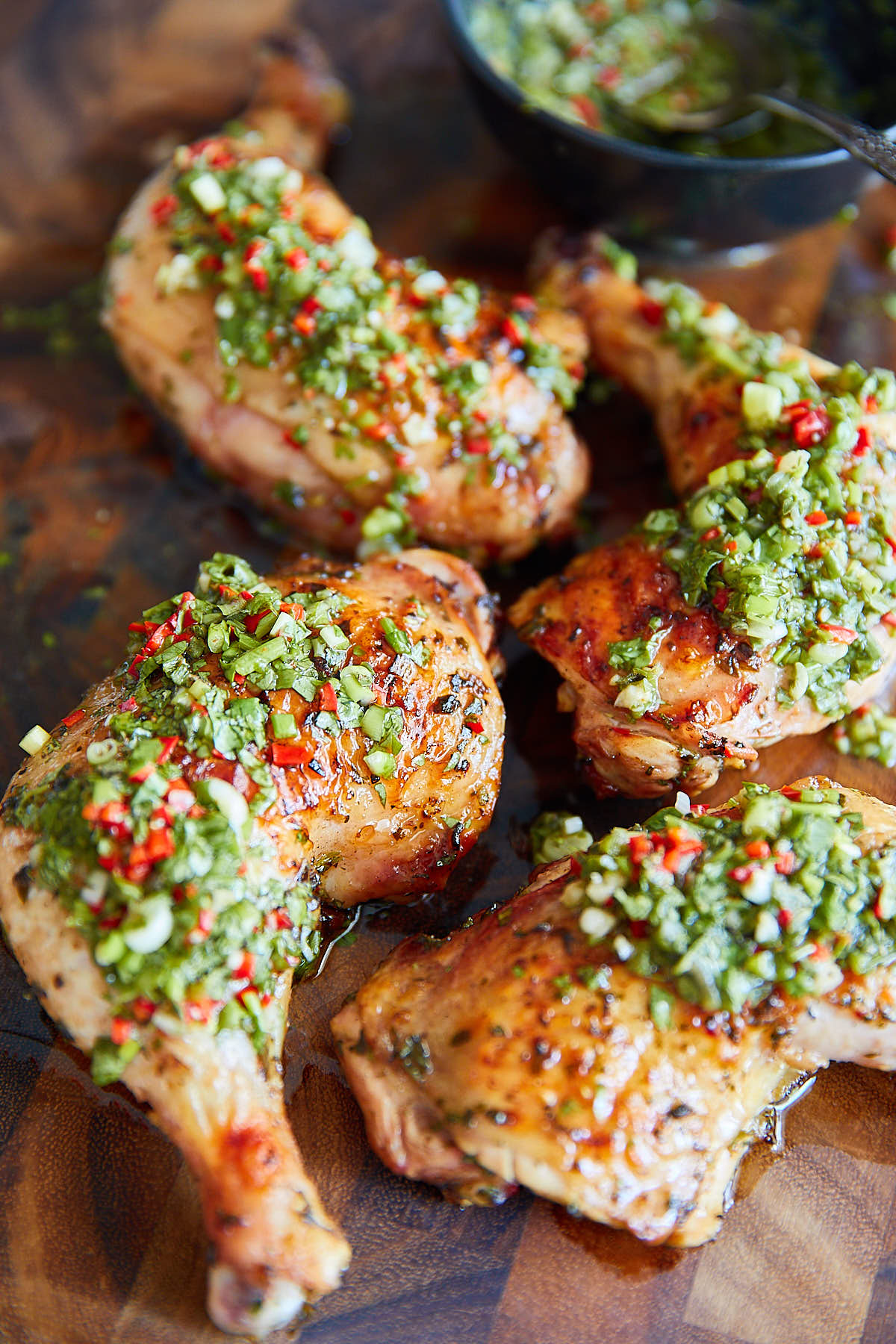 Grilled chicken legs are a delight to eat. Flavorful, tender and juicy meat, enveloped into a slightly charred, crispy skin is hard to resist. Add a marinade into the equation and you will get a flavor bomb. My all-time favorite Kickin' Grilled Chicken Legs which use all but simple dry rub are no slouch, but these cilantro chimichurri marinated grilled chicken legs, served with even more chimichurri on top, are the new winner.
Best grill temperature for grilling chicken legs
Dropping chicken legs on a grill and just grilling is not the best approach. Chicken legs take a bit longer to cook than, say, chicken thighs and you want to achieve perfect doneness while making sure that the exterior doesn't burn. I find that 300F at the grate level on my charcoal grill works best for achieving a beautifully crisp but not burnt chicken skin. And the more sugar the glaze or the sauce you are using has, the lower the temperature should be.
Some more tips for grilling chicken legs
Always pat dry the meat before putting on a grill. Wet meat won't brown. If using an oil-based marinade, make sure to get as much oil off as possible as it will drip and case flare-ups.
Keep an eye on the chicken and flip frequently. This applies not just to chicken legs, but other meats as well. Direct heat can be treacherous – one minute everything looks perfect and the next the skin is charred.  Charring happens when the skin reaches a certain temperature level. By flipping often the skin temperature will never reach the point where it starts to char, and you will have a much better control over the level of browning you want to achieve.
Every grill has hot spots so make sure to move the legs around the grill to achieve consistent browning across multiple pieces of chicken.
Grill with the lid on. This will result in a faster and a more even cooking as the chicken legs will be cooking from both sides, not just from the bottom.  Having the lid closed will also prevent flare-ups.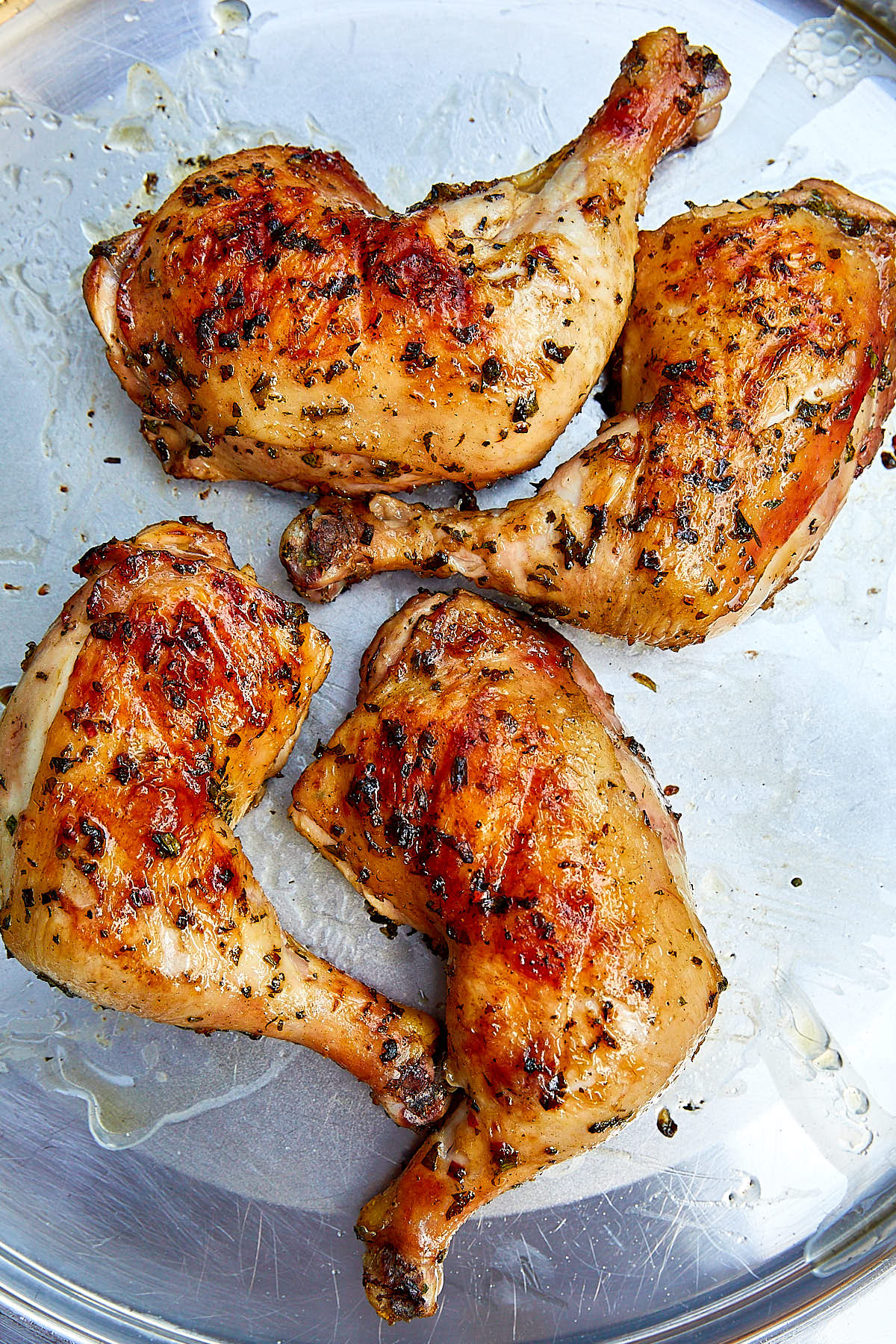 The right internal temperature for grilled chicken legs
There really isn't the right temperature, period. The minimum safe temperature for chicken is 165F. I like my dry-rubbed chicken legs cooked to about 180F – 185F, to the point where the meat is almost falling off the bone. In this particular recipe, chicken legs, marinated in chimichurri sauce, tasted better at 165F to me. It may have something to do with marination. But, again, there is no right or wrong here.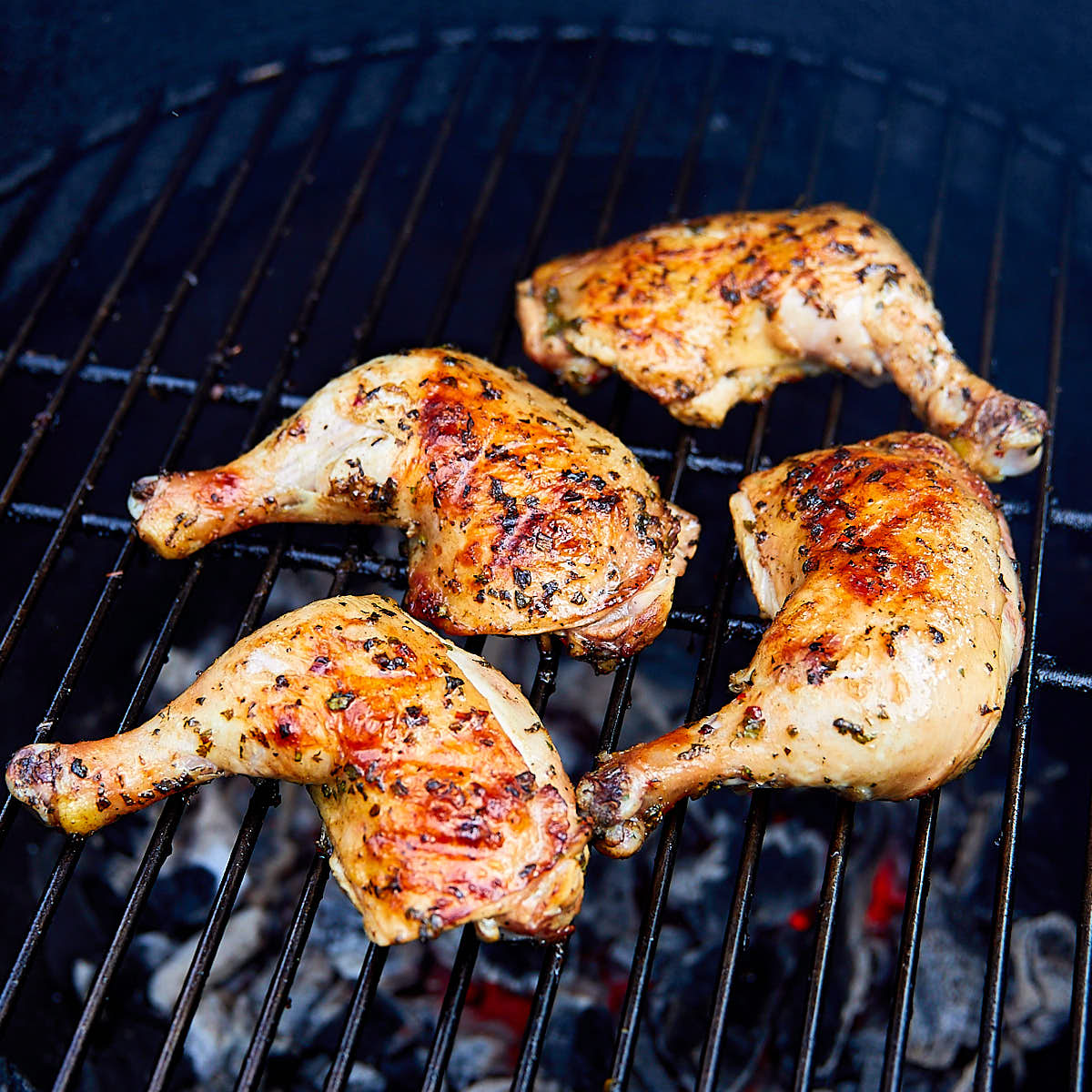 Looking for more great chicken leg quarters recipes? Check these out: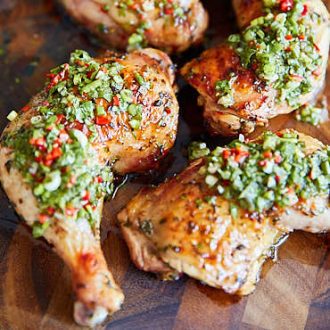 Ingredients
For the chimichurri sauce:
1/3

cup

finely chopped cilantro

(about 1/2 a bunch)

1/3

cup

finely chopped fresh oregano

(about 1/2 a bunch)

1/3

cup

finely chopped or sliced green onions

4

garlic cloves (minced or finely grated)

1

red hot chili pepper

(seeded, deveined and finely chopped. Optional if you don't like spicy food. If do, you can adjust the quantity to taste or substitute with 1/2 a teaspoon of red pepper flakes)

3/4

cup

canola or vegetable oil

1/4

cup

red wine vinegar

2

Tbsp

fresh lemon juice

1

tsp

kosher salt

(or to taste)

1/2

tsp

black pepper

(or to taste)
Instructions
Whisk together all of the ingredients for the chimichurri sauce in a small bowl and set aside.

Place the chicken legs in a medium bowl, add half of the chumichurri sauce and smother over chicken legs. Cover the bowl and refrigerate for at least several hours, or better yet, overnight and up to 24 hours.

Reserve the other half of chimichurri sauce for serving the chicken legs.

Preheat the grill to 300F at the grate level. Basically, the grill should not be very hot.

Remove chicken legs from the bowl and pat dry with paper towels. Some bits and pieces of herbs and chili pepper remaining on the skin are totally fine, but you want as much of the liquid and oil off as possible for better browning. Oil will also so drip can cause flare-ups. Discard any leftover chimichurri marinade.

Grill chicken legs over direct heat, flipping frequently, about every 3 minutes, until the chicken is cooked through and internal temperature has reached a minim of 165F.

Let the chicken rest for 3 minutes and serve with the reserved chimichurri sauce.
Nutrition
Calories:
655
kcal
|
Carbohydrates:
6
g
|
Protein:
22
g
|
Fat:
61
g
|
Saturated Fat:
39
g
|
Cholesterol:
119
mg
|
Sodium:
695
mg
|
Potassium:
383
mg
|
Fiber:
2
g
|
Sugar:
1
g
|
Vitamin A:
9.3
%
|
Vitamin C:
26.9
%
|
Calcium:
8.7
%
|
Iron:
15.1
%