Fried Eggplant with Garlic and Herbs – golden-brown, meaty and perfectly tender slices of fried eggplant rolled up with blanched garlic, fresh herbs and sprinkled with wine or sherry vinegar. It's quick to prepare, healthy and delicious!
Fried eggplant is one of those dishes that is hard to resist even when you don't particularly like it. It has that beautifully caramelized surface, while still being meaty, super flavorful and tender inside. This recipe pairs eggplant with garlic and fresh herbs that go really well together. You can have eat it on its own, as a snack, as appetizer or as a side dish.
You may also like Fried Eggplant with Rice and Tomatoes.
This dish is screaming autumn. Sure, you can get eggplant any time of the year (aren't we fortunate?), but I've always associated eggplant with autumn. That's when you see loads of them at local farmers' markets.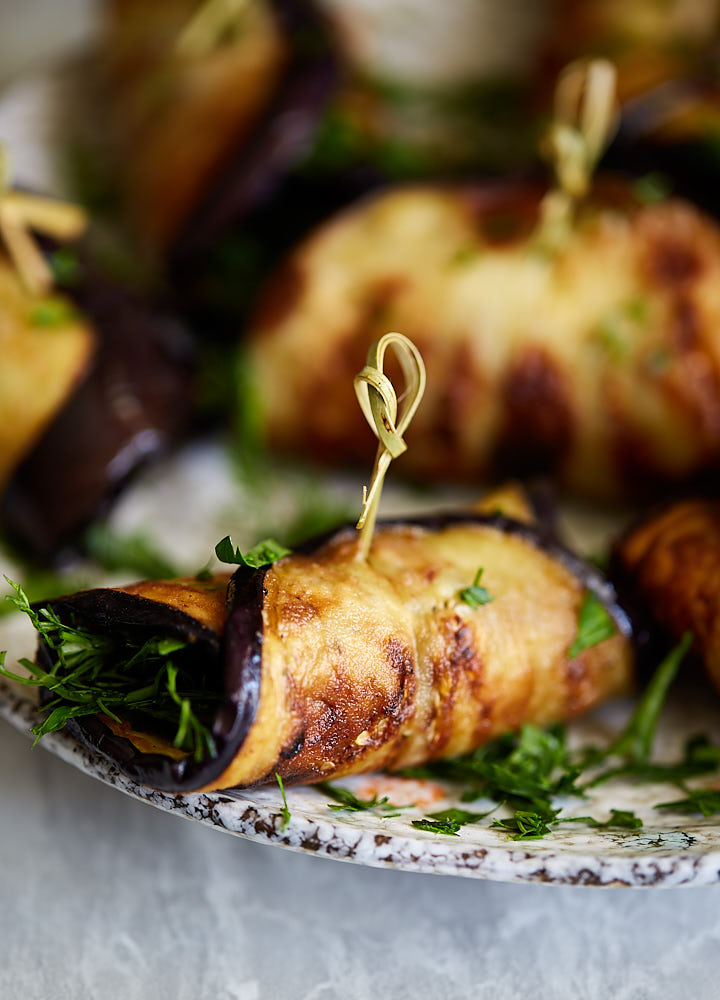 I love fried eggplant hot from the pan. I think it tastes best that way. There are many great eggplant dishes that are served chilled, but this particular one I prefer served warm. You can serve it chilled as well, and it will be fantastic, but I like it warm the most.
Enjoy!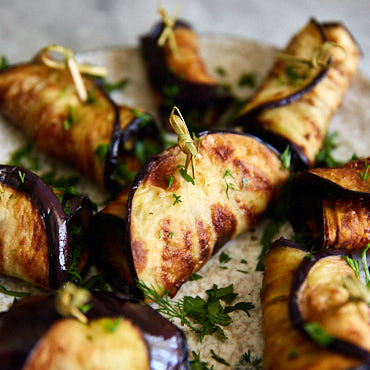 Fried Eggplant with Garlic and Herbs
Ingredients
1

large eggplant

about 1 lb

5

garlic cloves

1/4

cup

all-purpose flour

Olive

or vegetable oil for frying

Sherry or apple cider vinegar for sprinkling

you can also use dry wine

1/2

bunch fresh dill

finely chopped

1/2

bunch fresh parsley

finely chopped

or use you favorite herbs such as basil, cilantro, etc.

Salt to taste
Instructions
Prepare the brine by dissolving 2 tablespoons of salt in half a gallon of water at room temperature.

Slice the eggplant into 3/8" thick slices lengthwise. You should end up with about 8 slices. Place the brine and the eggplant into a large bowl. Place a plate on top to weigh the eggplant down. Let it brine for 30 minutes.

In the meantime, prepare the garlic and the herbs. To remove harsh taste from garlic, microwave it on high for about 10-20 seconds, until it's just warm to touch. If you prefer fresh garlic, use fresh. Mince or press the garlic and set aside.

Place the flour in a large shallow plate and spread around evenly. Set aside.

Remove the eggplant from brine. Dry with paper towels, firmly pressing each slice to squeeze out as much water as possible. Dredge eggplant slices in flour, shaking off excess and set aside.

Heat 2-3 tablespoons of olive oil in a non-stick frying pan over medium-high heat. Fry the eggplant, 3-4 slices at a time, for about 2-3 minutes on each side, until nicely browned. Do not over-cook as the eggplant will become mushy. Repeat until all eggplant slices are fried, adding 1-2 tablespoons of oil with each new batch. Set aside and let it rest for about 5-10 minutes. During this rest time the eggplant will become soft and flexible enough for rolling.

Spread an equal amount of pressed garlic on one side of each eggplant slice, sprinkle an equal amount of chopped herbs, add a pinch of salt or more to taste, then sprinkle a little bit of vinegar or wine. Roll each slice and place on a serving plate. You may want to use toothpicks to prevent the rolls from unfolding. Serve immediately or refrigerate for a few hours. Both ways are perfectly great.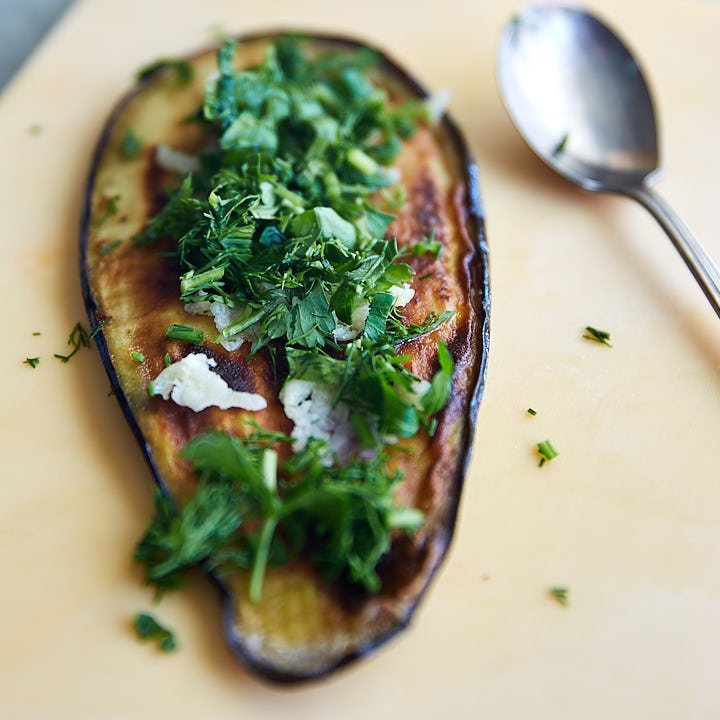 You may also like:
Marinated Eggplant and Tomatoes
© 2018 i Food Blogger. All rights reserved. All images and content on this website are copyright protected. Please do not use my images, as is or modified, without an explicit permission. If you wish to republish this recipe or post content, please rewrite it in your own unique words and link back to this post, or to ifoodblogger.com. Thank you!