This pan-fried chicken breast recipe turned out to be so good that I made it three times over the past week. I've finally perfected my whole chicken breast pan-frying technique, which gave me very tender and juicy breast meat. The honey garlic lime sriracha pan sauce is the real star here. Sweet and tangy, savory with a touch of heat, it makes you crave for more.
Chicken breasts are great. Did you know that chicken breast meat is the most consumed meat in America? Yes, since 2013, more chicken than beef was consumed in America for the first time in 100 years. It's fascinating. I've had success making super moist baked skinless chicken breasts by baking them at lower temperatures with a little bit of chicken stock added in the pan.  Baked bone-in, skin-on breasts have rarely given me a problem. Pan-fried whole chicken breasts are a different story though.
In my experience, thinly sliced chicken breasts, or cutlets, are best suited for pan-frying. Large whole breasts tend to dry out by the time the meat is cooked through. This is due to unidirectional heat movement in a pan. Since I've had so much success making super tender pan-fried chicken wings, I decided to apply the same method to chicken breasts. The trick is to sear the meat first then fry on the lowest setting, covered, until full doneness. I used skin-on breasts as they don't dry out as easily as skinless breasts.
Why would I want to do that? The answer is simple – time saving. One of my favorite chicken breast recipes, the crispy oven roasted chicken breast recipe, takes about an hour from start to finish to make. That's not including pre-heating the oven. Unfortunately, we don't always have the luxury of time with our busy schedules. To make a long story short, it worked like a charm and I was able to cut down the total cooking time from start to finish to less than 30 minutes.
The meat turned out very tender and juicy, just slightly less moist than the baked or roasted one, but markedly better compared to what I would get when pan-frying whole chicken breasts uncovered over higher heat. I think the sauce at the bottom of the pan also played a big role in keeping the meat moist.
This chicken packs a ton of flavor which it gets from the initial pan-searing and the from the honey garlic lime sriracha sauce. Serve it sliced with some pan sauce poured on top and garnished with a lime wedge and some chopped parsley. My favorite side dish for this chicken is mashed potatoes, but steamed rice or vegetables work really well too.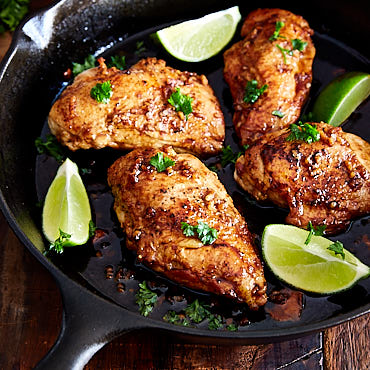 Honey Lime Sriracha Pan-Fried Chicken Breast Recipe
Ingredients
4

boneless

skin-on chicken breasts

2

tsp

sea or kosher salt

1

tsp

black pepper

2

Tbsp

olive oil

2

Tbsp

unsalted butter

1

lime

cut into 4 wedges

2

Tbsp

chopped parsley for garnish

For the sauce:

5

garlic cloves

minced

2

Tbsp

honey

1

Tbsp

sriracha sauce

mild, or 2 Tbsp for medium and 3 Tbsp for hot

Juice of one lime

1

Tbsp

dark soy sauce
Instructions
Heat olive oil and butter in a large (12") cast iron pan. When butter turns dark brown, place chicken breasts skin side down on the pan and sear over high heat for 2 minutes. Flip and sear for another 2 minutes. Pour the sauce all over the chicken breasts. Lower heat to low, cover the pan with a lid and simmer for 15-20 minutes, brushing the sauce over chicken tops every 5 minutes or so.

Once the chicken breasts have cooked through - juices run clear and internal temperatures has reached 160F, remove chicken breasts from the pan and let them rest for 5 minutes.

Serve with lime wedges, chopped parsley and the pan sauce which should be poured over sliced chicken breasts.
© 2018 i Food Blogger. All rights reserved. All images and content on this website are copyright protected. Please do not use my images, as is or modified, without an explicit permission. If you wish to republish this recipe or post content, please rewrite it in your own unique words and link back to this post, or to ifoodblogger.com. Thank you!