Do you get pleasantly surprised every now and again at how good some of the most simple recipes turn out? Peach dump cake is one of those surprise recipes in my book, for sure. I am a picky eater and have a tendency to think that more complex and advanced recipes result in more refined and complex flavors, rightly or wrongly.  Well, this peach dump cake recipe showed me that it ain't always the case. Like many home cooks out there, I struggled with this simple peach dump cake initially. Fortunately, after some experimentation, I concurred it. It works for me 100% of the time now.
In fact, this recipe has become so popular in our family that it's now a regular. The best part is that you can use any fruit or berries with this recipe, and they can be fresh, canned or frozen.
This year's Niagara peaches are abundant and absolutely delicious. We visited a farmer's market and picked up two half-bushels of these beauties. They looked and smelled so nice, and the price was so reasonable that I had to load up on them. I mean, why not, there are so many things you cam make with fresh peaches, such as the peach dump cake, right?
Preparing the peaches
For smoother texture of the filling I peel the peaches, which was not hard as the skin comes off easily when peaches are fully ripe. If they are not ripe enough, a quick blanching will solve the problem. Just carefully immerse the peaches in boiling water for about 30-40 seconds, remove and give them a cold shower. Now the skin will come right off.
The cake mix – commercial vs. homemade
Now, most every dump cake recipe I've seen out there calls for a store-bought cake mix. This technically makes sense. A dump cake is supposed to be easy, hence the name – just dump everything in the baking dish, bake and the cake is ready. Who wants to make own cake mix for the dump cake? This kind of defeats the whole purpose, right? Well, not exactly.
A cake mix is just a combination of four basic ingredients: flour, sugar, baking powder and salt. Every home cook will mostly likely have them readily available in the kitchen. Measuring these ingredients and combining them literally takes a couple of minutes, unless you are super disorganized and can't remember where you put your baking powder after the last bake. Going to the store to buy the mix will take much longer.
As well, in a homemade cake mix you won't be getting all the chemicals, wonders of modern food industry, and the resulting off flavors. The Kitchn wrote an interesting article on commercial vs. homemade cake mixes and concluded that there is virtually no time saving when using commercial cake mixes and that the homemade cake mix wins in taste department hands down. Speaking from my own experience, I couldn't agree more.
Making the peach dump cake work
The idea of dumping a few basic ingredients into a baking dish and getting a beautiful peach dump cake half an hour later is so appealing, which explains the multitude of dump cake recipes online. Do they work? I hate to break it to you, but… sometimes they do, sometimes they don't. I've had the hardest time making a dump cake work. I've had more success making my first mille-feuille than this supposedly super easy dump cake.
What doesn't work
For some unknown reason most peach dump cake recipes – and other dump cakes out there – emphasize that you are not to stir the ingredients. Why? Beats me. Will stirring make the effort less easy? Absolutely not. It only takes 15 seconds or so. But not stirring the ingredients is where the problem lies, I think. Maybe I am wrong.
As I said before, my initial attempts to make a peach dump cake kind of worked some time, but most of the time they did not. I tried close to a dozen different recipes. I tried to stick true to the process – so no mixing. This almost always created a problem – the cake mix would not get fully hydrated during baking and I would end up with a cake that has lumps of dry flour mix. Sometimes I would end up with the whole surface covered with toasted dry flour.
To fix the problem I covered the surface of the unbaked cake with butter pats, which was suggested by a couple of recipes I found online. The crust came out perfectly baked where I had butter pats, with patches of dry flour in between. Darn! I rescued it by covering dry flour patches with more butter pats and baking a bit longer.
Is the butter not covering the entire surface of the mix the problem? The next time I cut butter sticks very thinly to ensure I can cover the entire surface with the same amount of butter. That trick did barely anything to address the problem. The layer of butter too thin? Maybe. But I don't want too much butter in my dump cake.
Then I noticed that where flour mix touched the liquid in the baking dish the mix got hydrated and perfectly cooked. So I increased the amount of peach juice. That did not help much with the flour clumps and resulted in a liquid-y mess at the bottom of the cake. Not a good solution.
I also tried cutting the butter into the cake mix, like you would when making pie dough. I thought it would help, but it absolutely did not. The entire surface of the cake ended being dry, toasted flour. Again, I had to rescue it. I mixed the dry flour with the rest of the ingredients and baked for another 15 minutes. I came out looking messy, but still tasted delicious. I mean, here's what was left of it 8 minutes after I took it out of the oven.
So, why did it work some times? I have no idea. Nor do I care much. If it doesn't work every time, unless you as a chef mess up, it's a bad recipe.
What does work
When making a dump cake with fresh peaches or other fresh fruit it's important to make sure that the flower mix  gets properly hydrated and cooked during the bake to avoid dry flour clumps, we know that already. So, how do we get that? Obviously, dumping a bunch of dry cake mix over fresh peaches and sparsely covering the mix with butter pats doesn't work too well.
Through some experimentation I found that you need several things in place in order to make your peach dump cake work every time. Mix the ingredients!!! That's the only way that worked for me 100% of the time. If you do know of a way to not mix and get a perfectly cooked peach dump cake every single time, let me know.
Mix the ingredients
Reduce the amount of cake mix. Less cake mix means better hydration during baking. And fewer calories needed to be burned in the gym later. Most of the recipes I've seen call for about 4 cups of flour (one box of yellow cake mix). That's insane. Two cups are plenty enough.
With fresh peaches you need additional liquid. You see, canned peaches, often used to make peach dump cakes, come with a fair amount of liquid, which you don't discard and use in the cake, and that liquid is what helps moisten the cake mix and ensure proper cooking. As a result, when using fresh peaches you need to add a little bit of liquid. What works for me is adding about 1/2 cup of peach juice, or mango juice, or any other juice I have on hand.
The recipe was updated on August 27, 2016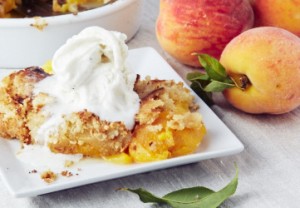 Ingredients
8-9

fully ripe medium size peaches

peeled, pitted and cut in halves

3

Tbsp

cane sugar

or brown sugar (optional)

1

Tbsp

brandy or cognac

optional, but HIGHLY recommended

1/4

cup

peach juice

or any other juice, such as mango juice

1

stick of butter

melted + 1 Tbsp for greasing

2

cups

of cake mix
Instructions
Preheat oven to 375 degrees F (190 degrees C)

Grease a 9x13-inch baking dish with butter

Place the peach halves with the brandy and sugar in a large bowl and mix

Add the melted butter, the juice and mix.

Add the cake mix and stir gently so as not to break the peaches, until there is no dry flour left.

Dump the batter into the greased cake pan and spread evenly, keeping the peach halves cut side down.

Bake in the preheated oven until top of cake is golden brown for about 35-40 minutes, depending on your oven. You may want to check for doneness at 30 minutes

Serve warm, topped with vanilla ice cream or whipped cream
Notes
To make the homemade cake mix, combine the following:
1 1/3 cup cake flour (all purpose flour will work just fine, I do it all the time)
2/3 cup fine sugar or powdered sugar
1 tsp baking powder
1/2 tsp salt