I have to say I haven't been exposed to Middle Eastern cuisine that much and my knowledge of dishes and flavors from that region is somewhat limited. So, when I got Ottolenghi and Tamimi's  Jerusalem: A Cookbook for Christmas, I had somewhat of a revelation. The combinations of flavors sounded unique and interesting. Lot's of new to me techniques. The pictures of dishes make you salivate. Some recipes in this book are easy and quick, some take quite a bit commitment. But they all seem to work very well if you follow the instructions. So far I've tried three recipes and they all turned out very well. Of the three, the fish cakes in tomato sauce was the biggest hit, and I made it twice already. In the book, it's called cod cakes in tomato sauce, but since you are given a choice of which fish type to use, I believe fish cakes in tomato sauce is more appropriate.
The recipe below is fully adapted from the book, without any changes. The recipe works beautifully, and it does not take too much time to make this dish.
When making the crumbs for the fish cake mix, you may use a food processor, as the recipe suggests. I did not have much luck with that as I used very fresh bread and my crumbs gathered into sticky lumps in the food processor. I think, a day or two old bread will work for this technique much better. Instead, what I did is soak the bread in a little bit of water and it got incorporated into the mix very nicely. That extra water did not make the mix too wet, looked like it could still use a bit more water in it.

Another interesting moment is I let the mix on one occasion sit in the fridge for about 6 hours before frying the cakes – they turned out extremely brittle and were falling apart on me while they were cooking. Still tasted great, but visually – a mess. Not 100% sure if it was the time in the fridge that caused this, but I am quite sure I did not change anything else.
These fish cakes both times turned out fantastic. Light, soft and, may I say, airy? That's what comes to mind. The sweet and slightly spicy sauce is delicious and is a perfect accompaniment for the fish cakes. Definitely, this recipe is a keeper, just as, most likely, many other recipes in this book.
Serve warm with your favorite side dish or on bread. Taste just as great, if not better, the next day. Just make sure to warm them up.
This recipe is adapted from Yotam Ottolenghi and Sami Tamimi's  Jerusalem: A Cookbook.
Enjoy!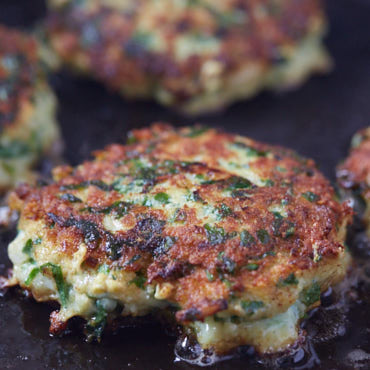 Fish Cakes in Tomato Sauce
Ingredients
3

slices

white bread

crusts removed (about 2 ounces / 60 g in total)

1 1/2

pounds

/ 600 g cod

sustainably sourced, halibut, hake or pollock fillet, skinless and boneless

1

medium onion

finely chopped (about 150g in total)

4

garlic cloves

crushed

1

ounce

/ 30 g flat-leaf parsley

finely chopped

1

ounce

/ 30 g coriander

finely chopped

1

tbsp

ground cumin

1½

tsp

salt

2

large free-range eggs

beaten

4

Tbsp

olive oil

Tomato sauce:

2½

Tbsp

olive oil

1½

tsp

ground cumin

½

tsp

sweet paprika

1

tsp

ground coriander

1

medium onion

chopped

125

ml

white wine

14

oz

/ 400 g can chopped tomatoes

1

red chili

seeds removed and finely chopped

1

garlic clove

crushed

2

tsp

caster

very fine sugar

2

Tbsp

mint leaves

roughly chopped

Salt and black pepper to taste
Instructions
Prepare the tomato sauce. Heat olive oil over medium heat in a very large frying pan for which you have a lid. Add chopped onion, then spices and cook for 8 to 10 minutes, until the onion is soft and golden brown. Add wine and simmer for 3 minutes. Add tomatoes, chili pepper, garlic, sugar, ½ teaspoon salt, and some black pepper. Simmer for about 15 minutes, until quite thick. Taste to adjust the seasoning and set aside

While the sauce is cooking, make the fish cakes. Place the bread in a food processor and blitz to form bread crumbs. Chop the fish very finely and place in a bowl along with the bread and everything else, except the olive oil. Mix together well and then, using your hands, shape the mixture into compact cakes about ¾ inch / 2 cm thick and 3¼ inches / 8 cm in diameter. You should have 8 cakes. If they are very soft, refrigerate for 30 minutes to firm up. (You can also add some dried bread crumbs to the mix, though do this sparingly; the cakes need to be quite wet.)

Heat half the olive oil in a frying pan over medium-high heat, add half of the cakes, and sear for 3 minutes on each side, until well colored. Repeat with the remaining cakes and oil.

Gently place the seared cakes side by side in the tomato sauce; you can squeeze them a bit so they all fit. Add just enough water to cover the cakes partially (about a scant 1 cup / 200 ml). Cover the pan with the lid and simmer over very low heat for 15 to 20 minutes. Turn off the heat and leave the cakes to settle, uncovered, for at least 10 minutes before serving warm or at room temperature, sprinkled with the mint
© 2018 i Food Blogger. All rights reserved. All images and content on this website are copyright protected. Please do not use my images, as is or modified, without an explicit permission. If you wish to republish this recipe or post content, please rewrite it in your own unique words and link back to this post, or to ifoodblogger.com. Thank you!