My favorite chicken is when it's moist and juicy on the inside and has a beautiful, crisp skin on the outside. I am guessing it's lots of people's favorite too. It's much easier to make this kind of chicken on a charcoal grill, but what about a good old kitchen oven? After some experimentation I realized that the key to getting a nicely crisp skin and juiciness of the chicken meat is pan-searing before cooking chicken in the oven. Just like you would prepare a steak if you did not have the luxury of a grill on your backyard or cooperating weather to use your grill. This recipe does not exactly fall under the category of quick chicken dinners – it takes over an hour from start to finish including marination – but it's very easy, quite healthy, and oh-so-worth-it.
A quick 30 minute marination (longer is better if time permits) will ensure proper infusion of chicken meat with flavors and will help keep the meat moist while you cook it. I try to not skip this step.
After the chicken has marinated, 2 minute per side pan searing over high heat will give the chicken beautifully colored bark that oven alone never will. To prevent burning and charring I start searing at 350F. You may want to use an infrared thermometer for that. I am a perfectionist at heart and like to see predictability and consistency from one cook to the next, so, personally, I always do. You can butterfly the chicken and cook like that, or split in halves. I usually split in halves as whole baked chickens are more difficult to split apart cleanly when they are hot from the oven.
Once beautifully seared, goes the chicken into a 450F hot oven to finish cooking, the same cooking temperature I use to make my oven baked chicken wings. I tried finishing on the skillet before but that did not quite work. At least not to my satisfaction. When pan frying uncovered, the chicken would turn out drier than I wanted it to be, the skin would be slightly overcooked/charred and acquire bitterness. When I finish it covered, it would steam in own juices and come out very tender and moist, but the skin would be soggy and soft.
You can preheat the baking sheet lined with foil too, but I found little difference, if any, in the end result. Just the cooking time in the oven would be about 5 minutes shorter if the baking sheet were pre-heated.
The chicken is done when internal temperature reaches 165F. Chicken meat, or any meat for that matter, starts to lose moisture very rapidly after about 160-165F, so it really pays to pull it at the right temperature. An instant read thermometer is my best friend, but any accurate food thermometer should do it.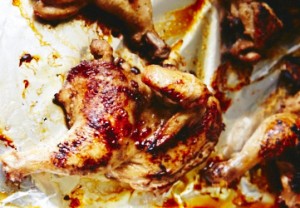 Pan-seared, Oven Roasted Whole Chicken
Total Time
1
hour
25
minutes
Ingredients
2

roasting chickens

butterflied or split in half

2

Tbsp

sesame oil

1

Tbsp

olive oil

2

tsp

kosher salt

plus more to taste

2

tsp

freshly ground black pepper

1

tsp

ground coriander

1

Tbsp

granulated onion powder

½

Tbsp

granulated garlic powder

2

Tbsp

lemon juice

1

Tbsp

brown sugar

optional, but essential for the beautiful caramelization of the skin

1

tsp

cayenne or peperoncino pepper powder

optional
Instructions
Mix all ingredients together in a large bowl or a plastic zip-lock bag. Add the chicken and rub the mix all over making sure that every piece is covered evenly. Marinate in a fridge for at least 30 minutes and up to 2 hours. You can also marinate your chicken overnight and even 24 hours. It will only get better.

Preheat oven to 450 degrees F.

Preheat a large skillet to 350F. Place one chicken at a time on the skillet and press down with something heavy, such as a grill press or a pot filled with water. Sear over high heat for 2 minutes per side.

Place the chicken on a foil lined baking sheet. Bake uncovered at 450 degrees F for 25-30 minutes with the skin side up, until the internal temperature reaches 165°F.
© 2018 i Food Blogger. All rights reserved. All images and content on this website are copyright protected. Please do not use my images, as is or modified, without an explicit permission. If you wish to republish this recipe or post content, please rewrite it in your own unique words and link back to this post, or to ifoodblogger.com. Thank you!