I love oatmeal raisin cookies as much as the next person, but the typical '1 cup of butter / 2 cups of flour / 2 cups of sugar' recipe may just be a bit too rich for a more or less frequent enjoyment. So, here is my recipe for more healthy oatmeal raisin cookies, with significantly reduced fat and refined sugar content. These cookies are very easy to make and taste delicious. They are not as decadent and chewy as salted chocolate rye cookies, or traditional oatmeal raisin cookies, naturally, but they are very soft inside, with slight crispiness on the outside, and are very flavorful. My kids love them with milk for breakfast. I do too. I can eat a handful of them at one sitting.
The secret to making these cookies soft is to roll the dough fairly thick, about 7/16 inch or 10-11 mm thickness. If, instead, you want them crispy and crunchy, reduce the thickness by half or bake longer. I've tried both methods and I like the results from both. You can use any cookie cutter you want, just keep in mind that smaller cookies will bake faster so adjust your baking time. For this recipe I am using a mason jar lid as my cookie cutter, which is about 3 inches in diameter.
What I like about these oatmeal cookies is that they will keep in an air tight container for a week or more. If you bake them longer and make them drier and crispier, they will keep for several weeks without losing their taste qualities.
If you intend to keep these oatmeal raisin cookies for longer periods and want to ensure that they stay very soft, there is another easy trick I will share with you: substitute sugar for corn or maple syrup, or honey. This will help keep your oatmeal raisin cookies soft for a good couple of weeks, maybe even longer. Mine never lasted that long. If you make the substitution, reduce the water by about 75% . That is, only use one quarter of the water mentioned in the recipe below. This is important, as corn syrup, honey and maple syrup already contain a substantial amount of water.
I've been experimenting with different kinds of raisins and my favorite one, by far, are what are called black raisins. They have a well-balanced taste of sweet and tart, very good flavor, and are plump and meaty. If you can find them at a store near you, definitely try them.
Enjoy!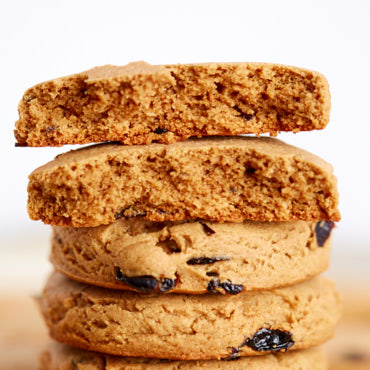 Easy Oatmeal Raisin Cookies
Yields about 20 3-inch cookies
Print
Pin
Rate
Ingredients
375

g

all-purpose flour

160

g

oat flour

200

g

sugar

40

g

jam

your favorite jam, strawberry, apple, plum, etc.

185

g

butter

1 1/2

tsp

cinnamon

2

tsp

vanilla

1/2

tsp

baking soda

75-110

g

water

3/4

tsp

salt

160

g

dark or golden raisins

chopped
Instructions
Preheat oven to 410 degrees F.

In a large bowl, mix butter, sugar, cinnamon, vanilla and chopped raisins. Set aside.

Bring water to boil. Add salt and stir to dissolve. Add oat flour and about 3/4 of the water to the mix above and stir well.

Add flour, baking soda and jam, and continue mixing until the dough is soft and smooth and rolls out well. Add the rest of the water if needed. The amount of water depends on how hydrated your flour is. Drier flour will use more water. The dough should be soft an pliable. If it crumbles, it needs more water.

On a lightly floured surface, roll out the dough to about 7/16 inch (10-11 mm) thickness. Using a 3 inch round cookies cutter, cut out cookies and place on a parchment paper lines baking sheet. The cookies should be spaced out about 1/2 inch from each other.

Bake at 410 degrees F for about 18-20 minutes, until firm to touch and sides acquire golden brown color.
You may also like:
Thick, Soft & Chewy Oatmeal Raisin Cookies
Peanut Butter Shortbread Cookies