One of my favorite breakfast foods on the weekend is buttermilk pancakes from scratch. Making things from scratch is often associated with quite a bit of extra work. Sometimes it's true. Sometimes not so. These very thick and fliffy buttermilk pancakes are a joy to eat and are super easy to make.

Making pancakes from scratch is barely more of an effort than using a pancake mix. The reward is huge though: no additives or preservatives that cause off flavors, no artificial ingredients, no not-so-healthy ingredients. Instead, you get thick and fluffy goodness that perfectly balances sweet and tart.
This buttermilk pancake recipe is very simple and uses only 5 ingredients and is egg-free. The batter can be prepared in 5 minutes or less. There you have it, delicious and easy buttermilk pancakes that can be whipped up in minutes. It doesn't get any better than that.
The pancake batter will be fairly thick, and this is what helps make the pancakes thick and fluffy. Adding more sugar will result in thinner batter. Thinner batter – less fluffy pancakes.
If you add more sugar, make sure to add a little more flour to compensate.
Buttermilk fat content seems play a role as well. The higher the fat content the thicker the batter. If you use 1% buttermilk you may want to add a few tablespoons of flour to compensate.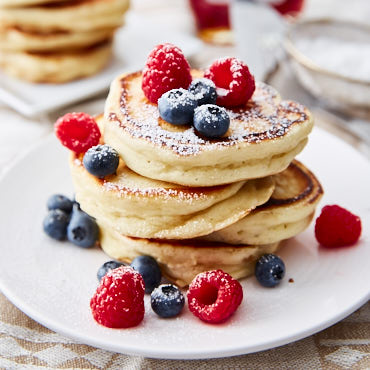 Easy Buttermilk Pancakes from Scratch
Ingredients
For the batter:

2

cups

buttermilk or kefir

2% fat content or higher recommended

1

level tsp baking soda

1

level tsp kosher salt

1

Tbsp

cane sugar

plus more to taste

2

cups

all purpose flour

using scoop and sweep method

Other:

Butter for pan-frying

Berries

maple or corn syrup and powdered sugar for garnishing
Instructions
Combine all ingredients for the batter in medium size bowl. Let rest for about 5 minutes.

In the meantime, preheat a large non-stick frying pan over medium-low heat.

Add a little bit of butter, let it melt and spread around the pan. Using a 1/4 cup measuring cup add 3 scoops of batter to make 3 small pancakes. Cook about 2-3 minutes per side, until nicely browned. Repeat with the rest of the batter.

Serve hot or warm with berries and sprinkled with powdered sugar, or maple / corn syrup, or your favorite jam.