How many times have you been asked on a weekend morning: "What's for breakfast?" I get that every day, but it's on weekends that I feel like I have to make something a little bit special and interesting since I don't have to rush to work and such. Some weekend mornings I am fine with spending a bit more time  in the kitchen, but some days I just want to make it real quick. So, how do you make an interesting breakfast quickly? I start off with a quick recipe for something that I know my family likes, and make it different. Often it's easier said than done, but here is my Dutch baby pancake recipe that everyone in my family loves – a Dutch baby pancake with bacon, cherry tomatoes and cherry peppers.
I like to keep things simple, so for my base Dutch baby pancake recipe I only use whole eggs, flour, and milk. I add a pinch of salt sometimes, but that is optional, especially for this recipe as I will be adding bacon that has enough of sodium in it. I add some chopped bacon, scallions and parsley in the base to make it more interesting and flavorful.
Dutch baby, most of the time, is served with fruit, whipped cream, honey, powdered sugar and such. This is how it's supposed to be, right? How about making it savory? This is what I did here. No sugar or fruit, only bacon and scallions. It turns out quite amazing every time. It's hard to mess up this recipe.
Served with quickly roasted over high heat cherry tomatoes, red onions and cherry peppers, it's amazingly delicious and refreshing. It reminds me of an omelette. Well, it is an omelette, actually. An omelette that has a bit of flour added and that was baked in the oven. Though, unlike omelette, it's hard to overcook.
Updated on October 1, 2016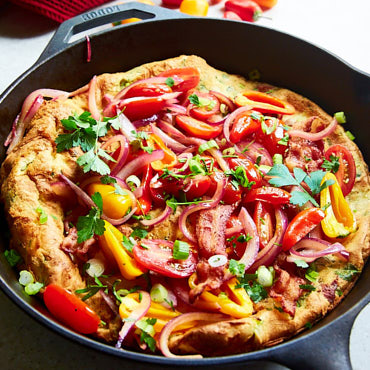 Savory Dutch Baby Pancake Recipe
Ingredients
4

large eggs at room temperature

1/2

cup

milk at room temperature

1/2

cup

all-purpose flour

A pinch of salt

optional

1/2

cup

bacon bits

5-6

whole cooked bacon strips

1/4

cup

+ 1 Tbsp scallions

for the topping, chopped

1

Tbsp

+ 1 Tbsp fresh parsley

for the topping, chopped

1/4

large red onion

sliced

1

cup

cherry tomatoes

cut in half

6-8

red and yellow cherry peppers

cut in half

2

Tbsp

butter

1

Tbsp

olive oil
Instructions
Preheat oven with a large (9-12 inch) cast iron pan on the middle rack to 425F.

Using a blender or a hand mixer, mix together eggs and milk. Add flour and continue mixing until all ingredients are mixed well. Add bacon bits, chopped scallions, chopped parsley and stir to disperse well.

Open the oven and, being very careful - the pan will be very hot, place 2 tablespoons of butter in the preheated pan. Wearing oven mitts, take the pan out of the oven, and swirl to coat the bottom of the pan. Carefully pour the batter into the hot pan, making sure not to splatter batter on the sides of the pan. Return the pan to the oven and bake for 20 minutes. The Dutch baby pancake will puff up around the edges and sometimes around the center. Make sure to keep the door closed until it's ready otherwise it may cause the dough to fall and your Dutch baby pancake will look more like a traditional flat pancake.

Meanwhile, preheat one tablespoon of olive oil in a large skillet over high heat. Add the red onion and halved cherry tomatoes and peppers. Cook over high heat, frequently stirring until the onions are lightly browned and the cherries and tomatoes became slightly tender. Transfer into a bowl and set aside.

Once the Dutch baby pancake is done baking, remove the pan from the oven, being very careful as the pan will be very hot. With the help of a thin spatula, slide the pancake onto a large plate. Top with bacon strips, red onions, tomatoes and peppers. Sprinkle with 1 tablespoon fresh parsley and 1 tablespoon fresh scallions. Cut into wedges and serve hot.