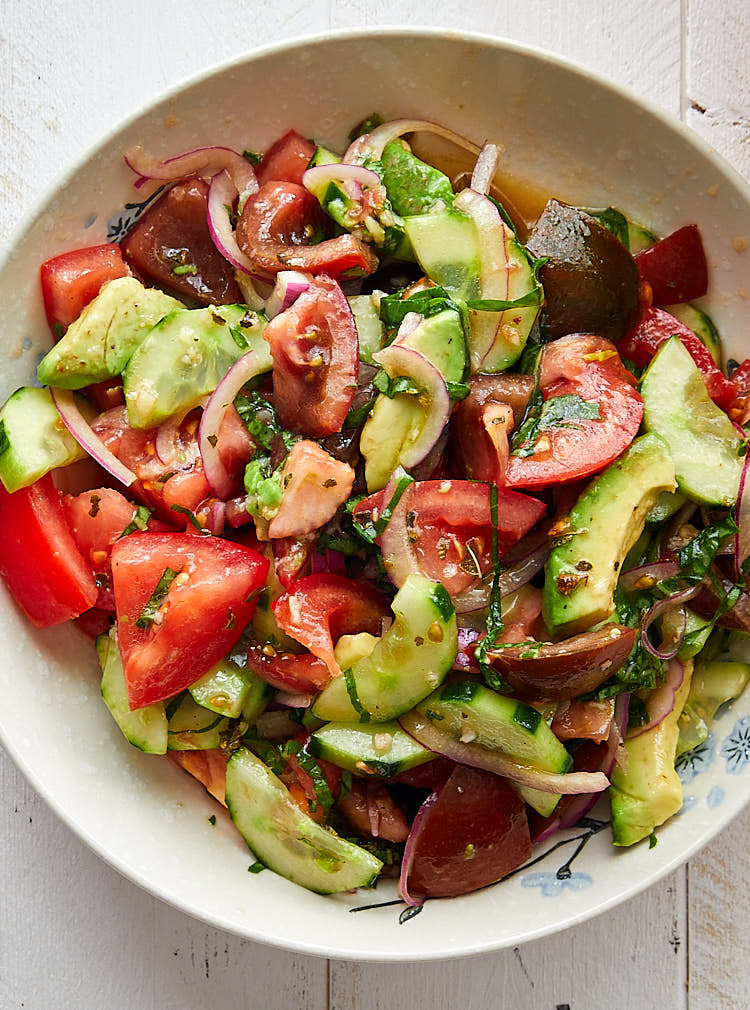 Italian inspired, this tomato, cucumber, and avocado salad is our favorite salad at the moment – we make it at least twice a week. Even during winter. I often hear tomato and cucumber salad being labeled as a 'summer' salad. I couldn't disagree more. Unless you think of it as a piece of summer during cold and gloomy winter days.
You may wonder, what is so special about this salad that it warrants another blog post in the myriad of other tomato and cucumber salads? It's not an easy question to answer, you have to taste this salad to know why it's so special. The recipe for this salad originates in Italy and has been passed down from generation to generation for many years. Everything in this salad seems to be spot on and the resulting flavors are fabulous. You don't eat it because you have to, you eat it because it entices you, it makes you want to have more of it.
Great tasting vegetables make a great tasting salad
It goes without saying. Still, I find that this salad especially tastes best when made with fully ripe and flavorful ingredients, which makes it incredibly flavorful and delicious. It only gets better with time as different flavors in it meld together. As well, the oil and red wine vinegar have time to do their magic to the veggies. Hence, it's best to make it several hours before eating. I like to make it before I cook dinner and let it sit in a bowl, covered, at room temperature on the counter until we are ready to eat. On the weekend, I'd make a large bowl of this salad in the morning so we can enjoy it for lunch and dinner.
I can't stress the importance of quality ingredients in this salad enough. They make a great salad. During winter, I find that vine tomatoes that are sold in every supermarket are a good option as they taste great. I also like kumato tomatoes. If you look closely you will see that the salad on the pictures has both varieties – vine and kumato tomatoes.
If the tomatoes aren't ripe, leave them on a windowsill for a few days to ripen. They will soften up and become richer in flavor and color. The cucumbers should be fresh and firm. I try to avoid soft, overripe cucumbers – I like them firm and crisp. Avocados should be ripe and just slightly soft. When cut open, they should be bright green in color without brown spots which are an indication of over-ripening.
The dressing
A typical salad dressing consists of a 3:1 ratio of oil to acid. That's the first thing you learn when you venture into the realm of making your own salad dressings. In this recipe, I use a 2:1 ratio of oil to acid. I love it. This makes the salad fresh and bright. You have to remember though that not all red wine vinegars are created equally. Some are more acidic than others. I like more mellow kinds. Pompeian Red Wine Vinegar that can be found at pretty much any store is an excellent choice with a very well-rounded taste. Holland House Red Wine Vinegar is another excellent, inexpensive choice for a mild flavor and well-rounded taste.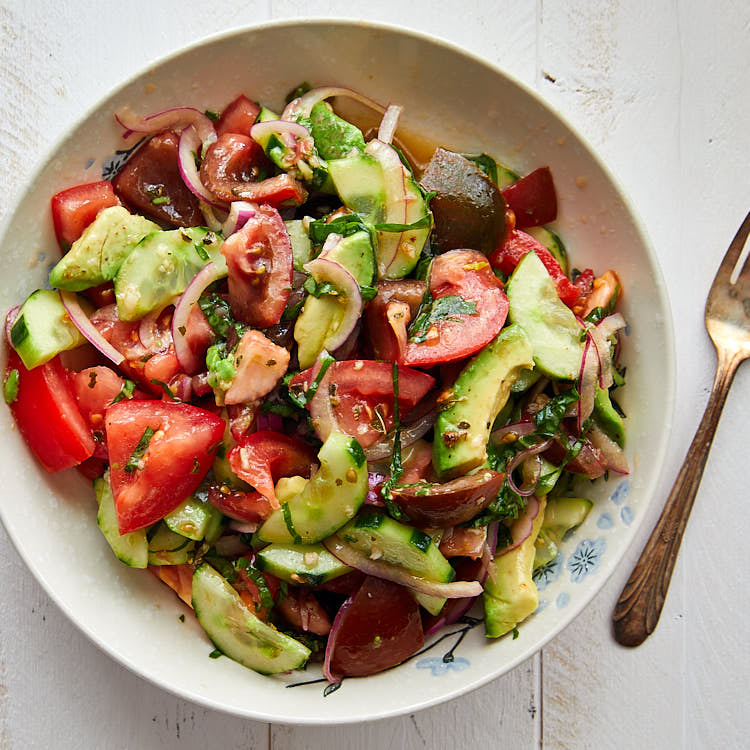 Recipe adapted with a few changes from Dinosaur Bar-B-Que: An American Roadhouse.
Enjoy!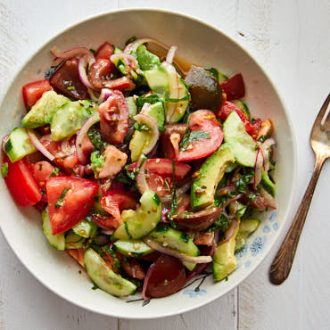 Ingredients
The Vegetables:
5

medium to large tomatoes

(fresh and ripe)

1

English cucumber

(fresh and firm)

1/2

large red onion

1

bunch

basil leaves

(fresh and aromatic)

1

Hass avocado

(ripe and slightly soft)

1

pinch

granulated sugar

1

pinch

kosher salt

1

pinch

black pepper
The dressing:
1/2

cup

extra virgin olive oil

(good quality)

1/4

cup

red wine vinegar

freshly ground black pepper

1

tsp

kosher salt

4

garlic cloves

(pressed)

1

tsp

granulated sugar

1

tsp

dried oregano
Instructions
Core the tomatoes, cut in half, then cut each half lengthwise into 3-4 wedges. Then cut each wedge in half crosswise. Place the tomatoes into a large bowl, sprinkle with a pinch of sugar, salt, and pepper, and give them a quick toss using both hands.

Cut off the ends of the English cucumber. Using a vegetable peeler, make long stripes going top down. Cut the cucumber in half lengthwise, then slice it into 1/4" thick slices crosswise. Transfer to the bowl with the tomatoes.

Peel the onion and cut in half. You will only need to use half an onion in this recipe, so save the other half for other uses. Then slice the onion into very thin slivers crosswise. Then line the slivers together and cut in half, or leave as is.

Cut the avocado in 4 quarters lengthwise and remove the pit. Gently remove the skin, then slice into 3/8" thick slices on the diagonal.

Line basil leaves into a stack and roll into a tight cigar. Hold the cigar with one hand and slice very thinly with the other hand using a sharp knife. You want to get very thin, long-ish strips of basil.

To prepare the dressing, throw all of the dressing ingredients into a small bowl and whisk together vigorously, until well blended.

Pour the dressing over the vegetables and toss gently using both hands. Cover the bowl with plastic and let sit at room temperature until ready to serve. This salad only gets better with time so a several hour wait before consumption would be ideal.
Nutrition
Calories:
189
kcal
|
Carbohydrates:
8
g
|
Protein:
1
g
|
Fat:
17
g
|
Saturated Fat:
2
g
|
Sodium:
303
mg
|
Potassium:
381
mg
|
Fiber:
2
g
|
Sugar:
3
g
|
Vitamin A:
15.4
%
|
Vitamin C:
18.5
%
|
Calcium:
2.3
%
|
Iron:
3.6
%