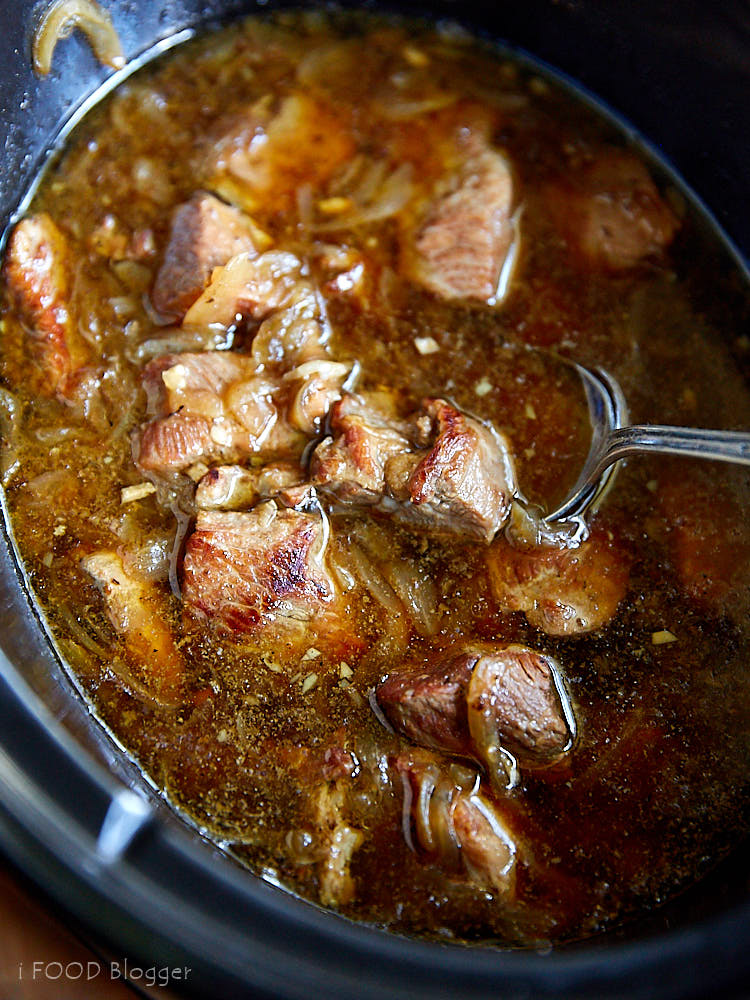 This Crock-pot pork shoulder is one of my most favorite pork recipes. I like the simplicity of preparation of this dish, the rustic flavors, the rich taste and the beautiful amber color of the liquid in the pot. These melt-in-your-mouth tender pork shoulder morsels go very well with rice, mashed potatoes, roasted vegetables or a bowl of pasta. They are highly addictive!
Since pulling pork is not the objective here, I cut the pork shoulder into individual bite size pieces. It has two benefits – you get more browned surface and hence more flavor, and the pork cooks faster. Besides, you don't need to cut hot meat once it's cooked. If you need the meat ready as quickly as possible, cook it on high for only two hours or so. If you want to extend the cooking time, set your Crock-pot to low and cook for 4-6 hours. Pork shoulder will only benefit from low and slow cooking.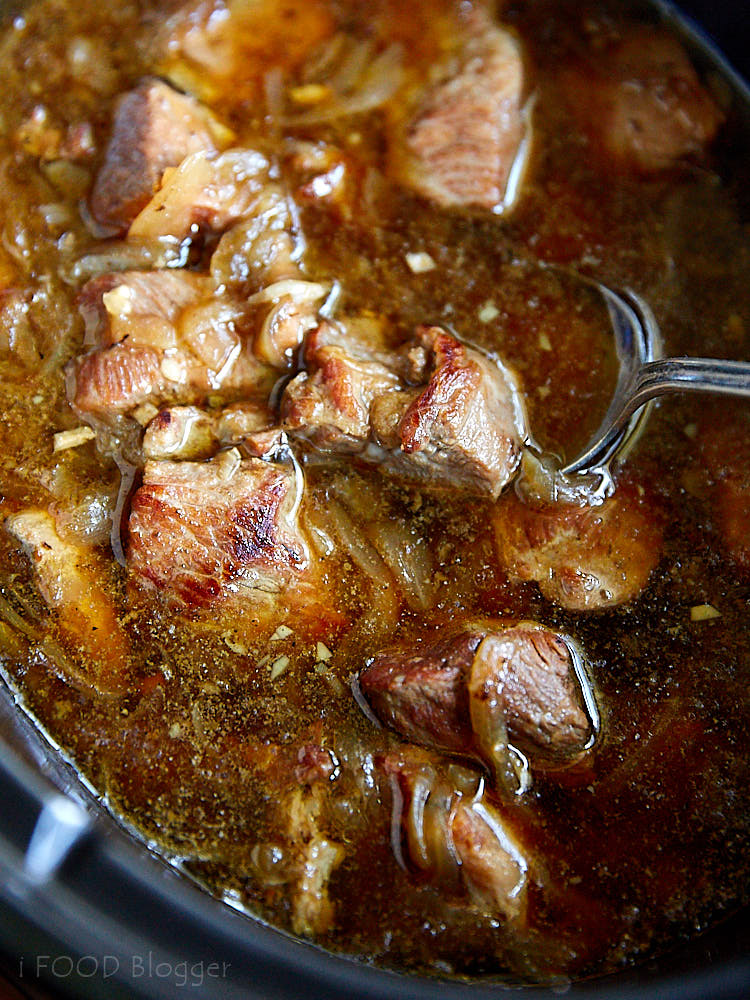 The spice mix in this recipe is something that took some experimenting until I landed on what I thought was absolutely perfect for my taste. I haven't had a single complaint about the seasonings, but, as they say, tastes differ, so feel free to adjust the spices to your taste.
One cool way to serve these Crock-pot pork shoulder bites is to have them with potato pancakes mixed right in and soaked in juices for about 20 minutes. Making potato pancakes is extra work but this dish becomes quite an indulgence.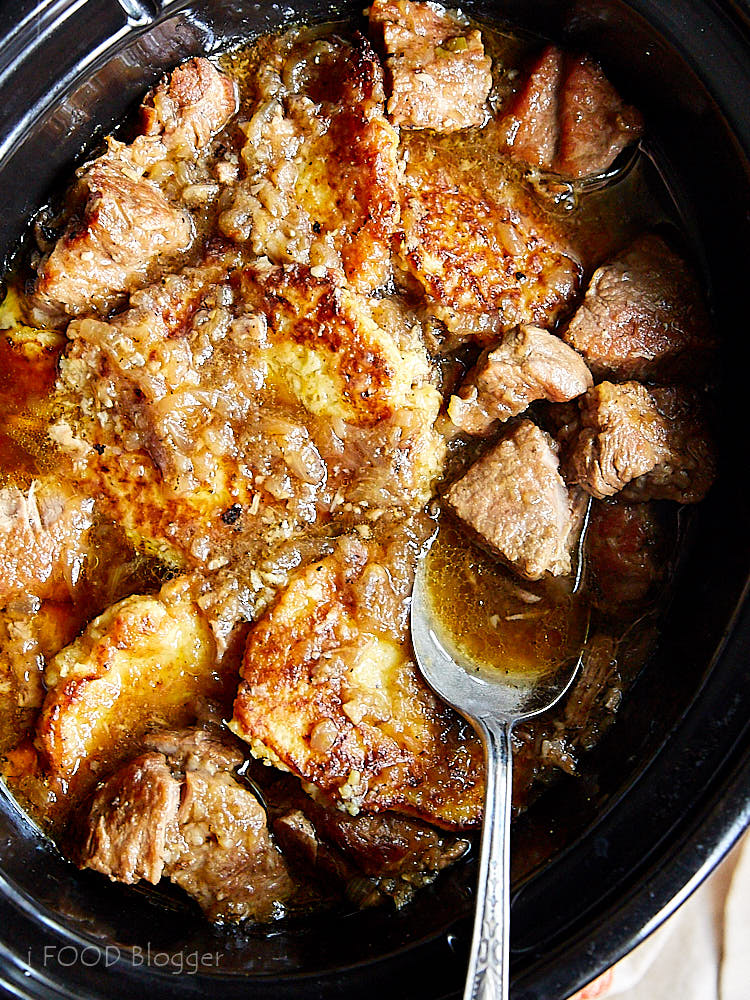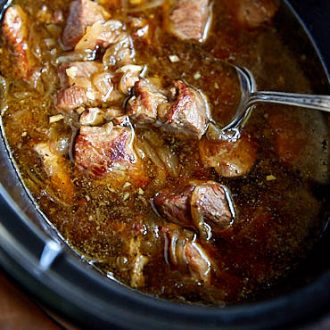 Crock-Pot Pork Shoulder
Cut into bite size pieces, this Crock-pot pork shoulder is easy to prepare and will reward you will melt-in-your-mouth tenderness and rich flavors.
Total Time
3
hours
35
minutes
Ingredients
2 1/2

lbs

pork shoulder

3

yellow onions

(quartered and sliced about 1/4-inch thick)

2

garlic cloves

(finely chopped)

1

tsp

kosher salt

(plus more to taste)

1/2

tsp

ground black pepper

1/2

tsp

ground ginger

A pinch of ground allspice

1/2

tsp

ground nutmeg

1/2

tsp

ground coriander

2

cups

water
For thickening
2

Tbsp

cornstarch

2

Tbsp

cold water
Instructions
Start with a boneless pork shoulder or remove the shoulder bone. Trim most of the fat from the meat, then cut it into 1 1/2 - 2-inch pieces. After you cut the meat into pieces you may need to trim off some more fat, otherwise the dish will end up being to fatty. (see Note 1)

Heat 2 tablespoons of oil in a large cast iron pan or a skillet over high heat. Add the meat pieces and brown on all sides, about 8-10 minutes. Transfer the meat to the slow cooker. (see Note 2)

In the same pan, heat two more tablespoons of oil and saute onions until golden brown. Add the garlic and saute for another 30 seconds. Add the water, salt and the spices. Stir and transfer to the slow cooker.

Set the slow cooker to high and cook for about 2-3 hours or until the pork shoulder pieces are fork-tender. You can also cook the meat on low for 4-6 hours.

Once the meat is tender, check for salt and seasonings and adjust if needed.

If you want the liquid thickened, now is the time to do it. Dissolve two tablespoons of cornstarch in two tablespoons of cold water. Add the cornstarch to the Crock-pot and stir well. Let the pork simmer for about 20 minutes and thicken. If needed, add more cornstarch.

Serve hot with with rice, mashed potatoes, potato pancakes, noodles or other favorite side dish.
Recipe Notes
Note 1: you can cook the whole pork shoulder in this recipe if you want to make pulled pork, but cutting it into individual pieces gets you more browned meat surface and hence better flavor. Cut up pork shoulder will cook faster too.
Note 2: you may want to brown the pork shoulder pieces in two batches depending on the size of your pan as overcrowding will result in poor browning. 
Nutrition Facts
Crock-Pot Pork Shoulder
Amount Per Serving
Calories 154
Calories from Fat 54
% Daily Value*
Total Fat 6g 9%
Cholesterol 57mg 19%
Sodium 361mg 15%
Potassium 355mg 10%
Total Carbohydrates 6g 2%
Protein 17g 34%
* Percent Daily Values are based on a 2000 calorie diet.
© 2018 i Food Blogger. All rights reserved. All images and content on this website are copyright protected. Please do not use my images, as is or modified, without an explicit permission. If you wish to republish this recipe or post content, please rewrite it in your own unique words and link back to this post, or to ifoodblogger.com. Thank you!