These baked chicken drumsticks are crispy skinned, moist and tender on the inside, ridiculously flavorful and easy to make. And it only takes 30 minutes from start to finish to make them.
How would you describe perfectly baked chicken drumsticks? For me, perfect drumsticks should have all of the following in no particular order:
Appetizing appearance
Crisp exterior
Tender, practically fall-off-the-bone interior
Moist on the inside
Deep flavor and excellent taste
It's not too hard to achieve perfection when grilling drumsticks, but baking has its limitations. Well, after about 80 drumsticks and 6 batches I finally figured it out. Here is how I make my crispy skinned, tender and moist on the inside, deliciously looking and ridiculously tasty baked chicken drumsticks. When I made these for a party recently, they flew off the platter like hotcakes. I ran out after 20 minutes. I felt both exhilarated and devastated.
When I eat a whole smoked, roasted or baked chicken, the drumsticks are my least favorite part. They always taste under-cooked, a little tough even. It's not surprising as when cooking a whole bird we tend to focus on the breast meat in order not to dry it out. That's the reason why the best way to cook drumsticks is when they are on their own.
Unlike chicken breasts, chicken drumsticks taste poorly at 165F, the safe-too-eat internal temperature for chicken. The meat feels tough and under-cooked. 185F – 190F is the ideal temperature for chicken drumsticks. They are still very juicy at this temperature, but also tender and start falling off the bone.
There are no exceptions here. Don't overcook them. Let them hit 200F and they will taste dry. Use an instant read thermometer or a BBQ thermometer like ThermoPro TP08, don't take any chances.
Flavor comes from spices, marinades, sauces and brines. But let me tell you, very few, if any, sauces or marinades can compete with the flavor produced during high heat searing. I tried to bake chicken drumsticks at various temperatures, using different oven cooking modes. Sadly, none of the them gave me the results that I was looking for. In the end, I resorted to high heat pan searing prior to baking, just as I do with the oven roasted chicken breasts, and got the amazing flavors I was looking for.
Pan searing also helps improve the color of the baked chicken drumsticks, which otherwise look anemic and sad. Though, the color was somewhat spotty. To get a nice, uniform color throughout I used dark soy sauce. Dark soy sauce has a deeper color and more body than regular soy sauce. It's almost like BBQ sauce and adds a very nice, subtle flavor.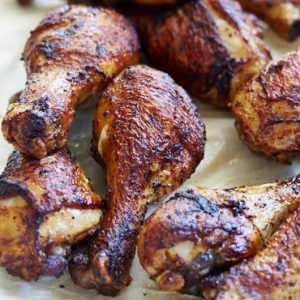 Crispy Skinned, Tender Baked Chicken Drumsticks
Print
Pin
Rate
Ingredients
12

chicken drumsticks

1 1/2

Tbsp

dark soy sauce

2

tsp

kosher salt

2

tsp

granulated onions

1/2

tsp

black pepper

2

tsp

granulated garlic

2

Tbsp

vegetable oil

1/3

cup

vegetable oil for frying
Instructions
Preheat oven to 400F.

Line a large baking sheet with aluminum foil and place a cooling rack on top. Set aside.

Preheat 1/3 cup vegetable oil in a large, heavy skillet (cast iron is the best) over medium-high heat.

Place the chicken drumsticks in a large bowl. Add two tablespoons of oil and all of the spices and seasonings. Rub the spices into the drumsticks to ensure even coverage.

As soon as the oil barely starts smoking (325F) place the drumsticks on the pan and sear for about 1 1/2 - minutes, until the skin is deep golden brown. Flip the drums and continue searing for another 1 1/2 minutes.

Now transfer the drumsticks to the baking sheet, placing them on the cooling rack. Bake on the top rack for 25 minutes, or until the internal temperature hits 185F-190F.

Serve immediately.
Looking for more crispy chicken recipes? Check these out: