Last summer, on my trip to Russia's St. Petersburg and Moscow, I noticed that in every restaurant I went to they served this delicious and refreshing drink called Mors. It's nothing more than raw cranberry juice mixed with water and sugar. Despite apparent simplicity the drink is nothing short of amazing!
From one place to another there was difference in taste, sometimes very obvious, as there are many different ways to make cranberry water, and you can get really creative with it. It can be sweet, almost too sweet, or it can be barely sweet. Some use sugar as a sweetener, some choose to use honey. Depending on how much water you add and how long you boil the cranberries, it can have a nice full body, or it can be quite thin and light. Then there is the type of cranberries you use, but more on that later.
What excites me the most about this drink is its health benefits. Some use cranberry water on a regular basis for daily detoxification as cranberries are known to be effective at opening detoxification pathways. Some drink cranberry water to fight cellulite, while others believe it's good for weight loss. I suppose, adding sugar to cranberry water will negate its weight loss benefits, but it just tastes so darn good when it has some sweetness to it.
My cranberry water recipe is quite simple. I start with washing cranberries, draining and smashing them with … something… I use a wooden sauerkraut stomper. I then place the resulting cranberry mass in cheesecloth and squeeze the juice out into a non-oxidizing container. Set aside.
You can use regular, North American cranberries or, if you happen to live near a European grocery store, try European wild cranberries. They are smaller in size, but yield about the same amount of juice. I find their taste slightly more intense and pronounced, if a little bit more tart. Both are great, just taste slightly different.
The juice from European wild cranberries looks a bit brighter, too.
Take the cranberry cake out from the cheesecloth and place into a big pot, add sugar and water. Stir briskly . Bring to boil, and remove from heat. This process will allow the remaining juices and nutrients to get extracted from the cake. Cool down. Add the juice. Refrigerate and enjoy. Simple as that.
My recipe below produces a medium body, not overly sweet but sweet enough, cranberry water. If I crave sweets, I will drink it straight. It's tastes great. Otherwise, more often than not,  I mix it with plane or sparkling water, 50-50. Delicious!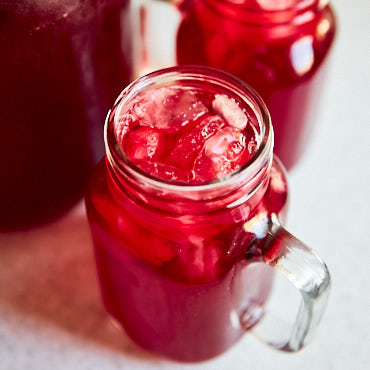 Ingredients
900

g

about 2 lbs fresh or frozen cranberries

540

g

/ 19 oz sugar

60 g / 2 oz sugar per 100 g / 1/4 lb cranberries

1

gallon

of drinking water

about 400 ml / 1 3/4 cup water per 100 g / 3.5 oz cranberries
Instructions
Wash cranberries and drain

Smash with stomper or some other similar tool

Place the resulting cranberry mass in cheesecloth and squeeze the juice out into a non-oxidizing container. Set aside

Take the cranberry cake out of the cheesecloth and place into a big pot, add sugar and water. Stir briskly

Bring to boil, and remove from heat. This process will allow the remaining juices and nutrients to get extracted from the cake

Cool down

Add the juice

Refrigerate and enjoy. This cranberry water may refrigerated for up to week, possibly more. Mine never lasted that long
Notes
I noticed that letting the cranberry cake and water boil for about 5 minutes make tartness more subdued, and gives the drink more body, more mouth feel