Ah, chocolate mousse cake… I like a chocolate mousse cake to have something special about it, something unique. Plain chocolate mousse, standard meringue and chocolate glazing just don't cut it. Too familiar, too boring and often too sweet. This one is different. The meringue is based on a healthy amount of ground roasted peanuts. The cake is served topped with oodles of roasted unsalted peanuts and drizzled with soft caramel. Absolutely and positively delicious!
First and foremost, let's give credit where credit is due. The recipe comes from one of the 2012 issues of MasterChef Magazine. Though, being the usual me, I made a few tweaks to the recipe to suit my taste. I think it tastes better that way, my family members agreed.
As I said, the meringue is full of processed roasted peanuts, which gives the cake that amazing nutty, toasty flavor. If you like roasted peanuts, you will be in heaven.
The chocolate mousse turned out to be pure perfection. I think what made it exceptional is the chocolate. I used my favorite Valrhona chocolate. For dark I used Equatoriale 55% dark semi sweet chocolate, and for milk I used . Valrhona chocolate is expensive, no question about it, but if you can afford spending a few extra bucks, do it, you won't be disappointed. I tried it many years ago following David Lebovitz's recommendation in one of his recipes and got hooked. I don't cook with chocolate too often, but when I do I can't resist splurging on Valrhona.
A much less expensive alternative to Valrhona that I like is Ghirardelli. Not quite as exquisite and refined as Valrhona, but quite good nevertheless. The expression 'garbage in, garbage out' applies to making chocolate mousses and glazes like nothing else. Use crappy chocolate and your mousse will taste bad, while your glaze will taste even worse. Use fine chocolate instead and your mousse and glaze will shine and sing songs.
Speaking about glaze, I cut the amount to one half in my version of the recipe. There was just too much chocolate in the original one which made the cake overly sweet. If you love chocolate and want to indulge, bump the amounts back up, I made the note in the recipe below. Otherwise, leave them as they are, the cake tastes better and more balanced that way.
Soft caramel and roasted peanuts make this chocolate mousse cake truly shine. The cake itself is awesome, with mind-blowing nutty and chocolate flavors. But whole roasted peanuts add that wonderful crunch to the bite. This contrast of soft, velvety cake with crunchy texture of the nuts makes a tremendous difference. Soft caramel serves as a bridge that connects the two textures together into one single, smooth experience.
By the way, when making soft caramel, work a few drops of lemon juice into the sugar before heating it. Addition of acid inverts some of the sugar, preventing crystallization and softening the finished product. I learned this trick from the Chocolates and Confections book, my go-to source of technical information on confection making.
I found that a few peanuts that you get with a slice of cake is not enough. I went back to the kitchen, grabbed a handful of peanuts and covered with them the entire slice. No regrets. A handful per slice of this amazing chocolate mousse cake seems like the right ratio.
Enjoy!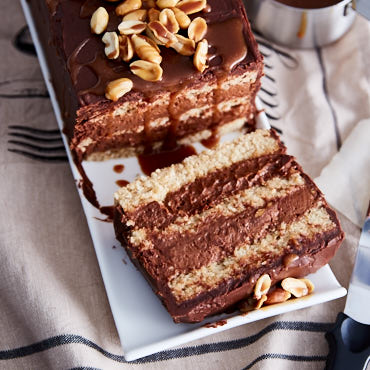 Chocolate Mousse Cake with Roasted Peanuts
Print
Pin
Rate
Total Time:
1
hour
40
minutes
Ingredients
For the mousse:

150

g

dark chocolate

55% cocoa

100

g

milk chocolate

34% cocoa or higher

110

g

1/2 cup granulated sugar

80

ml

water

1

whole egg

2

egg yolks

70

g

1/4 cup smooth peanut butter

250

ml

1 cup heavy cream

105

g

3/4 cup roasted unsalted peanuts. Plus lots more if you love peanuts.

For the chocolate glaze:

75

g

dark chocolate

55% cocoa

50

g

milk chocolate

34% cocoa or higher

90

ml

6 Tbsp heavy cream

1

teaspoon

honey

For the peanut meringue:

200

g

roasted unsalted peanuts

55

g

1/3 cup powdered sugar

50

g

1/3 cup all-purpose flour

6

egg whites

110

g

1/2 cup granulated sugar

For the caramel sauce:

110

g

1/2 cup granulated sugar

2-3

drops of lemon juice

30

g

butter

125

ml

1/2 cup heavy cream
Instructions
Preheat oven to 355F. Grease a 9 x 13 inch cake pan. Line the bottom of the pan with parchment paper.

Make the meringue: add peanuts, granulated sugar, flour and 1 teaspoon of salt to the food processor bowl and process until the mix is finely ground. Set aside. Using a hand or stand mixer, beat egg whites to soft peaks. Slowly add sugar while continuing beating the egg whites, until stiff and glossy. Fold in peanut mix. Transfer the mix to the lined cake pan and level with a spatula. Bake for 20 minutes or until golden brown. Cool for 15 minutes. Carefully invert onto a piece of baking paper, peel off the parchment paper and cut into 3 equal pieces. Set aside.

Make the mousse: melt 150g dark chocolate and 100g milk chocolate in a medium size bowl placed over a hot water bath. Set aside. Place 80ml water and 110g sugar in a small saucepan. Bring to boil over medium heat, stirring until sugar dissolves. Boil for 5 minutes, remove from heat. While the sugar and water mix is boiling, using an electric mixer, beat the egg and egg yolks for 5 minutes at high speed. Reduce speed to low. Beating continuously, slowly pour hot sugar syrup down the side of the bowl until combined. Turn the speed to high and beat the mixture for 5 minutes or until thick and cool. Stir in peanut butter, then melted chocolate until well combined. Set aside. In a separate bowl, whip 250ml (1 cup) heavy cream to soft peaks, then fold into the mousse.Set aside.

Mold the mousse: place two meringue rectangles on a tray. Fold foil into 2-inch wide strips. Make them long enough to wrap around a meringue rectangle around the perimeter. Tightly wrap the foil strips around the meringue rectangles, making a mold for the mousse. Staple the ends of the foil strips to secure them. Spoon half of the mousse over each meringue and refrigerate for 1 hour or until set.

Make the glaze: stir 60ml (4 Tbsp) heavy cream, 75g dark chocolate and 50g milk chocolate in a heat-proof bowl over a saucepan of gently simmering water until melted. Remove from heat, stir in honey and remaining 30ml (2 Tbsp) heavy cream, then refrigerate for 30 minutes or until spreadable. Note: the original recipe calls for triple the amount of the glaze I am using, which I find excessive. It makes the cake too sweet. If you like sweet, use 125ml (1/2 cup) heavy cream, 150g dark chocolate, 100g milk chocolate, and the additional 60ml (1/4 cup) heavy cream. I kept the honey unchanged, it's only 1 tsp.

Assemble the cake: carefully peel off foil from the mousse-topped meringues.Steack the meringues on top each other, mousse side up. Place the remaining meringue without the mousse on top. Smoothe the mousse on the sides. Spread glaze over the top and the sides of cake. Refrigerate for 30 minutes or until set.

Make the caramel sauce: work a few drops of lemon juice into the sugar. Addition of acid inverts some of the sugar, preventing crystallization and softening the finished product. Add a pinch of salt. Cook the sugar in a pan over medium heat, stirring every no an dthen, until it reaches deep amber color. Remove from heat, carefully add butter and cream, then stir until smooth. Take care as mixture will spit as you add liquid to hot sugar. Cool caramel sauce to room temperature, then drizzle over cake.

Scatter with roasted peanuts before serving.