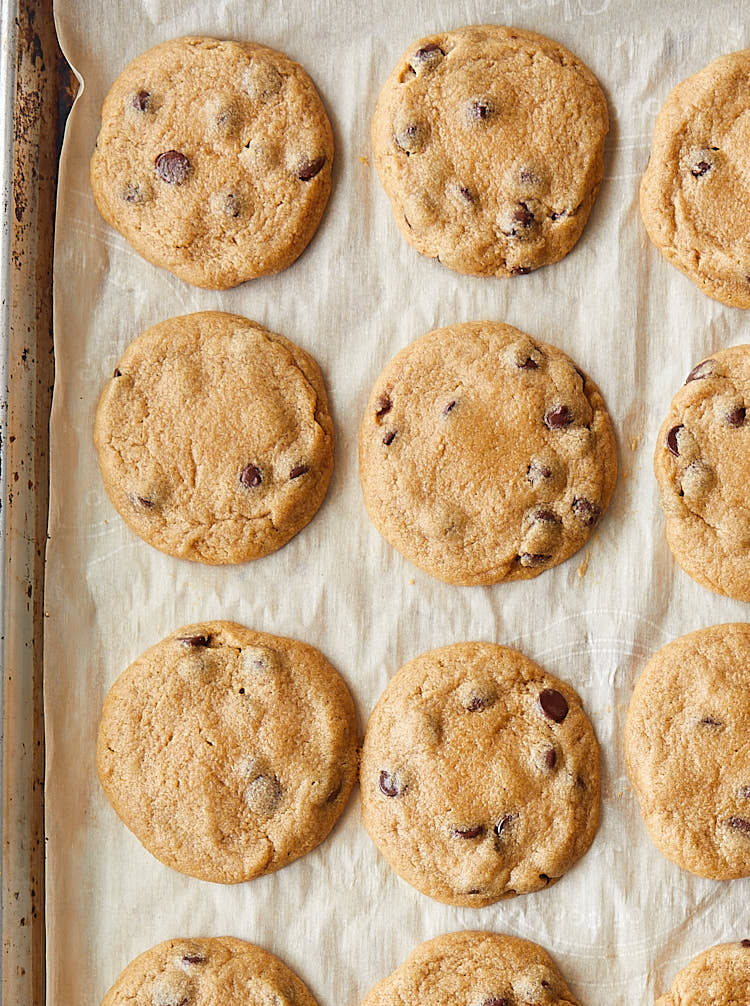 To me, these chocolate chip cookies are irresistible. They are naughty and bad. They will quietly sneak into your life and just won't leave like a bad roommate. We've made these cookies about a dozen times since November 22, 2017. After each batch we all make promises that we wouldn't make them again in a long, long time, only to whip up another batch a week later.
You may wonder about the significance of November 22, 2017 date. This is when this recipe, titled as 'Kookies with a K', was posted on Beaver Creek Ski Resort's website as the winner of their famous annual 'World's Best Chocolate Chip Cookie Competition'. Yes, these chocolate chip cookies were voted as the best cookies in the world in 2017!
Each year for the past 14 years the resort has held a chocolate chip cookie competition on the ski season opening day. The competition attracts thousands of recipes from all over the nation and the world. The recipes are meticulously evaluated and five finalists are selected, whose cookies are baked and served to eager fans. After 5,000 cookies are gobbled up, the winning recipe is voted upon by the stuffed cookie aficionados.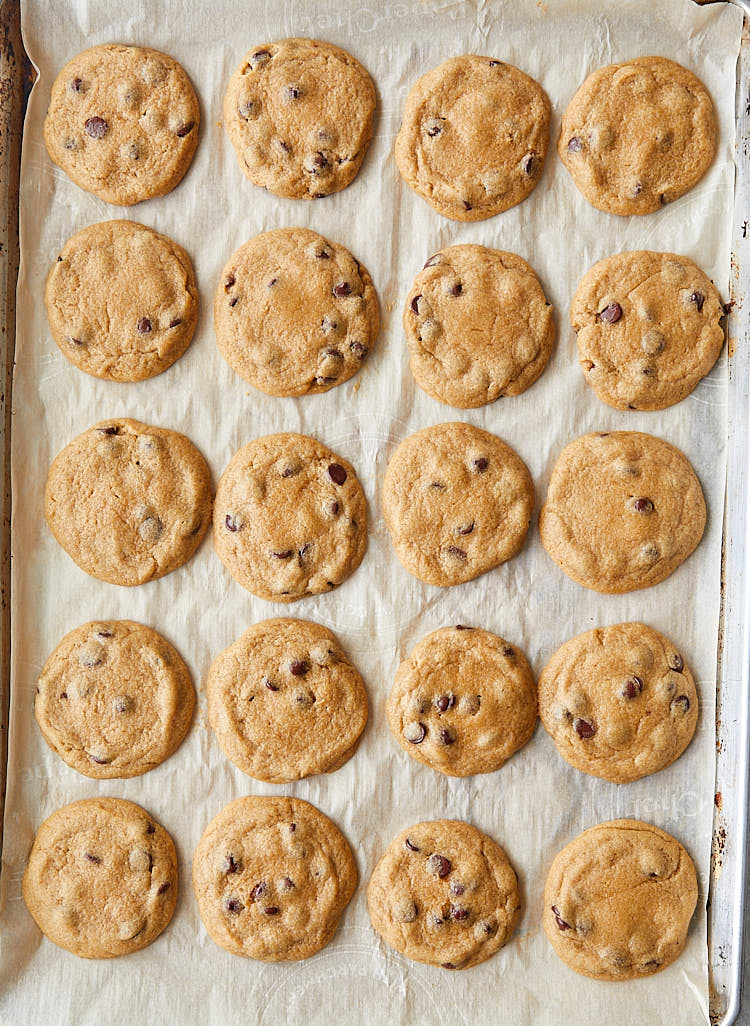 While I personally have never been a chocolate chip cookie fan, I find these cookies delightful and hard to resist. It's easy to see how this cookie was voted as the best cookie of the year. The texture of the cookie is firm but soft and uniform from the middle to the edges. This is because these cookies don't spread out much like more classic chocolate cookies. The edges don't become thin and crisp up more compared to the center of the cookie. The cookies don't feel rich and greasy like some of cookies I've tried, and instead have that texture that reminded me of soft fudge. It's somewhat chewy.
The sweetness is spot on – not too sweet and not too sugary. We've been using semi-sweet chocolate instead of the milk chocolate, it's a personal preference, but I have a feeling that even with milk chocolate these cookie won't taste too sweet as the ratio of chocolate chips to the batter is not that high. If you love chocolate, you can easily double it up. I don't think it will ruin this cookie.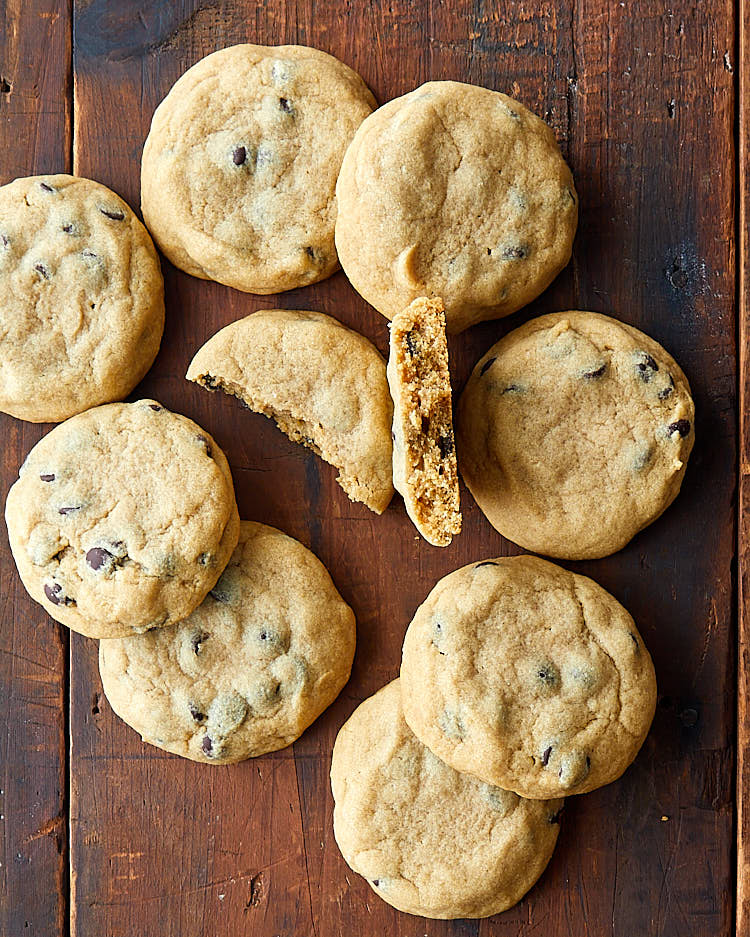 The original recipe can be found here. The instructions are very concise so I expanded on them and added my notes where I thought they would be critical or helpful – after a dozen of batches I've accumulated quite a few tips as you would imagine.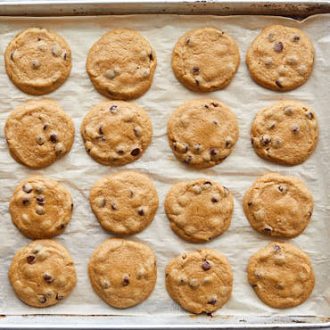 Chocolate Chip Cookies (2017 World's Best Chocolate Chip Cookie Winner)
These cookies won the 14th Annual World's Best Chocolate Chip Cookie Competition in 2017. They are fabulous!
Print
Pin
Rate
Ingredients
2

sticks

butter

(softened)

1 1/2

cups

brown sugar

1

egg

1

tsp

vanilla extract

2

tsp

water

1/2

tsp

baking soda

1

tsp

salt

2 1/2

cups

all purpose flour

(using scoop and sweep method)

1

cup

milk chocolate chips

(or semi-sweet for more chocolaty flavor)
Instructions
In a large bowl, mix the butter and sugar until just combined.

Add the egg, vanilla and water and mix until combined.

Add baking soda, salt and flour and mic to combine. The dough will be fairly stiff at this time. I find that it's easier to mix by hand at this stage.

Fold in the chocolate chips.

Divide the batter into 18-20 balls (about a golf ball size). Press each ball down to make a 2-inch disk and transfer to a large (15" x 21") baking sheet, leaving about an inch in between. They won't spread out much (see note below) so you can bake them all on one sheet. If using small sheets, you will need to divide them into two batches.

Cook at 350F for 16 minutes. Remove from oven and transfer to a cooling rack.

While these cookie are delicious warm, they taste the best when they are fully cooled down. I think they start tasting the best on the second day.
Notes
The cookies, as I mentioned before, don't spread out too much so you have to be mindful of that when you are shaping them. When shaping the cookies, it's best to shape them into balls and then press down a little into a disk. Below are the pictures of our experiments with measurements that will help you with your shaping. We prefer the cookies with the smaller diameter as they come out thicker, softer and uniformly baked from edge to the middle. The thinner and wider cookies had crispier edges.