Baked chicken thighs is one of my favorite dishes to make as they are easy to prepare and can be very tasty when properly marinated with a good marinade. But what if you don't have the time to marinate your chicken thighs? Well, there is an excellent chicken thigh recipe that will address that problem.
The solution is to inject the meat with a flavorized liquid injection. The technique of injecting the meat is not new, it's widely used in commercial kitchens, but less common in home kitchens. The good news is that it's starting to make its way into home kitchens.
If you like to smoke or roast large pieces of meat you've probably been injecting your meat for quite a while now. They greatly benefit from that. I almost always inject large beef and pork roasts, as well as briskets and pork shoulders before smoking them.
Injecting brings two benefits – flavor and moisture. Injected meat is flavorized inside out. No longer do you taste bland, unflavored meat inside. Injecting is very similar in this respect to brining and marination, but achieves a similar result much quicker.
Moisture benefit, I find, is more applicable to large pieces of meat that are smoked low and slow. At higher temperatures most of the moisture will be lost anyway. Still, I find that injected baked chicken thighs come out juicier.
Is injecting a superior solution to marination or brining? No, it's absolutely not. It won't tenderize the meat, for that you need time. Injecting also won't distribute the liquid nearly as evenly, hitting each fiber. And a lot of the injected liquid will be lost quite rapidly during cooking, especially when you inject very small cuts of meat, like chicken thighs. That said, injected chicken thighs taste much, much more flavorful and noticeably juicier compared to dry rubbed baked chicken thighs.
As for the kitchen injectors, do yourself a favor and get yourself a good, stainless steel injector. I've been buying cheap plastic ones and I am on my third one – they crack easily near where the needle is attached to the plastic cylinder. After that they become useless, unless you wrap the crack with a piece of electric tape, like I did with mine. But, this will be my last plastic injector. The next one will be a good quality, stainless injector that will last me more than just a couple of months.
The best marinade or injection is the one that you feel like eating/drinking on its own. That's my rule anyway. My Killer Chicken Thigh Marinade comes to mind. It so good on its own that I literally have a tablespoon or two after I prepare it. It's hard to resist. This injection is no different. I made it zesty, slightly sweet, slightly tart, and not too salty. Which is why I recommend a pinch of salt on top of each chicken things if you need more salt.
Chipotle chile powder adds very pleasant heat. One teaspoon is enough to bring fairly mild spiciness. If you want more of a kick, double or even triple the amount of chipotle chile powder. Remember, the injection will taste spicier than the resulting baked chicken thighs.
For the chicken broth you can use homemade broth, or store bought, just make sure it's good quality and tasty. I like my MacCormic all-vegetable chicken bouillon cubes, they are great. I use I cube per cup of water to make the broth.
I like baking my chicken thighs at a high temperature, about 450F. There are two main reasons for that – they cook faster and they get a beautiful, crispy skin on top. They also don't dry out too much before they reach proper internal temperature. You are almost cooking them like you do steaks, over high heat to get nice caramelization on the outside, while the inside is still juicy and moist.
The thighs will reach the safe temperature of 165F in about 20 minutes, but I like to let them cook about 5 minutes longer to reach 185F-190F. To me, baked chicken thighs taste tough and under-cooked at 165F, but at 185F-190F they taste the best. But, you be the judge for yourself.
If you like crispy skin, serve your chicken thighs immediately. Otherwise, let them rest 5 minutes than baste in pan juices and serve with your favorite side dish. You may also want to use the pan juices as a dipping sauce, they are delicious. Or make a reduction, if you have the time, then pour over the thighs.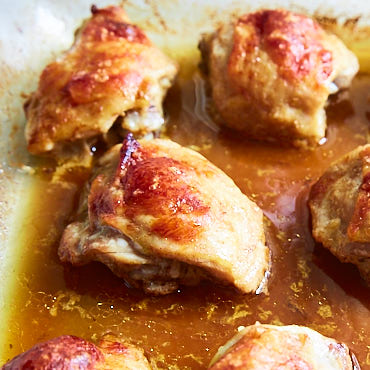 Chipotle Baked Chicken Thighs
Ingredients
8-9

skin on chicken thighs

A few pinches of salt

Olive oil for brushing chicken thigh tops

For the injection:

1/2

cup

chicken broth

1

Tbsp

olive oil

1/2

Tbsp

lemon juice

1

tsp

chipotle chile powder

make sure it's pure chipotle, not a mix

1/2

Tbsp

granulated garlic or garlic powder

1/2

Tbsp

honey

1/2

tsp

kosher salt
Instructions
Preheat the oven to 450°F.

In a medium size bowl, whisk together all of the ingredients for the injection, until well blended.

Using a kitchen injector, inject each chicken thigh with about an ounce of the liquid. I prefer to inject chicken thighs by inserting the needle into the cut side of the thigh about half way or so, parallel to the bone. Each chicken thigh gets about 4 injections, 1/2 an ounce or so of liquid per thigh in total. When injecting, you may want to cover the thighs with a piece of plastic wrap to prevent liquid squirting all over the kitchen.It doesn't happen all the time, but when it does, it's better to use the plastic.

Place the chicken thighs skin side up on a baking dish or a baking tray lined with aluminum foil or parchment paper. Add the remaining liquid into the baking dish/tray.

Brush each each thigh with some olive oil. Sprinkle some kosher salt on top if you need more salt.

Bake on top rack at 450F for about 25 minutes. Chicken thigh tops will be nicely browned and crispy, and the internal temperature of the meat will be around 180-185F.

Remove from the oven and let rest for 5 minutes. Before serving, drizzle your baked chicken breasts with the pan juices, if desired.
Just as good:
Baked Chicken Breast in 3 Easy Steps
 12 Best Bone-In Chicken Breast Recipes
© 2018 i Food Blogger. All rights reserved. All images and content on this website are copyright protected. Please do not use my images, as is or modified, without an explicit permission. If you wish to republish this recipe or post content, please rewrite it in your own unique words and link back to this post, or to ifoodblogger.com. Thank you!