My family loves a good chili, and I make it quite regularly. Burger chili is one of our favorites. To make chili a bit more flavorful I like to use leftover grilled burgers (I usually grill a few more patties just for chili) or patties made from ground beef, pan seared over high heat until they are nicely browned.
That rich dark brown bark is what certainly gives chili that additional flavor. Before browning ground beef, I form patties to ensure that I get that nice brown bark, otherwise it will quickly release a lot of water which will prevent the formation of beautiful and flavorful bark. For that same reason you don't want to put water on your hands when forming patties. Your patties will look delicious on the outside, but will still be under-cooked on the inside, so don't try to sneak one and eat it.  To get more of the browned meat flavor, make your patties flatter and sear in 2 -3 batches. Another tip here is to use a fresh and flavorful cut of beef and grind it yourself. Chuck, short ribs, brisket, sirloin, flank or skirt cuts are the best as they have great beefy flavor. In this recipe I am using a fairly lean chuck cut.
I use the same approach with vegetables for my chili. Very few things will boost the flavor of your dish like caramelized onions will. These tender, sweet and savory morsels will improve any dish and make flavors more complex. Sauteed bell peppers and celery are very similar in that sense. Give them a quick cook over high heat and they will reward you with new and wonderfully complex flavors that will compliment your chili.
If you don't add any additional water in this recipe your chili will turn out fairly thick – some like that, my kids do. If you want medium thickness – add 1 cup of water, as per recipe below. If you want even less thick chili – add two cups of water. I suggest you start with one cup and see how you like it. There will also be quite a bit of water coming with canned beans. Don't drain the beans, use the liquid as well. If you do insist on draining, then replace the liquid with an equal amount of water.
Once done, plate the chili while it's hot and immediately put a tablespoon or two of shredded cheddar cheese on top so it melts nicely. I like to also garnish my chili with greens like onions and parsley, they add even more flavor and are good for you.
Serve with your favorite crackers or tortilla chips. I love the pleasant sweetness of whole wheat tortilla chips and have them fairly often with my chili.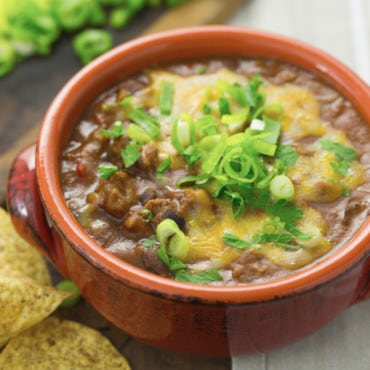 Burger Chili
Yields 10-12 servings
Ingredients
2

lbs

ground beef

29

oz

kidney beans

29

oz

can pinto beans

6

large tomatoes

diced

1

medium onion

diced

2

celery stalks

diced

1

red bell pepper

diced

1/2

green chili

diced (optional if you don't want the chili spicy)

2

tsp

cumin powder

3

Tbsp

chili powder

2

Tbsp

vegetable or olive oil

1

tsp

black pepper

plus 1/2 tsp or more to taste

2

tsp

salt

plus more to taste if needed

1

cup

drinking water

plus one more if you want the chili less thick
Instructions
Form 6-8 patties from ground beef

Preheat a large skillet, and sear patties over high heat for about 3 minutes on each side until richly browned

(alternatively use leftover grilled burgers)

Set the patties aside, drain the fat

In the same skillet, saute onions, celery and red bell pepper with 1 Tbsp of oil over high heat, until golden brown, about 5-8 minutes

Crumble beef patties into 1/4 to 3/8 inch pieces using a fork

Place all of the ingredients into a large pot, bring to simmer over low heat.

Cook for about 1.5 to 2 hours, stirring every 15 minutes

Garnish with greens and shredded cheddar cheese