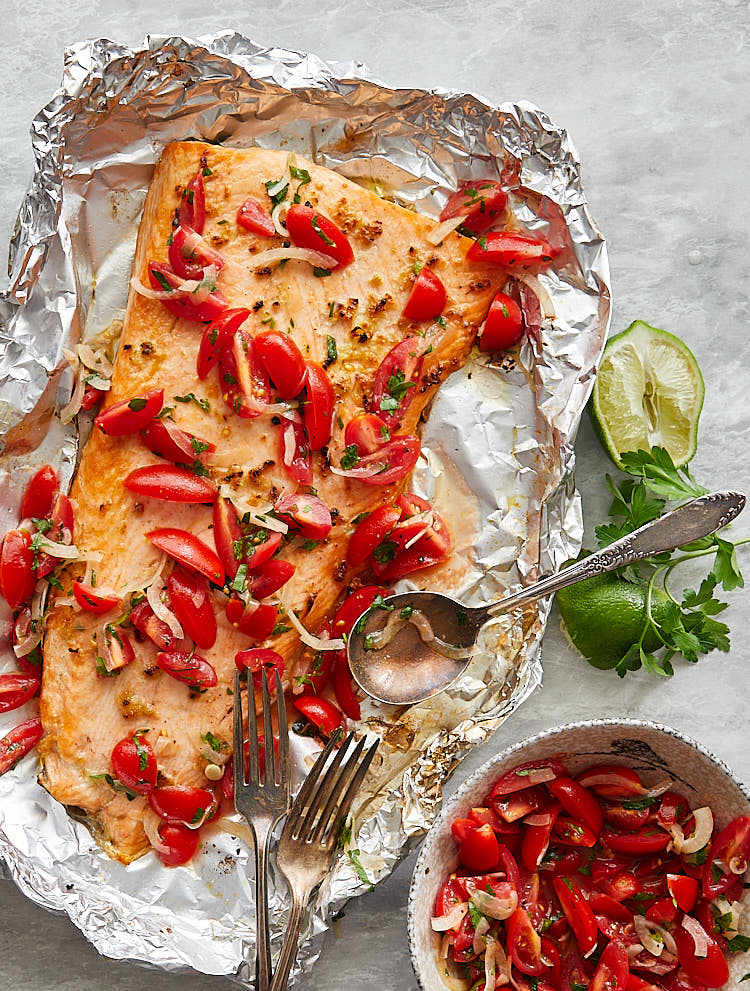 One of my favorite recipes is steelhead trout baked in oven. It really is one of the easiest workday dinner recipes you can attempt. All you need to do is season the fish, wrap in foil and bake for 20 minutes. And voila! A great tasting dinner is done. But if you have just a little more hands-on time to spare, you can take this dish to the next level and give it even more flavor.
It's no secret that baked fish can't really compete with grilled or pan-seared fish in the flavor and beautiful color department, but broiling will give it a pretty good flavor boost and a very nice color. I like steelhead trout for its richer flavor and for it being less oily compared to Atlantic salmon. This makes it a perfect candidate for broiling. This fish, unlike farmed salmon, practically doesn't splatter any oil during broiling. And where there is no oil – there is no smoke.
In this recipe I use a combination of broiling and baking. The broiling allows for development of a nice crust and flavor, while baking completes cooking the fish without drying it out. You can broil all the way, but this method is much simpler and pretty fool proof.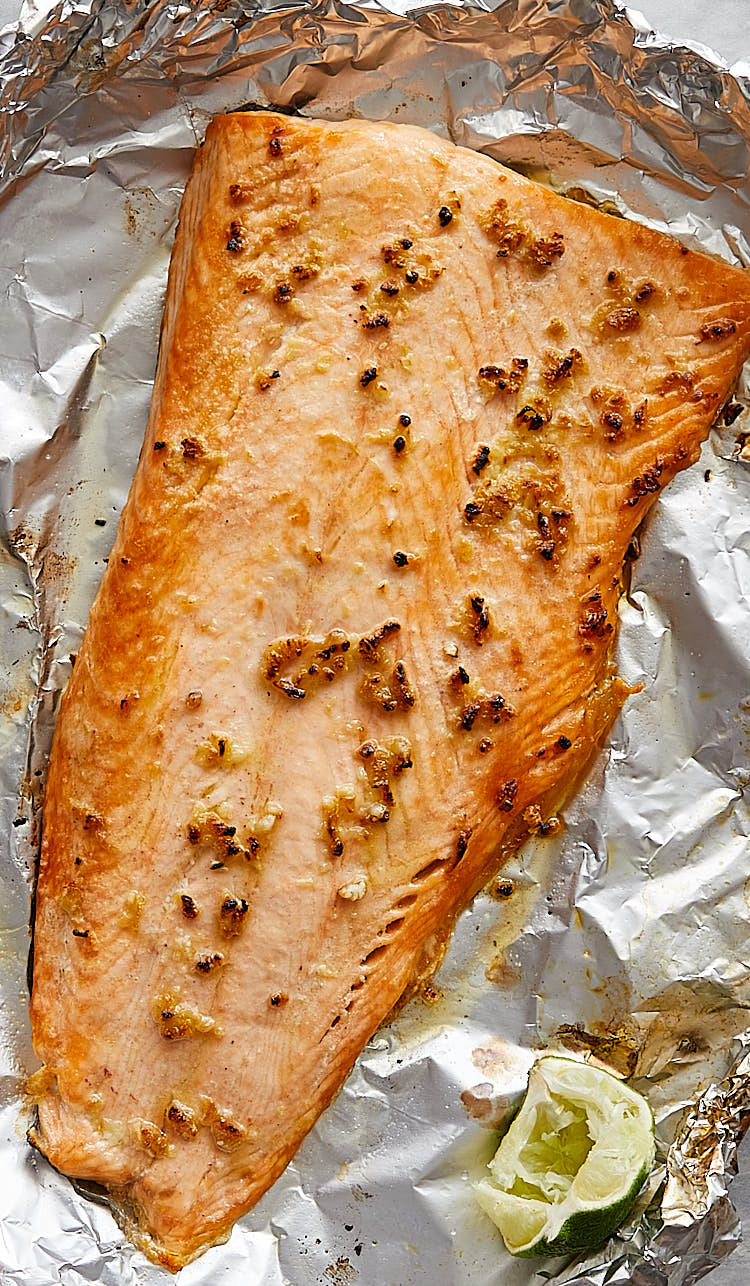 To get a perfect caramelization during broiling I use brush the trout with two teaspoons of olive oil and season with salt. That's all. If you add dry herbs they will burn. Some people note that stealhead has a more pronounced 'fishy' smell. Use fresh garlic to remedy that. Fresh garlic makes trout and other fish really flavorful and removes any 'fishy' smell. I like my garlic caramelized very well so I add it before broiling as well. It will get pretty dark (see the picture above), some pieces will even char a little. I like that. There is a lot of flavor there. If you want a milder caramelization, add the garlic after broiling, as instructed in the recipe below.
Fish like trout needs some acidity to balance out the flavors. Lime or lemon juice works great for that. But you can do even better than that. How about a colorful, bright tomato and shallot relish? The brightness of the relish helps cut through the oils in the fish. It's a perfect complement to this dish. Just spoon it on top of fish and enjoy. If you need more acidity, squeeze some extra lemon or lime juice. I do.
Enjoy!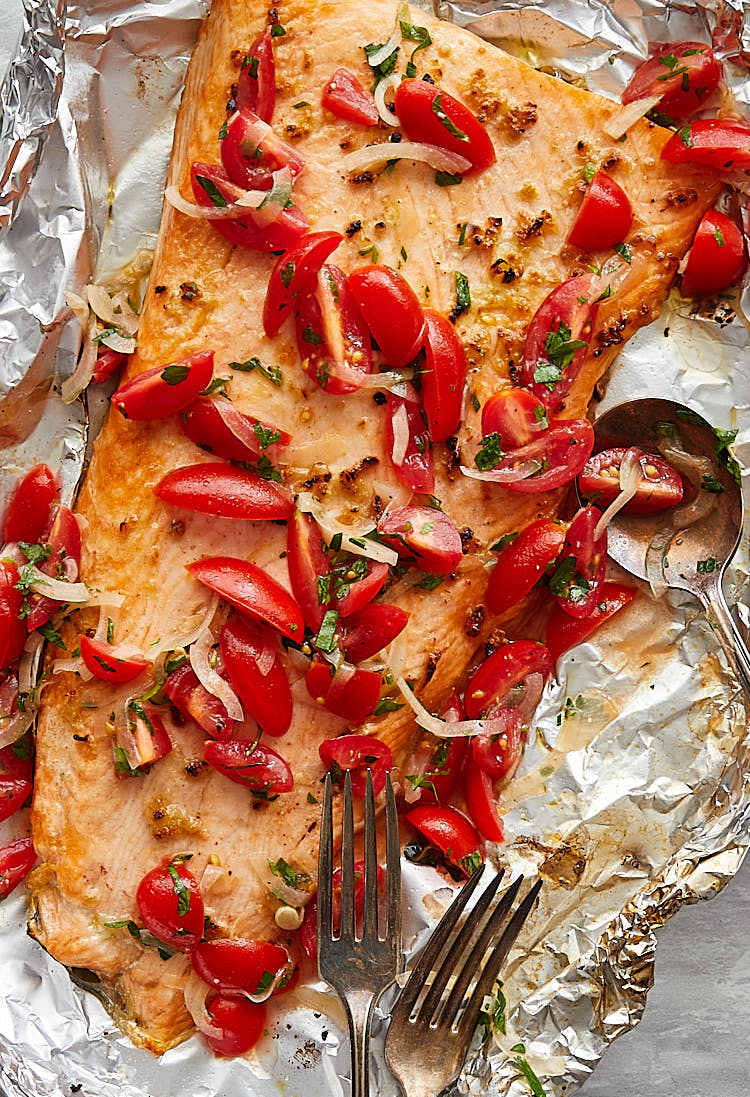 Looking for more great broiling recipes? Check these out: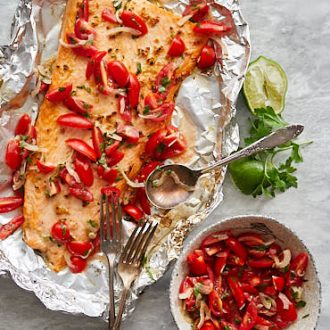 Broiled Steelhead Trout with Cherry Tomato and Shallot Relish
Print
Pin
Rate
Ingredients
1 1/2

lb

steelhead trout filet

(skin on or removed)

3

tsp

olive oil

1

Tbsp

butter

(melted)

2

garlic cloves

(pressed)

1/2

tsp

kosher salt

(plus more to taste)

1/4

tsp

black pepper

(plus more to taste)

1

lime
For the relish:
2

cups

cherry tomatoes

(sliced into quarters)

1

shallot

(thinly sliced, about 1/2 cup)

2

Tbsp

fresh parsley

(finely chopped)

1

Tbsp

red wine vinegar

1

Tbsp

lime juice

3

Tbsp

olive oil

(very good quality)

1/2

tsp

kosher salt

(plus more to taste)

1/4

tsp

black pepper

(plus more to taste)
Instructions
Position the rack in the second from top position, or about 6 inches from the heating element. Pre-heat the oven on high broil for about 15 minutes.

To prepare the relish, combine the tomatoes, shallot, parsley, vinegar, and olive oil in a small bowl. Season to taste with salt and pepper. Set aside.

Take a piece of heavy duty foil about 1 1/2 longer then the trout fillet. Roll up the edges to form a boat. Grease the bottom of the boat with one teaspoon of olive oil. Place the trout, skin side down, on foil. Brush two teaspoons of olive oil on top of fish and sprinkle salt. Place the trout in foil on a baking sheet and transfer to the oven. Broil for 5 minutes.

While the fish is cooking, melt the butter and combine with pressed garlic. Set aside.

Remove the fish from the oven. Move the rack to the 4th position from the top. Switch the oven from broil to 325F bake. Brush the trout witch garlic butter and season with ground black pepper. Return the fish back to the oven and cook for 10 minutes or until the fish is done.

Remove from oven, sprinkle with freshly squeezed lime juice and serve with cherry tomato and shallot relish spooned over the fish.
You may also like: