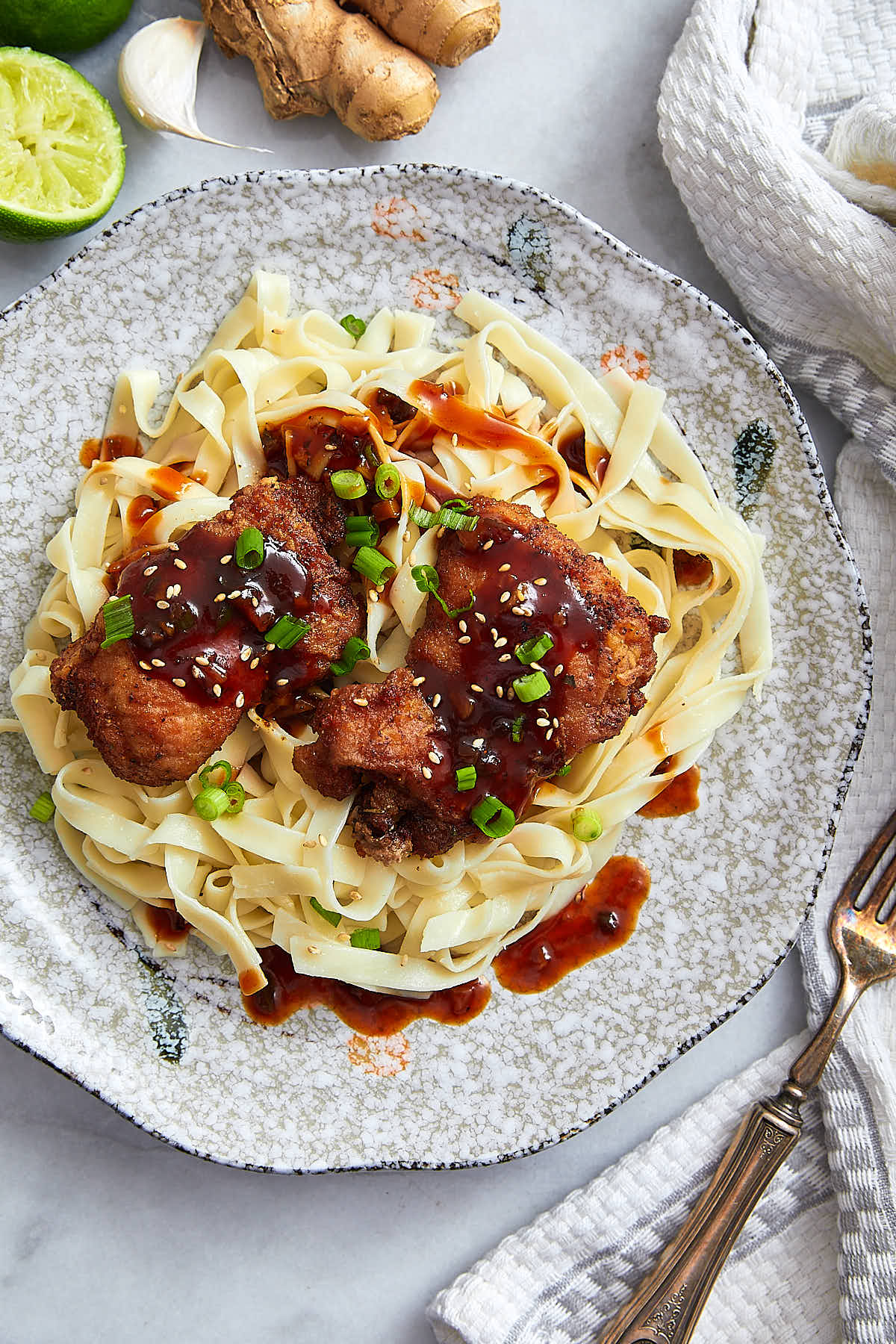 When we talk about crispy chicken thighs, we usually mean skin-on fried or baked thighs. It's not the case here. This recipe uses skinless boneless chicken thighs that are fried to the ultimate crispiness in under 20 minutes. The outside becomes crispy and crunchy, while inside the thighs are still tender and succulent. For the ultimate enjoyment, try these chicken thighs with a BBQ sauce that combines American and Asian flavors, over a bed of pasta. I could eat this chicken every day, it's scrumptious.
BBQ sauce with Asian flavors? You must think this is crazy, but give it a try. I am sure you will be pleasantly surprised. The recipe, with some changes, comes from one of my favorite BBQ places in upstate NY called Dinosaur BBQ. When I first tried this sauce I instantly fell in love with it. This fusion of American and Asian flavors produced a much more exciting, much more delicious sauce. I can hardly think of any better sauce to complement these crispy chicken thighs.
The crispiest skinless boneless chicken thighs
While these chicken thighs are not deep-fried, they surely taste like they are. They are exceptionally crispy on the outside and the crispiness remains long after they stop cooking. I, for some unknown to me reason, used to believe that anything this super crispy would come with a skin. However, these skinless chicken thighs proved me wrong. They will give anything deep-fried a run for its money in the crispiness department.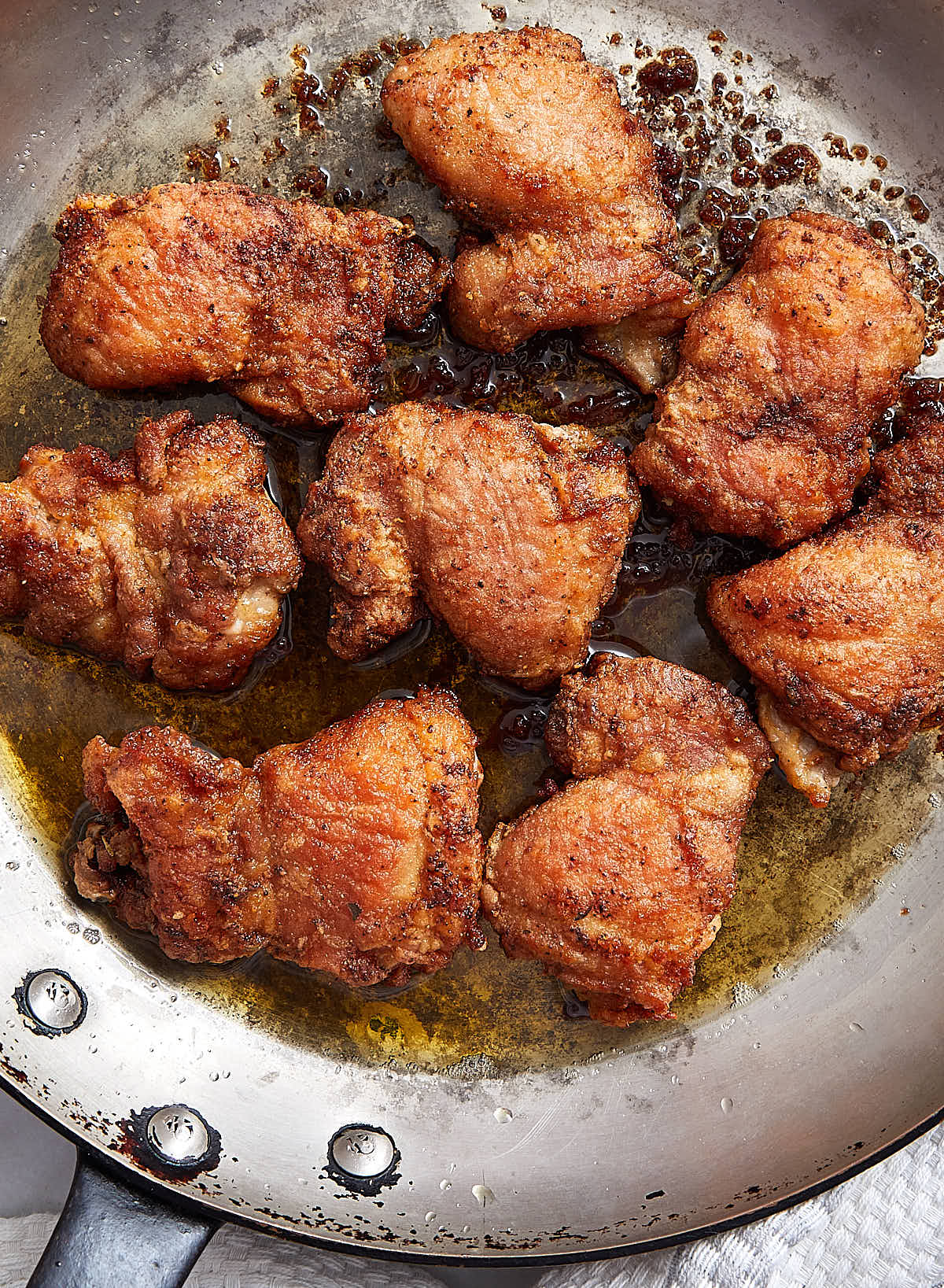 While in this recipe I suggest that the thighs are served with pasta and a BBQ sauce, I can see dozens of other cool ways to serve them. For instance, they would be fantastic chopped in a chicken salad. Or, you can use them instead of croutons for a high protein and low carb diet. I've tried them in stir fries and liked the crunchy texture they added. Crispy chicken sliders anyone?
More great chicken thigh recipes:
Boneless Skinless Chicken Thighs with Lime-Sesame BBQ Sauce
Boneless skinless chicken thighs, pan-fried to crispy perfection, served with a delicious lime-sesame BBQ sauce with Asian flavors.
Print
Pin
Rate
Ingredients
8

boneless, skinless chicken thighs

Salt, pepper, paprika, garlic and onion powder

(to taste)

Flour

(for dredging)

Peanut oil

(for frying; or sunflower oil)

1

package

pasta

(spaghetti, linguine or whatever is you favorite)

2

Tbsp

sesame seeds

(toasted; for garnish)

2

Tbsp

green onions

(sliced; optional; for garnish)
For the BBQ sauce
1

cup

BBQ sauce

(your favorite kind)

1/3

cup

soy sauce

2

Tbsp

peanut oil

(or vegetable oil)

2

cloves

garlic

(pressed)

1

inch

ginger root

(minced)

1/2

jalapeno pepper

(seeded and minced)

Juice of 1 lime

3

Tbsp

honey

1

Tbsp

sesame oil
Instructions
Season chicken thighs with salt, pepper, paprika, onion and garlic powder. Dredge in flour, shaking off excess, then set aside.

Add about a 1/4 inch of oil to a large skillet. Heat the oil over medium-high heat, add the chicken and fry it, undisturbed for about 8 minutes, until crispy and deep golden brown. Flip and continue frying for another 8 minutes.

Meanwhile, start boiling a pot of water and prepare pasta as per the instructions on the package. Drain the pasta, place back in the pot, add two teaspoons of oil, mix well, cover and keep warm until ready to serve.

In parallel, when available, start preparing the BBQ sauce by heating two tablespoons of peanut oil in a sauce pan. Add the garlic, ginger, and the minced jalapeno pepper and cook over medium heat until the veggies are soft. Add the rest of the ingredients, simmer for 5 minutes and set aside while keeping the sauce warm.

Assemble by making a bed of pasta in a bowl, topping with crispy chicken and pouring the sauce over. Garnish with green onions, if desired, or other greens and toasted sesame seeds. Alternatively you can dip chicken pieces in the sauce and serve the rest of the sauce on the side.
Nutrition
Calories:
990
kcal
|
Carbohydrates:
129
g
|
Protein:
61
g
|
Fat:
23
g
|
Saturated Fat:
4
g
|
Cholesterol:
214
mg
|
Sodium:
2024
mg
|
Potassium:
1032
mg
|
Fiber:
5
g
|
Sugar:
40
g
|
Vitamin A:
5.3
%
|
Vitamin C:
4.3
%
|
Calcium:
11.8
%
|
Iron:
27.3
%