These Red Velvet Cupcakes have a light and moist interior and a beautiful burgundy color. They feature a slight espresso flavor with a little tang from the buttermilk. The frosting has a perfect balance of sweet and tangy, and comes in a variety of colors. You will love this recipe.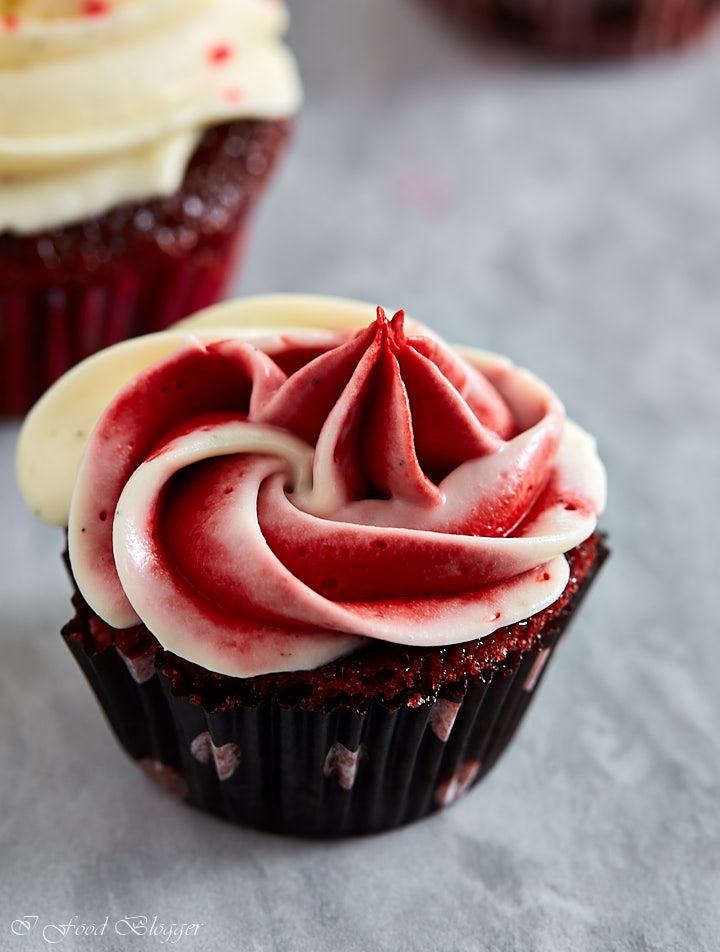 Yesterday, I made about five dozen mini red velvet cupcakes for my daughter's school fundraiser. I've been making red velvet cupcakes using this recipe for years, and they've always been a hit. They are moist, rich, full of flavor and decadent. Everyone loves them. Today was no different – I was told that our cupcakes sold out within 15 minutes, and one girl, after trying one, came back and bought another five. Kids are picky eaters, they say, and if they like something – it must be really good, right?
I like my red velvet cupcakes topped with frosting that is less sweet and has more of cream cheese flavor. If you have a sweet tooth, double the amount of sugar for the frosting recipe below.
I also love my cupcakes cheerful and colorful. Kids especially love them made that way. Yes, it's a little bit more work but it's worth it, believe me. No more boring red and white cupcakes.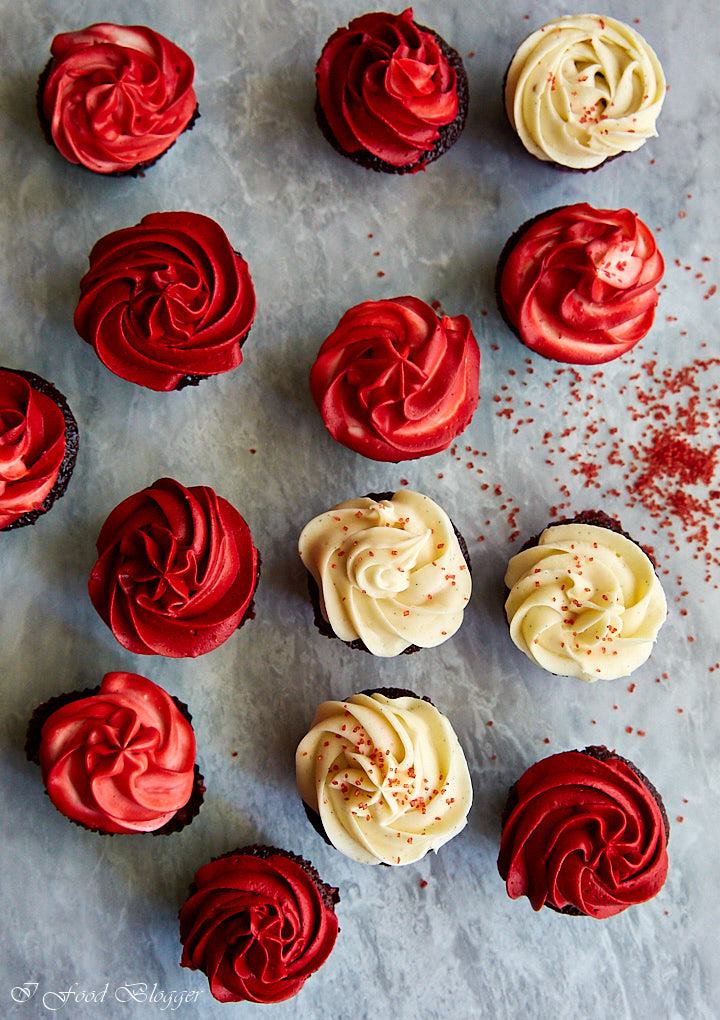 Unlike most other red velvet cupcake recipes, this recipe makes use of coffee. I love the idea, coffee definitely can add extra flavor. Maybe it's me, but after the cupcakes are done, there is little, if any coffee flavor in them. For that reason I like to substitute part of the coffee for a couple shots of espresso. If caffeine is a problem, substitute regular coffee for decaffeinated coffee.
This fantastic recipe was adapted with several tweaks and changes from Divas Can Cook.
Tools used: Wilton 1M (2110) Star Tip which works beautifully.
Food coloring for the cupcakes: Wilton Burgundy Icing Color.
Food coloring for the frosting: Wilton Red Icing Color.
Here is a short video I made on how to pipe cupcake frosting and how to make mixed color frosting.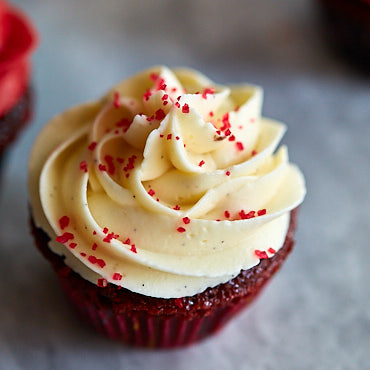 Red Velvet Cupcakes
The amount of batter in this recipe is enough for about 24 standard size cupcakes or about 60 mini cupcakes.
Ingredients
For cupcakes:
2

cups

cake

pastry or all purpose flour

1

tsp

baking soda

1

tsp

baking powder

2

Tbsp

unsweetened

cocoa powder (I recommend Valrhona cocoa powder)

1

tsp

salt

2

cups

white granulated sugar

1

cup

vegetable or canola oil

2

eggs

1

cup

buttermilk

2

tsp

vanilla extract

1/2

tsp

Wilton burgundy food coloring

1

tsp

white distilled vinegar

1/4

cup

hot coffee plus 2 shots espresso for stronger coffee flavor

or ½ cup of regular hot coffee. Substitute for decaffeinated version when serving to kids or those who don't consume caffeine
For the frosting:
2

8-oz packs cream cheese, softened

¼

cup

cream or milk

you may need to add a few teaspoons more for softer frosting if you like

1

stick

4 oz butter, softened

1

vanilla bean

split in half, seeds scraped with a spoon (or 2 tsp vanilla extract)

2

cups

powdered sugar
Instructions
Preheat oven to 325 F.

In a medium bowl, whisk together flour, baking soda, baking powder, cocoa powder and salt. Set aside.

In a separate large bowl, combine sugar and vegetable oil. Mix in eggs, buttermilk, vanilla extract and burgundy food coloring until combined, using a spoon or a hand mixer on the lowest speed

Stir in coffee, espresso and white vinegar. Using a large spoon or a hand mixer on low speed, combine wet ingredients with dry ingredients a little at a time.

Place baking cups into a muffin pan (mini or standard). Pour the batter into each cup about 3/4 full. Bake on the top rack for 18-20 minutes for standard cupcakes and 12-15 minutes for mini cup cakes, or until a toothpick comes out clean.

Let cool on a cooling rack until the pan is warm to touch. Slide a knife around the inside of the muffin pan cups to loosen cupcakes from the pan. Remove cupcakes from the pan and let them cool completely.

To prepare the frosting, place softened cream cheese in a large bowl. Add milk, softened butter and the scraped vanilla bean seeds. Mix until well combined using a large spoon or a hand mixer on low speed. Add powdered sugar and gently mix it in with a spoon. Using a hand mixer, mix well until smooth and fluffy on medium to high speed. Frost the cupcakes with cream cheese frosting when the cupcakes cooled completely. Sprinkle a pinch of red sugar sprinkles on top of each frosted cupcake for decoration .