There is something about kumato tomatoes that makes me want to buy them all the time despite the higher price tag. Darker in appearance and bursting with flavor, they are absolutely delicious. I can't have enough of them. Hence, I often have them available in the kitchen.
When the time came for me to make a pizza to satisfy my cravings, I realized I was out of San Marzano canned tomatoes which I normally use for homemade pizza sauce. Not feeling like going anywhere on a rainy night I decided to make a quick substitution with fresh tomatoes I had in the house. That turned out to be the most delicious pizza sauce I had ever tasted. Serious!
I'd made pizza sauce with fresh tomatoes before, often with good results, sometimes not so good. I think it was the lack of great results that made me stick with San Marzanos which everyone says are best for pizza sauce. Kumato tomatoes brought those great results for me. I find their clean mild taste with sweet and spicy smell are practically ideal for a good pizza sauce. The sauce did not have overpowering acidity that I would sometimes get from both fresh and canned tomatoes. It did not leave any funky aftertaste that I often would get from canned tomatoes. Remember how Marie Barone from 'Everyone Loves Raymond' used to say that  'nothing good can come out of a can'?
When I tasted the sauce I noticed something else that finally tipped the scales against using canned San Marzano tomatoes. It was a slight yet noticeable barbecue sauce taste. I don't know whether it was the tomatoes alone, or the combination of tomatoes and sauteing over high heat, but the results were outstanding.
The process I use to make this pizza sauce is very simple. Peel and dice kumato tomatoes. Rinse and chop fresh basil. Preheat a large skillet with 2 Tbsp of olive oil and saute tomatoes and basil over high heat constantly stirring. Add salt and freshly ground pepper a minute or two before the sauce is done. It takes about 8-10 minutes to get to the desired thickness. If using a saute pan or a smaller skillet, it will take a bit longer.
The yield from 5-6 medium kumato tomatoes will be about 1 cup of sauce or slightly more. This will be enough for two medium size pizzas. If you need more and  decide to double the recipe, it may be advisable to saute in two batches. My experience is that it takes longer to do one double batch on a 12 inch skillet then to do two smaller batches one after another. There is also some impact to flavor. When heated, tomatoes release a lot of water. The less tomatoes cook in water the more barbecue flavor they will have.
Enjoy!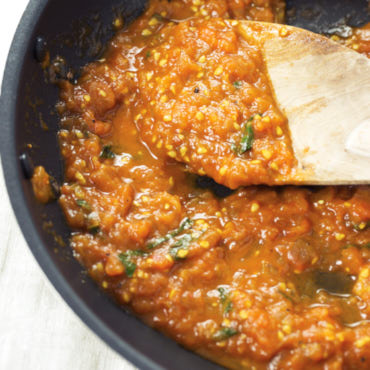 The Best Pizza Sauce Recipe
Yields about 1 cup of medium thickness pizza sauce
Ingredients
5-6

medium kumato tomatoes

peeled and diced

1/2

a bunch of fresh basil

chopped

2

Tbsp

olive oil

1/2

tsp

salt

add more to taste if needed

1/2

tsp

freshly ground black pepper
Instructions
Heat olive oil in a large skillet

Add tomatoes and basil, saute over high heat constantly stirring to prevent sticking and burning

When the sauce starts getting close to desired thickness, lower the heat to medium or low

Add salt and ground pepper

Continue sauteing for another minute or so, until desired thickness is reached
© 2018 i Food Blogger. All rights reserved. All images and content on this website are copyright protected. Please do not use my images, as is or modified, without an explicit permission. If you wish to republish this recipe or post content, please rewrite it in your own unique words and link back to this post, or to ifoodblogger.com. Thank you!