No kidding! This is the best meatloaf recipe in the world. Period. It really can't get any better than this. Try it for yourself and tell me if it isn't the best.
Meatloaf is one of those fairly forgiving dishes that does not require precise measurement of ingredients to turn out great, and I normally make it just by throwing things together. There are, however, a few things that are important if you want to make your meatloaf turn out the best in the world. The kind that is succulent, juicy, moist, and oozing with savory, beefy and porky flavors. The kind that compels you to go for another bite, and then another… and another.
The first important thing is the choice of meat. I like to use a mix of beef and pork. Beef shoulder roast, or chuck, is one of the most flavorful beef cuts, has the right meat to fat ratio, and is perfect for meatloaf. It's one of the top cuts used for making hamburgers.
Pork shoulder, or pork butt, is my top choice for pork to use in the meatloaf. It adds additional flavor.  For meatloaf two parts beef chuck to one part pork butt works the best. So, go to your butcher and ask him to grind some quality meat for you, or buy the meat and grind yourself.
You'll want to add some bacon too. Bacon adds a lot of flavor and keeps the meatloaf from drying out. Very important.
You can weave your bacon strips and then wrap around the loaf, as shown on the pictures, or you can just wrap individual strips around the meatloaf. Just remember, by weaving you are effectively doubling the amount of bacon. Presentation-wise, woven bacon does look much prettier though.
When baking, don't forget to place the meatloaves on the rack inside the baking sheet lined with aluminum foil to drain off all the melted fat.
I keep the spices to the minimum so as not to overpower beef and pork flavors, and only use salt and freshly ground black pepper. I add fresh garlic to enhance pork flavor, and some sweet red pepper for color and a bit of sweetness. A little bit of Worcestershire sauce too, for added flavor.
The sauce on the meatloaf is crucial too. It can it either help make the world's best meatloaf, or it can ruin it. I find sauce to be such an individual thing that it's almost impossible to recommend. Tastes differ, and this is especially true with regards to sauce. There are thousands of them out there to satisfy all kinds of tastes. Some of them are really great. You can also make your own. I am going to provide a recipe for a homemade sauce below that I really like and find exceptional. In the end, it's up to you to decide which sauce is the best, and only using that sauce you will have the best meatloaf in the world.
You may want to check out the Serious Eats' Sauce Taste Test article, it does a great job of explaining various types of BBQ sauces. I've tried most of the ones mentioned there, and a couple of them taste great on meatloaf. If you are in Canada, try Original Diana Sauce that is sold in most grocery stores and in Costco. It's delicious and works superbly on meatloaf.
Finally, be careful not overcook your meat. Use ThermoWorks Thermapen or any other accurate instant read thermometer.
If you want juicy, cooked to perfection meatloaf, pull it right out as soon as your meatloaf hits 165 F internal temperature. But don't cut it too quickly, let it rest for 10 minutes. This will allow the meat to re-absorb the juices that were released during cooking. If you cut the meatloaf right away the juices will run out and make the meat drier.
Enjoy!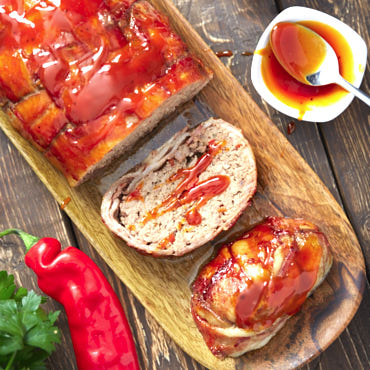 Best Meatloaf Recipe in the World!
Print
Pin
Rate
Cook Time:
1
hour
15
minutes
Total Time:
1
hour
40
minutes
Ingredients
2

lbs

beef chuck

shoulder roast, ground

1

lb

pork butt

shoulder, ground

1-2

lbs

bacon strips

1

medium vidalia onion or any sweet type onion

finely diced or ground with the meat

1

sweet red pepper

finely chopped

4

garlic cloves

crushed or ground with meat

2-3

slices

of bread

crust removed, broken into pieces or chopped finely

2

large eggs

2

tsp

kosher salt

1

Tbsp

Worcestershire sauce

1/2

teaspoon

freshly ground black pepper

1/3

cup

whole milk or half-and-half

For the sauce

1

cup

tomato puree

may be substituted for ketchup

1/4

cup

water

1/4

cup

apple cider vinegar

3

Tbsp

brown sugar

2

Tbsp

molasses

1/2

tsp

fresh ground black pepper

1

tsp

onion powder

1/2

tsp

ground mustard

Colman's recommended

1/2

Tbsp

Worcestershire sauce
Instructions
Preheat the oven to 375 degrees F.

To prepare the meatloaf: Place bread into a bowl with milk or cream, allow to soak for several minutes. Grind beef and pork (if grinding yourself). You can also grind onions and garlic together with the meat. Prepare your vegetables. Place the ground beef, pork, milk-soaked bread, salt, black pepper, onions, garlic, eggs, Worcestershire sauce, and sweet red pepper in a large mixing bowl. Mix the ingredients with your hands, until well combined. Do not overwork the meat or it will result in a tough meatloaf.

Form two loaves about 10 inches long and 5 inches in diameter. Spread bacon strips, woven or simply side-by-side, making two 12 inch by 12 inch squares. Place the loaves on bacon squares, wrap up the loaves and turn them up side down. Place the loves on the cooling rack situated on top of the aluminum foil lined backing sheet, which will allow the fat from the meat to drain.

Transfer into the oven and bake for 45 minutes on top rack. After 45 minutes, remove from the oven, generously brush with the sauce and continue baking for another 20-30 minutes, until fully done and internal temperature in the middle of each meatloaf has reached 165F. Allow to sit for 10-15 minutes before serving. Pour the remaining warm sauce on top of the meatloaves, or serve on the side as a dipping sauce.

To make the sauce, combine all ingredients in a medium size saucepan. Bring mixture to a boil, reduce heat to simmer. Cook uncovered, stirring frequently, for about 45 minutes.