Caramel popcorn is one of my guilty pleasures. I love it. I never thought of making caramel popcorn at home until we bought a stove-top popcorn maker
to make healthy popcorn, you know, the kind without all those hard-to-pronounce-additives, preservatives and flavor enhancers, the kind that uses real butter and such. Besides, it's much cheaper to buy popcorn kernels in bulk.
To make the real deal, I even bought mushroom popcorn kernels
. Turns out that stove-top popcorn poppers are best suited for popping mushroom popcorn at home because you need really good heat for mushroom kernels to pop into balls. Glad we bought one of those and not a hot air popper. But, I digress.
So I popped the kernels, my daughter made caramel sauce for popcorn following a very positively reviewed yet easy recipe we found on Allrecipes.com, and … it turned out to be the best caramel popcorn we'd ever tasted. Really awesome. We made another batch some time later, only cut butter in half, following the advice from some reviewers on Allrecipes.com, and it was great again. Cutting butter in half did not make the popcorn better or worse, just slightly different – less buttery, more crunchy. The thing with using less butter is that the caramel becomes less fluid and hardens faster, resulting in less even coating and more breakages of the kernel because it becomes harder the separate them. I could go either way. Certainly, less butter and saturated fat made it more healthy. So, what's the point of this post? Well, read on.
By the way, here are three pictures with the butter cut in half. The caramel is a little darker here because we caramelized the sugar a little longer so it turned a tad darker.
And here is again the picture with the full butter amount.
We made yet another batch of caramel popcorn. My daughter made caramel sauce, just as she had before. I tasted it and realized that something was wrong. It did not taste the same. It wasn't bad, but definitely worse than before. I asked my family members what they thought, and they pretty much echoed what I was thinking. Hm… what could have gone wrong? My daughter and I went through all the steps and nothing seemed out of order. Then she exclaimed, I know! We've run out of Muscovado sugar so I used regular brown sugar. Suddenly it all made sense to me.
I first bought Muscovado sugar to make Chad Robertson's Salted Chocolate Rye Cookies. It looked like regular brown sugar and I was puzzled as to why Mr. Robertson did not just use regular brown sugar. Then I tasted it and it became clear to me why he used it and not something else. I would describe its taste as that of toffee. To me it tastes more like caramel than plain sugar. More flavorful and… interesting. I pretty much have been using it in place of brown sugar since then.
That batch we made with brown sugar saw no love. It quietly sat in a container until it became stale and lost its crunch, so we eventually had to throw it out. In the following batch we used Muscovado and the popcorn was what we could again call the best caramel popcorn ever.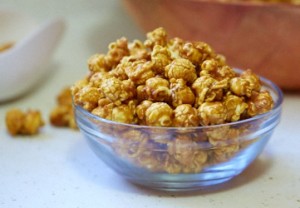 Best Caramel Popcorn Recipe
Print
Pin
Rate
Total Time:
1
hour
20
minutes
Ingredients
1/2

cup

butter

original recipe uses 1 cup of butter

2

cups

Muscovado sugar

1/2

cup

corn syrup

1

teaspoon

salt

1/2

teaspoon

baking soda

1

teaspoon

vanilla extract

5

quarts

popped mushroom popcorn
Instructions
For best results and to make the real deal, use mushroom popcorn. If you don't have mushroom popcorn, butterfly popcorn will also work with very good results.

Preheat oven to 250 degrees F (95 degrees C).

Place popcorn in a very large bowl. You want all 5 quarts of popcorn to not fill more than 2/3 of the bowl, otherwise it will be very hard to stir. If you don't have one that size, split the popcorn in half and do the stirring in two batches.

In a medium saucepan over medium heat, melt butter. Stir in Muscovado sugar, corn syrup and salt. Bring to a boil, stirring constantly. Boil without stirring 4 minutes. Remove from heat and stir in soda and vanilla. Pour in a thin stream over popcorn, stirring to coat.

Place the coated popcorn in two large shallow baking pans/sheets lined with parchment paper. For this recipe I recommend using 12 x 18 inch size pans. Smaller pans will also work, but the popcorn may not dry as well. Bake in preheated oven, stirring every 15 minutes, for 1 hour. Remove from oven and let cool until just warm to touch. At this point break the popcorn into pieces. You may let it cool completely before breaking, as the original recipe on Allrecipes.com suggests, but you will see many damaged kernels as the hardened caramel will be tough to break resulting in breaking of the popcorn kernels themselves.
© 2018 i Food Blogger. All rights reserved. All images and content on this website are copyright protected. Please do not use my images, as is or modified, without an explicit permission. If you wish to republish this recipe or post content, please rewrite it in your own unique words and link back to this post, or to ifoodblogger.com. Thank you!