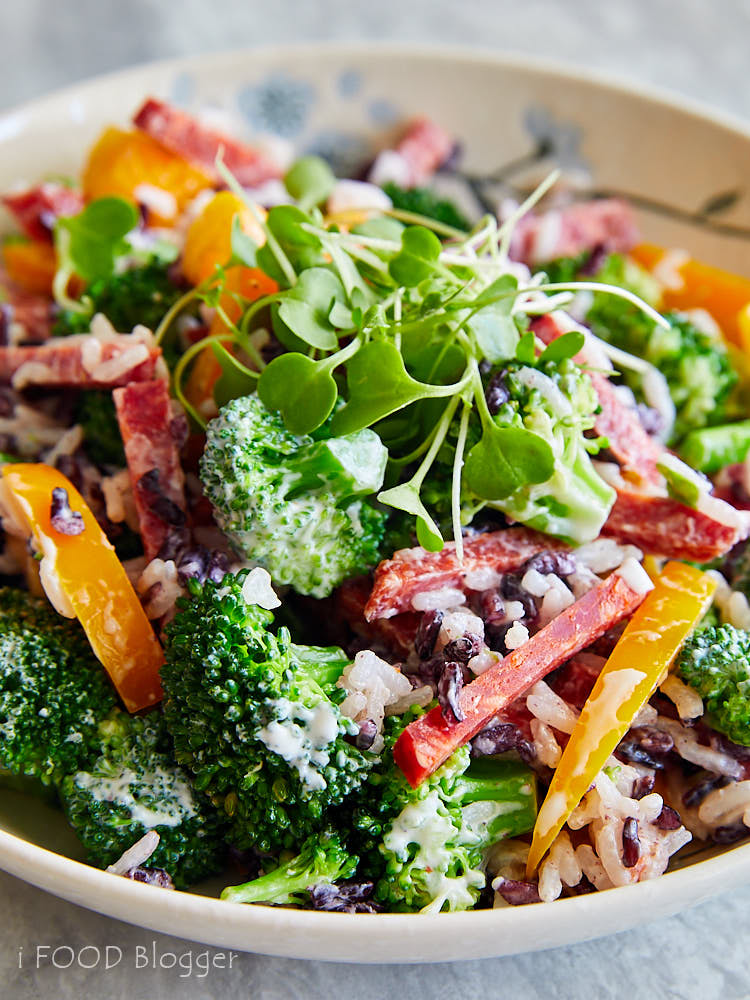 If you eat healthy, or simply try to have a variety in your diet, chances are you eat a fair amount of broccoli. Broccoli is one of the healthiest foods, but is bland, tasteless and fairly dry on its own, which makes it hard to eat. You have to get creative to make it tasty. One of my favorite ways to incorporate broccoli into my diet is to make salads with it. I have several great broccoli salad recipes in my arsenal, but this particular one is what I consider the best broccoli salad recipe.
This salad incorporates protein, carbs, fat and a lot of fiber.  You've got meat here, rice and veggies. Add a delicious homemade dressing on top of that. It's like having a meat dish, a side dish, and a salad all in one. This salad is not an accompaniment to a meal, it's a meal on its own. This is what makes it the best broccoli salad. It tastes delicious, it's fairly healthy, and it's very satisfying.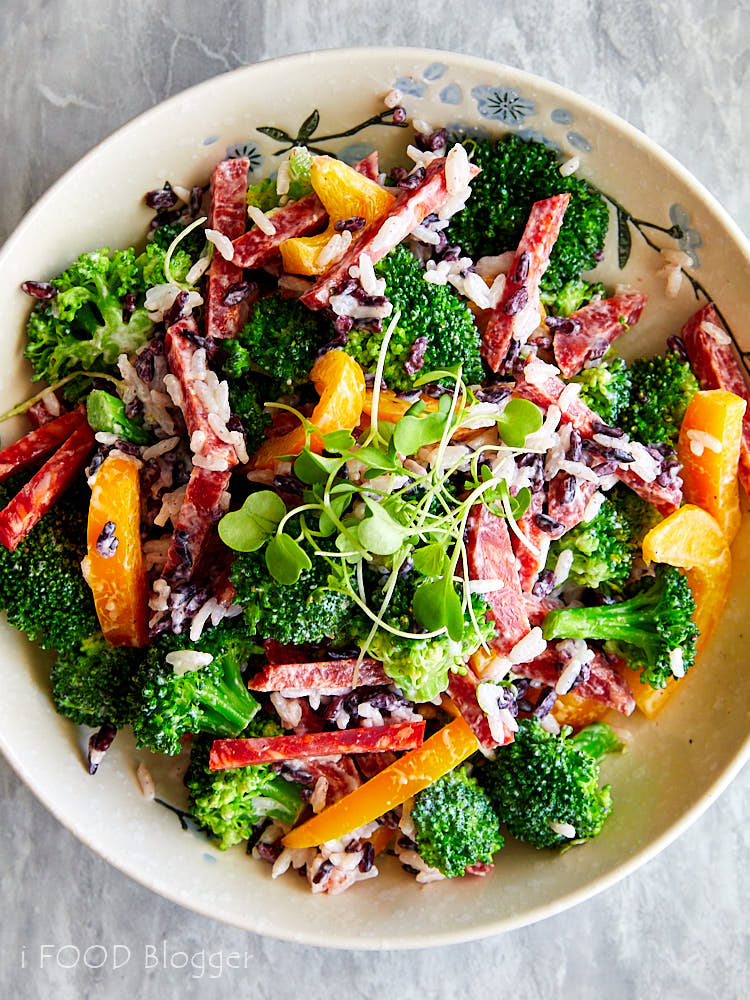 Oftentimes broccoli salad recipes call for raw broccoli. I wish I could say that I like raw broccoli, but I can't. Parboiled broccoli, on the other hand, is amazing and I could eat it every day. I just drop broccoli florets into a pot of boiling water for exactly 3 minutes, then shock them with ice-cold water, then drain. That's it.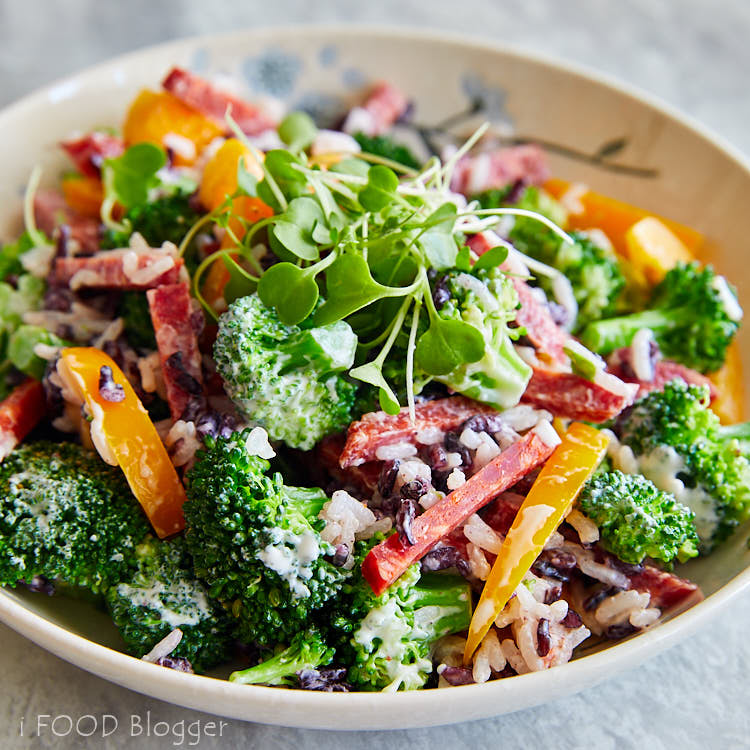 Rice and broccoli are like meat and potatoes, they go so well together. As such, the best broccoli salad recipe must include rice, right? And meat. Protein is good. It makes any salad taste better and more satisfying. I chose spicy salami to use in this salad but there are many options there: ham, grilled chicken, prosciutto, bacon, etc.
Speaking about rice, I like using red rice in many of my dishes for contrast of colors and taste, and nutrients. Red rice is very rich in antioxidants. However,  just plain rice will work very well. You can also incorporate brown and wild rice.
The colorful bell peppers are essential in this salad – they add crunch, sweetness and a cheerful color. Red, yellow or orange peppers will work very well in this salad. If you only have green peppers, you can use them too.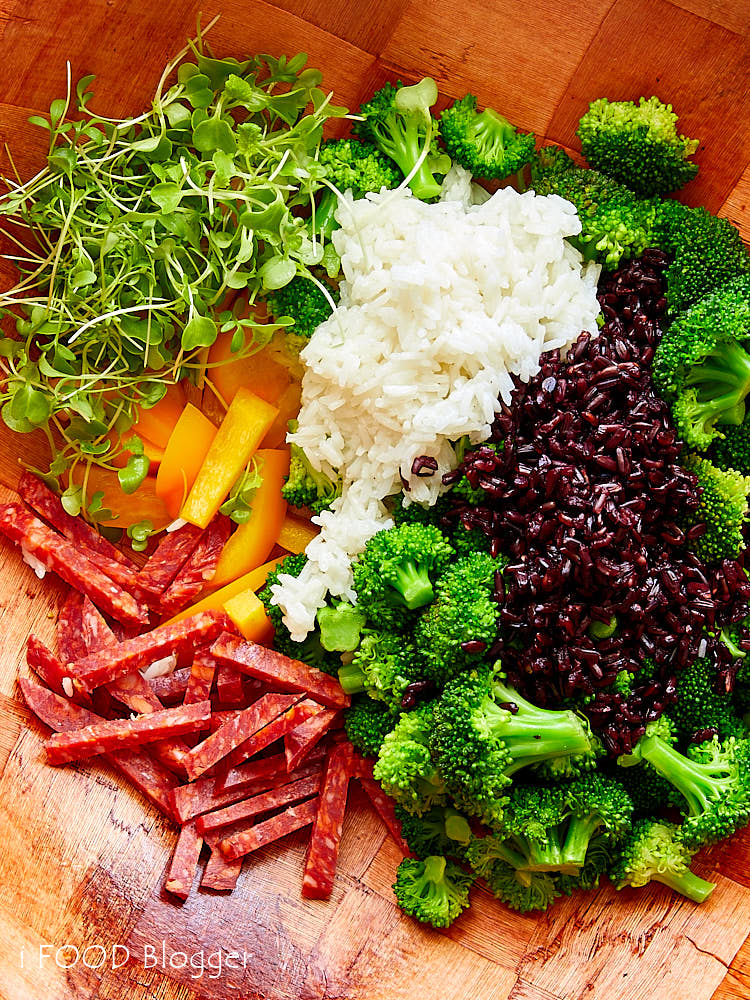 Enjoy!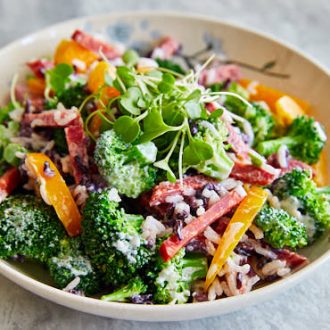 Ingredients
1

cup

white rice

(cooked; see notes)

1

cup

red rice

(cooked; you can substitute with white, brown or wild rice)

1

lb

broccoli

(cut into small, bite size florets)

1

sweet bell pepper

(red, yellow, or orange)

1/2

lb

spicy salami

(diced or cut into matchsticks; you can substitute with ham, grilled chicken, etc.)
For the dressing:
3

Tbsp

mayo

(good quality)

1/2

cup

plain yogurt

1

Tbsp

olive oil

(good quality)

2

Tbsp

white wine vinegar

Kosher salt

(to taste)

Freshly ground black pepper

(to taste)
Instructions
In a large pot, bring water to a boil. Drop broccoli florets and cook for exactly 3 minutes. Remove broccoli from the boiling water and shock with ice-cold water. Set aside.Tip: to have the broccoli retain its vibrant green color, add a teaspoon of oil to the boiling water.

Combine all of the ingredients for the dressing in a large bowl. Whisk until well blended. Season with salt and pepper to taste.

To the bowl with the dressing, add the broccoli, rice, bell pepper and salami. Toss until well coated.

Transfer the salad into individual salad bowl, garnish with micro greens and serve.
Notes
For best results, cook rice in well-seasoned beef or vegetable
broth
. This will make a superb-tasting rice that will make the broccoli salad taste great as well.
Nutrition
Calories:
329
kcal
|
Carbohydrates:
21
g
|
Protein:
13
g
|
Fat:
21
g
|
Saturated Fat:
6
g
|
Cholesterol:
35
mg
|
Sodium:
935
mg
|
Potassium:
492
mg
|
Fiber:
3
g
|
Sugar:
3
g
|
Vitamin A:
22.4
%
|
Vitamin C:
113
%
|
Calcium:
7
%
|
Iron:
7.8
%