This beanless chili recipe in a way is a fusion of Italian and Mexican cuisines. The chili has traditional flavors but it's very meaty and incorporates orzo pasta in place of the typical kidney or pinto beans. This meatiness and presence of pasta reminds me of lasagna. Orzo pasta, due to its size and shape, matches chili perfectly. It has a delicious, light, nutty-like texture, reminiscent of rice.
I made this beanless chili recipe based entirely on fresh tomatoes. No canned stuff. The reason is that I find canned tomatoes a little too bright and acidic. That acidity affects how the chili tastes. I've had much better results with fresh tomatoes so I am going to stick with that. Besides, fresh tomatoes are healthier if you believe all the scare stories about canned stuff.
I find that 3 cups of cooked orzo pasta strikes a good balance in this recipe. More pasta makes the chili thicker and overwhelms the rest of the ingredients. Less than three is definitely not enough. You can play with the ratios and find what works for you as there is no right or wrong here.
This chili is very mildly spiced which makes it suit just about any taste. There is barely any spiciness. If you want your chili spicy add one jalapeno pepper. You can also try adding cayenne pepper. Start with 1/2 teaspoon, taste and adjust as needed.
I am also using dark chili powder
in this recipe. I first tried it only a few years ago and have since only been using this type for chili. This dark version has its spices roasted longer to give a slightly earthier and smoky flavor, making it better suited for hearty dishes like stews and chili.
If orzo is not your thing though, try the Homemade Chili with Chunky Beef and Bacon. It's also beanless and is one of the best chilies I've tried.
Enjoy!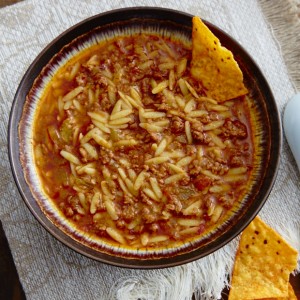 Beanless Orzo Chili Recipe
Total Time
3
hours
30
minutes
Ingredients
4

lbs

ground chuck

1

large onion

finely chopped

3

celery stalks

finely chopped

4

garlic cloves

crushed

8

large tomatoes

skins removed and diced

3

cups

water

3

beef bouillon cubes

3

cups

cooked orzo pasta

1 1/2

Tbsp

dark chili powder

2

tsp

cumin powder

2

tsp

kosher salt

plus more to taste
Instructions
Grind beef chuck using a medium size plate.

Preheat a large skillet and brown ground beef in batches. To prevent the meat releasing too much water and achieve better browning, shape the ground meat into thin patties and brown them over high heat, about 2-3 minutes per side. Crumble the patties into 1/4 to 1/3 inch pieces using a fork and set aside.

In the same skillet, with a little bit left-over fat from beef, saute chopped onions, celery and garlic over medium-high heat for about 3-4 minutes until the vegetables are starting to get soft.

Place browned beef, sautéed vegetables and the rest of the ingredients into a large pot, Dutch oven, or slow cooker. Bring to boil, cover and simmer over low heat for 3 hours. Remove from the heat.

Prepare orzo pasta separately per the instructions on the package. Add cooked pasta to the chili and stir to disperse. Serve immediately.