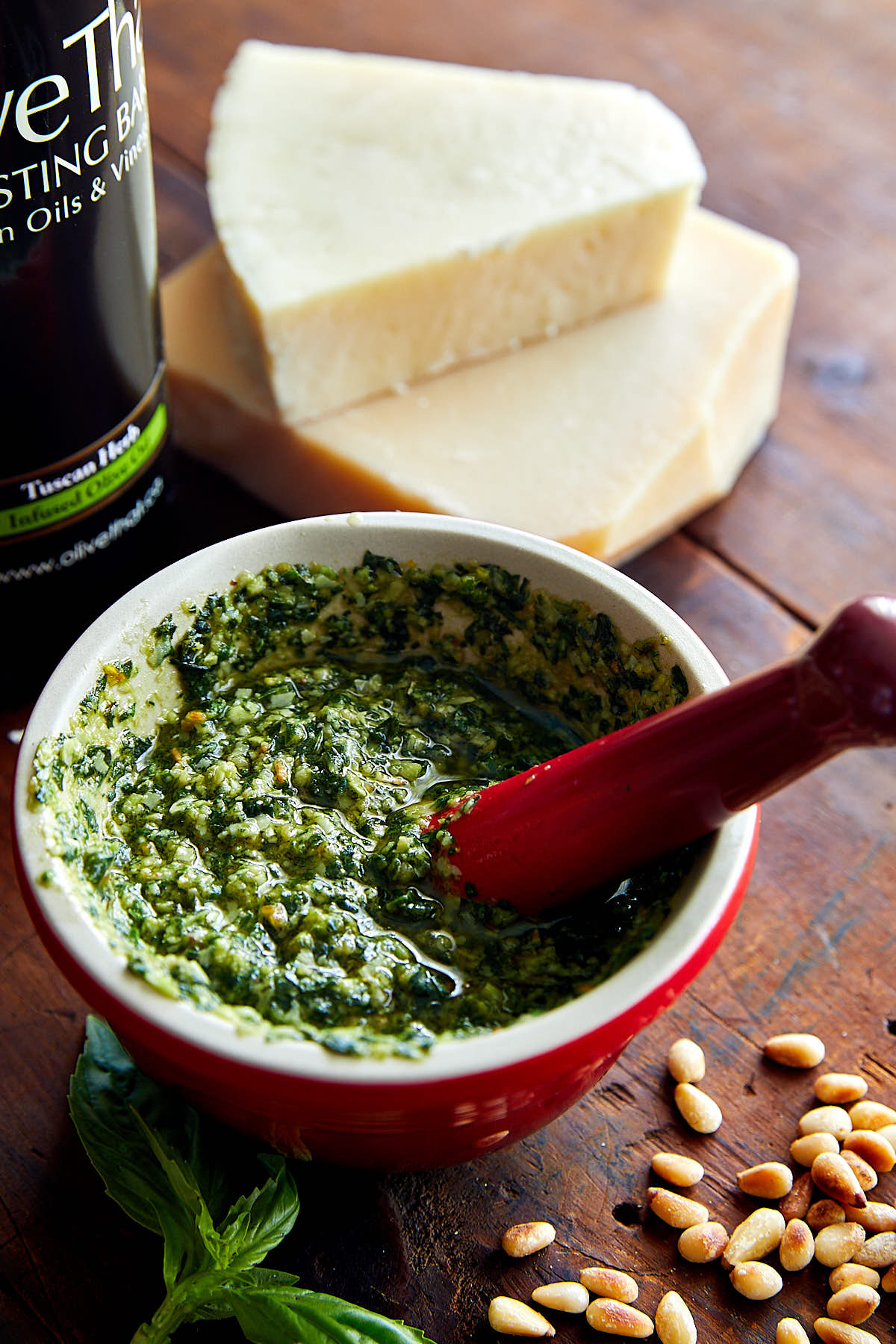 This basil pesto recipe is a jump back to the good old days when everything was made by hand and, supposedly, tasted way better than it does nowadays, for the most part. There are exceptions, of course. But this pesto is not one of those exceptions. It really is way better than what most commercially sold pesto tastes like. It's better than any pesto that I've ever tasted.
This basil pesto takes a little more time to make but you will be rewarded with an amazingly fresh taste, a range of textures and complex flavors. What's so special about this recipe? Here is what:
You use a mortar and pestle and grind the ingredients by hand, which results in uneven particles. That's a good thing. It adds texture and it tastes better. Making a small amount of pesto in a food processor is impractical anyway and a mortar and pestle comes in very handy.
You use freshly-roasted pine nuts. They add so much aroma and so much flavor that your pesto will taste like it never tasted before.
Finally, you use a mix of freshly grated Parmigiano Reggiano and Pecorino Romano cheeses. The two are quite different. While both are salty and umami-rich, Pecorino Romano is a little saltier and more tangy, whereas Parmigiano Reggiano is fairly nutty and tastes milder overall. A combination of the two gives pesto a richer and more complex taste.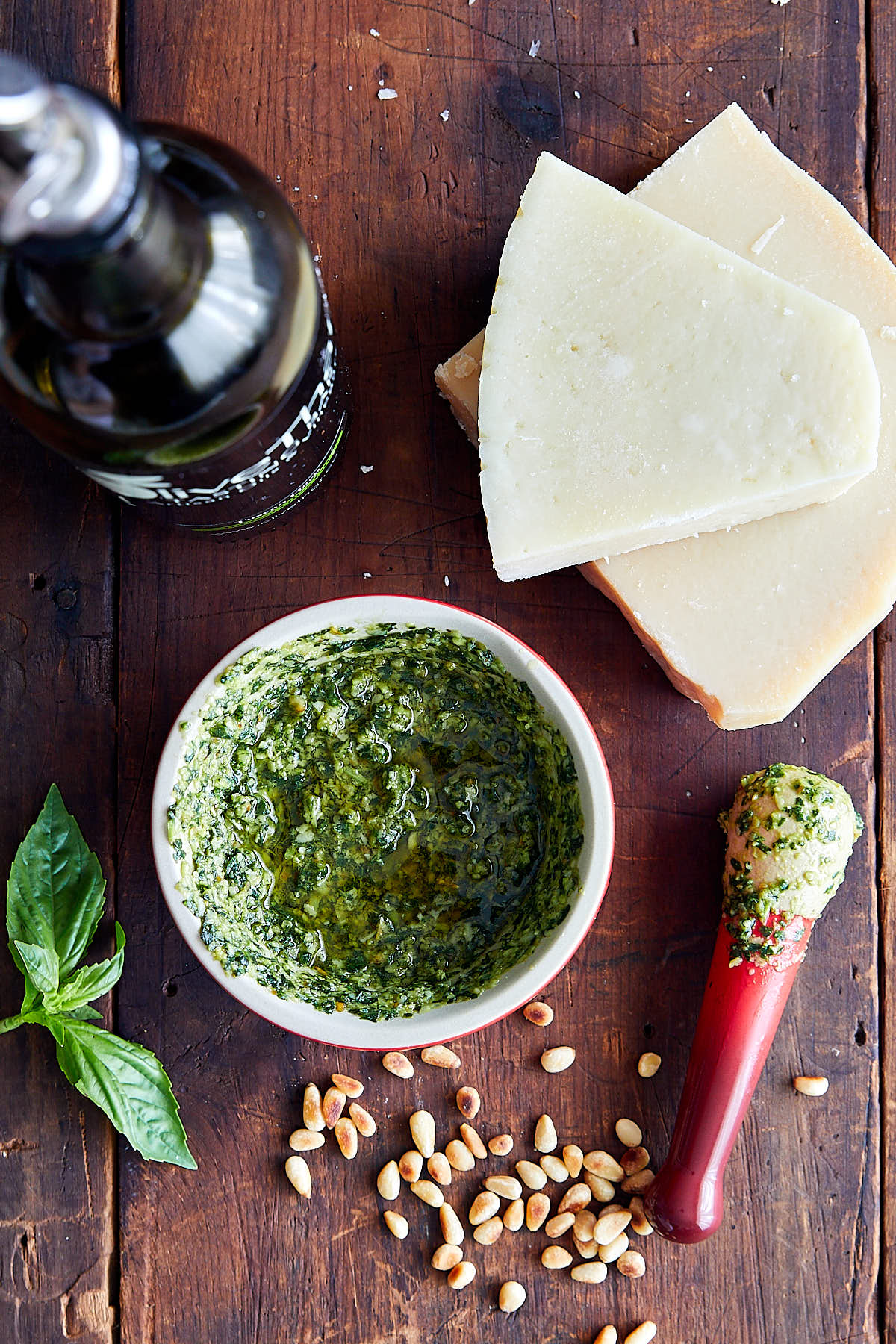 Try this basil pesto with Pesto Chicken or Pesto Shrimp Pasta.
Enjoy!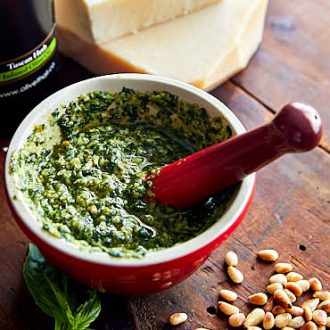 Basil Pesto Recipe (using Mortar and Pestle)
Homemade Basil Pesto Recipe using mortar and pestle for ultimate taste, texture and flavor complexity.
Print
Pin
Rate
Ingredients
1

cup

fresh basil leaves

(packed)

1

large garlic clove

2

Tbsp

pine nuts

7

Tbsp 

extra virgin olive oil

3

Tbsp 

freshly grated Parmigiano Reggiano cheese

2

Tbsp

freshly grated Pecorino Romano cheese

Kosher salt and freshly ground black pepper

(to taste)
Instructions
Preheat a heavy bottom skillet over medium heat. Add the pine nuts and roast, frequently stirring, until fragrant and sides become deep golden brown, about 3 minutes. Remove from the skillet and set aside.

Using a large kitchen knife, mince the basil and the garlic as finely as possible. Transfer to a mortar.

Add a generous pinch of salt and grind in a circular motion, scraping the basil from the walls now and again, until the desired consistency, about 1-2 minutes.

Drop the pine nuts in and pound and grind until fine texture is achieved, about a minute.

Add 5 tablespoons of olive oil and the cheeses, then grind more in a circular motion until combined.

If pesto feel a little dry add more olive oil. You want to see some oil just slightly pooling at the top.

Season with more salt to taste, and some freshly ground black pepper.

This recipe will make about a cup of pesto. This basil pesto will keep in a fridge for up to 3 days, or it can be frozen in an air-tight container for up to 3 months.