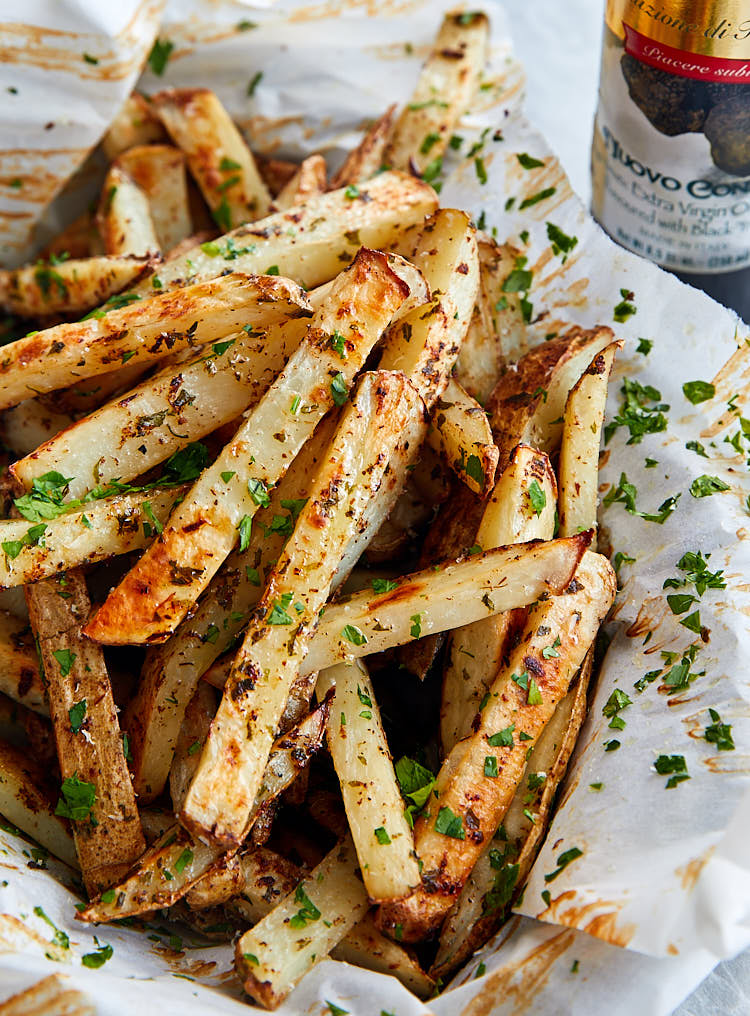 Let me say, if you've never tried truffle fries you absolutely must. They are ridiculously good! They will leave you desiring more. There's never enough of them. Their umami will blow your mind. The first time I made them we liked them so much that what was meant to be a side dish disappeared in the blink of an eye before the main dish was barely touched. I had to make a second batch an hour later because everyone was begging for more of those little heavenly sticks.
It started with a friend giving us a bottle of truffle oil as a gift. I didn't think much of truffle oil as my past experiences with it had left me with a bitter taste in my mouth. Literally. I keep an open mind about food so I gave this one a try and, surprisingly, quite liked it. It was different. It actually tasted and smelled very good. Later, I learned that not all truffle oil is created equal. Some is garbage made of cheap oil scented with chemicals that mimic truffle aroma. Some is good quality olive oil infused with real black or white truffles. They said that the best way to tell good truffle oil is when you see bits of truffles floating in the oil. This is the one to get if you are serious about your truffle fries or any dish you want to flavor with it.
A short while later, my wife bought a little jar of black truffle sea salt. It's your typical seas salt mixed with bits of black truffle. Truffle bits release aromatic oils which get absorbed by the salt and make it smell like truffles. I have to say I am now crazy about the smell of truffles.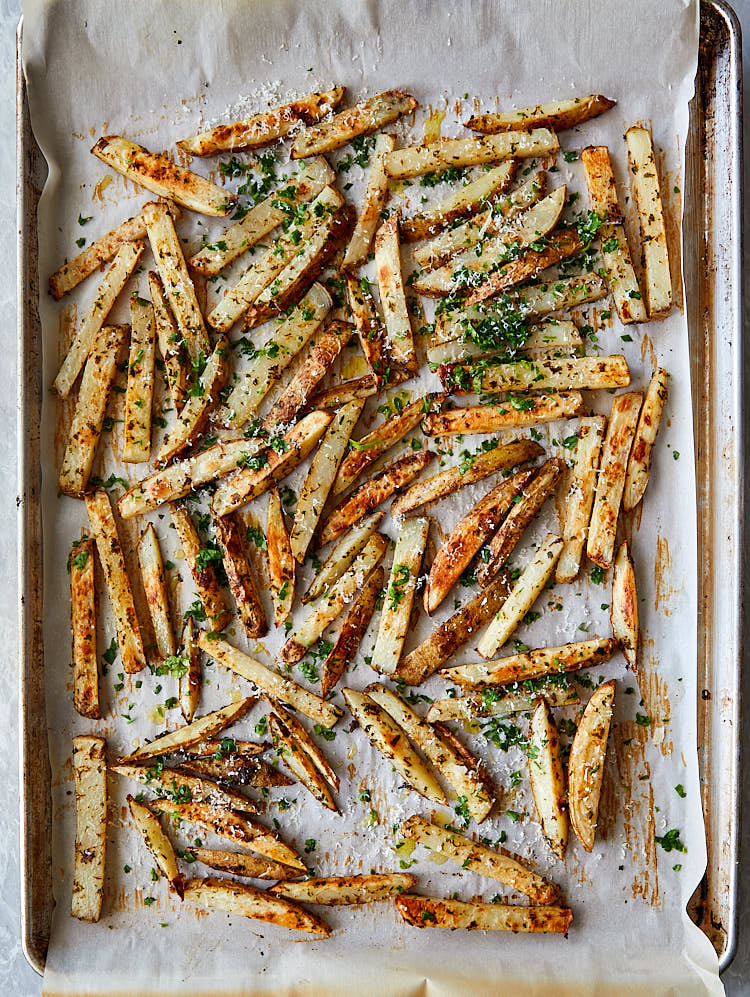 So, there we were, with a bottle of nice truffle oil and a jar of truffle salt, thinking of what we could season with them. The first one was an egg omelet which turned out quite mediocre. I used too much oil and I actually used the oil for cooking. That's a big 'No-no'. You should never use truffle oil for cooking as delicate truffle oils will get destroyed and the desirable aroma will vanish. You should only use truffle oil for finishing your dish, as a garnish.
Later there were a few more attempts from which I learned that with truffle oil, much like with any spice or seasoning, a little goes a long way. A little drizzle is all that's necessary in most cases.
Eventually, my experiments with black truffle oil led me to trying truffle fries. I am not sure why that wasn't the first dish I tried as it seems to be crazy popular. Instead of deep frying, I always bake my fries as they taste better to me that way, and are healthier. And there is no mess to clean in the end.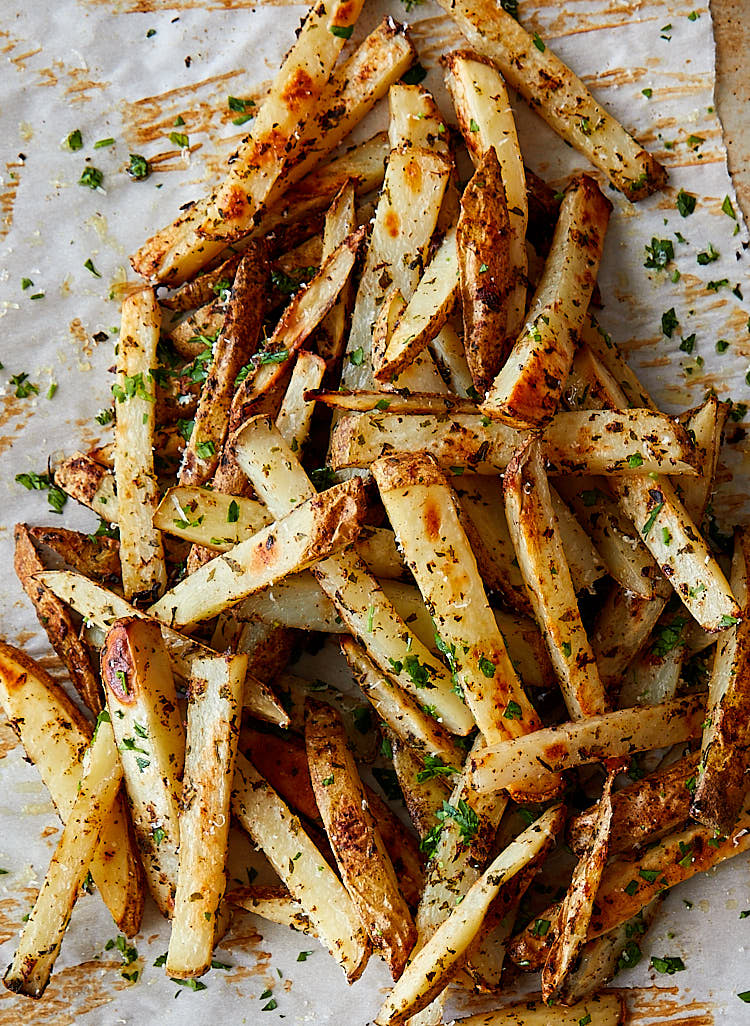 I used my favorite method for making baked fries – quick high heat baking at 450F –which I wrote about in my Vadouvan Chicken Wings with Baked Fries post. With that method I always get excellent results and the fries bake very quickly.
The seasonings and spices that I chose to use are quite standard, with the exception of one secret ingredient – powdered dried porcini mushrooms. Seriously, you can't go wrong pairing potatoes with rich, earthy flavor of porcini mushrooms that pair exceptionally well with truffle oil. Shitake mushrooms are a good substitute if you don't have porcini. I think it's the mushrooms, in combination with truffle oil, that make these fries so tasty and so addictive. Take one fry and lick it – you'll know what I am talking about. It's delicious!
These fries go exceptionally well with burgers and especially steaks. Try them with some of my favorites:
Simple Tri-Tip Steaks
Skirt Steak With Chili Butter
Pan-Seared Ribeye Steak with Compound Butter
Restaurant-Style Filet Mignon with Compound Butter
Enjoy!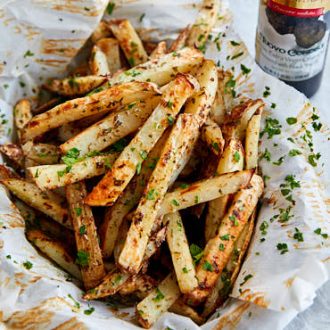 Baked Porcini and Parmigiano Reggiano Truffle Fries Recipe
Hand-cut fries, seasoned with dried porcini mushroom powder for earthy flavor, crispy and baked to a beautiful golden-brown color, garnished with truffle oil, Parmagian Reggiano cheese and fresh parsley.
Ingredients
4

Russet potatoes

(skin on, scrubbed and rinsed)

2

Tbsp

grated Parmigiano Reggiano cheese

1

Tbsp

olive oil

1

Tbsp

dried parsley

1

tsp

kosher salt

2

Tbsp

powdered dried Porcini mushrooms

(you can use Shiitake as well as they have similar earthy flavor)
For the garnish:
2

Tbsp

grated Parmigiano Reggiano cheese

1

Tbsp

Truffle oil

2

Tbsp

fresh parsley

(finely chopped)

1

tsp

Truffle salt

(optional, add more to taste)
Instructions
Cut the potatoes lengthwise into 1/2" thick sticks.

Add the potatoes, grated Parmigiano Reggiano cheese, olive oil, dried parsley, salt and powdered mushrooms to a large bowl.

Toss the ingredients and ensure that the potatoes are evenly coated.

Spread the potatoes on a large baking sheet lined with parchment paper in a single layer.

Bake at 450F on a rack positioned in the upper part of the oven for 30 minutes. Using a spatula, flip the potatoes and continue baking for another 10 minutes or until the potatoes are golden brown and cooked through.

Remove the potatoes from the oven and drizzle with truffle oil.

Sprinkle with grated Parmigiano Reggiano cheese and fresh parsley.

Grab both ends of parchment paper toss the fries to cover them evenly with the garnish.

Lift the fries with the remaining parchment paper and place into an appropriately sized bowl or a basket.

Optionally sprinkle with some truffle sea salt and serve.
Recipe Notes
I like cutting the potatoes about 1/2" thick as that way I get good browning and a soft, creamy interior. If you want your fries crispier, cut them thinner.
Also, do not overcrowd the potatoes. When overcrowded, they bake longer and don't crisp up too well.
Nutrition Facts
Baked Porcini and Parmigiano Reggiano Truffle Fries Recipe
Amount Per Serving
Calories 273
Calories from Fat 72
% Daily Value*
Total Fat 8g 12%
Cholesterol 3mg 1%
Sodium 1257mg 52%
Potassium 1022mg 29%
Total Carbohydrates 44g 15%
Protein 7g 14%
* Percent Daily Values are based on a 2000 calorie diet.
© 2018 i Food Blogger. All rights reserved. All images and content on this website are copyright protected. Please do not use my images, as is or modified, without an explicit permission. If you wish to republish this recipe or post content, please rewrite it in your own unique words and link back to this post, or to ifoodblogger.com. Thank you!