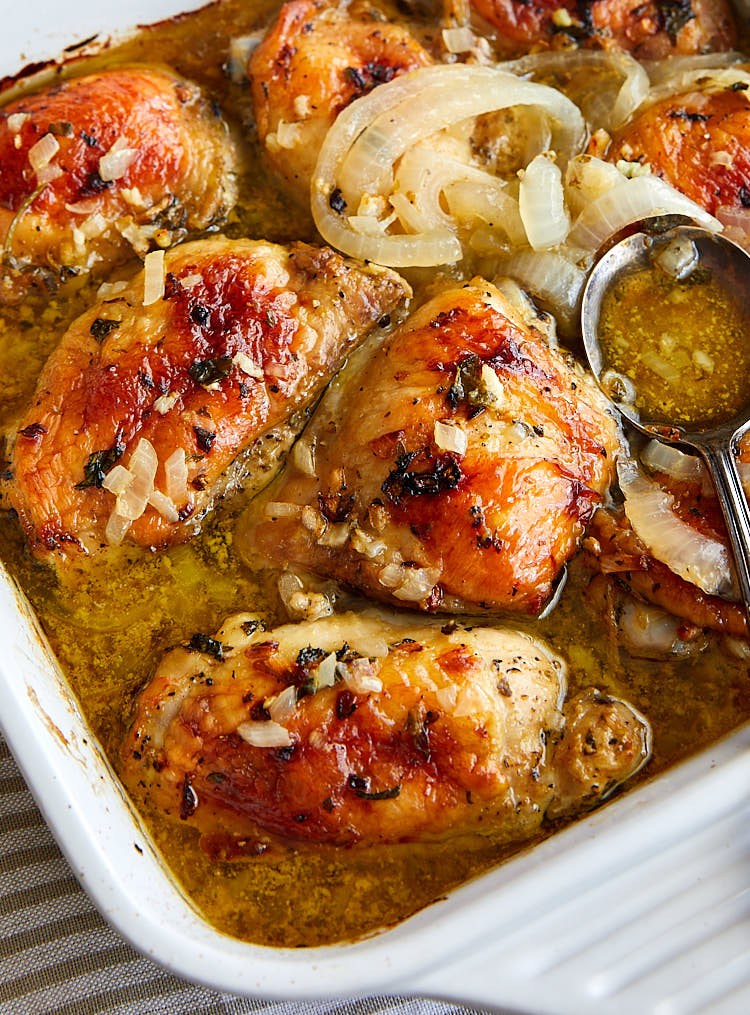 I haven't got this excited about a new baked chicken thigh recipe since my Killer Baked Chicken Thighs. It truly is amazing. This recipe features a new to me Caribbean flavor profile – it's citrusy, bright and slightly sweet. There is no added sugar here and all the sweetness comes from oranges, grapefruit and onions. This new way of making baked chicken thighs is now a staple in our home and shares the crown with my Killer thighs that sport Asian flavors.
The inspiration for this recipe came from the Dinosaur BBQ Roasted Mojito Chicken recipe which I recently tried and fell in love with. In this recipe, however, I made a few changes. First and foremost, I don't cook the marinade. I tried both and liked the uncooked version better. It allows for brighter and more pronounced flavors in my opinion. It's a lot simpler to make too as you don't have to mess with pouring fruit juices into hot oil. No pulsing the marinade in a blender here either – this way it is visually more appealing and less cleanup to do afterwards.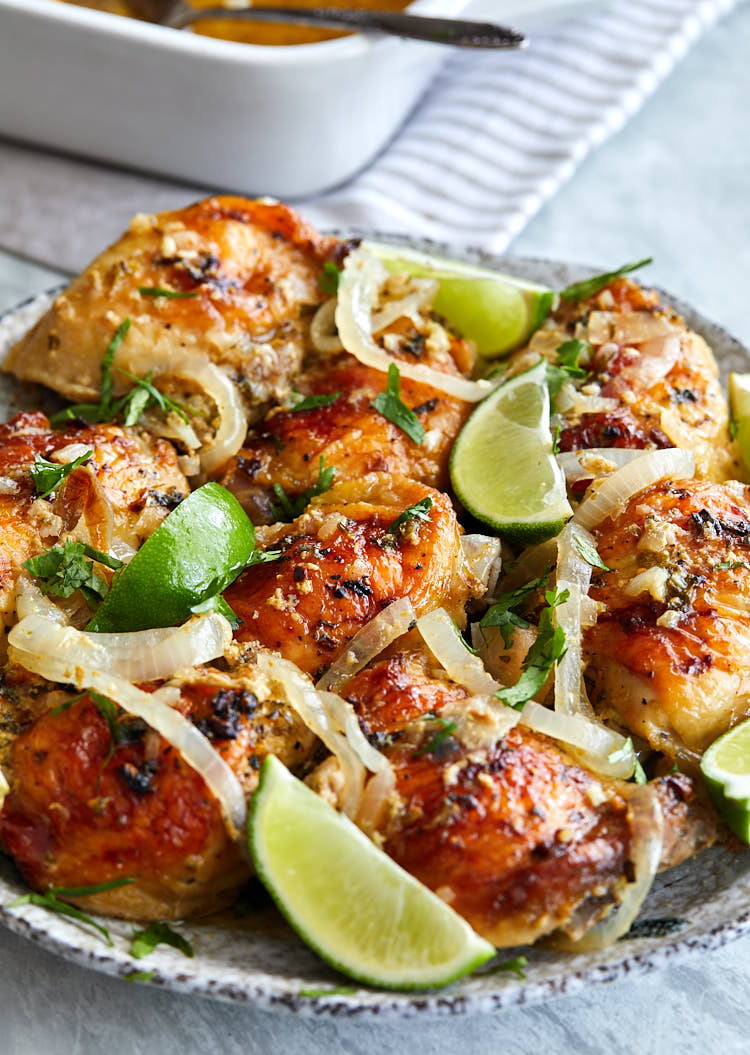 Trying to stay as close to Cuban flavors as possible, I learned that authentic chicken recipes use sour oranges called naranjas agrias. They are super hard to find outside of Cuba. Thanks to someone who was native to Cuba before and now lives in the US, I learned that a 1:1:1 ratio of lime, orange and grapefruit juice will give an pretty close approximation of the real deal. This is what I use in this recipe. The difference is subtle, but I can totally taste it and I like this juice blend a lot.
Now, if you call your chicken thighs mojito, they must use mint and rum, right? I added those two ingredients and appreciated the extra flavor they brought in. The mint flavor came through just slightly. If you want more mint flavor I suggest you double the amount of mint. A hint of rum was present but not strong or overpowering. Was it necessary? Maybe if you like that flavor. I think more than 1-2 tablespoons would be an overkill. If you don't like rum or alcohol in general, skip it.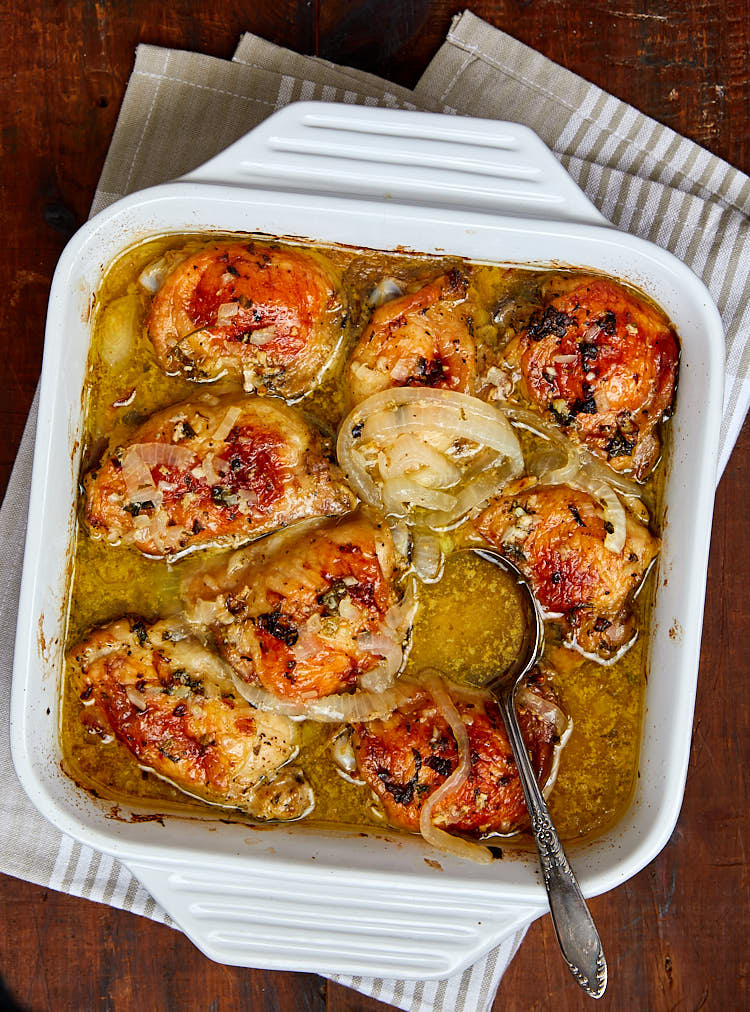 Looking for more great chicken thigh recipes? Check these out: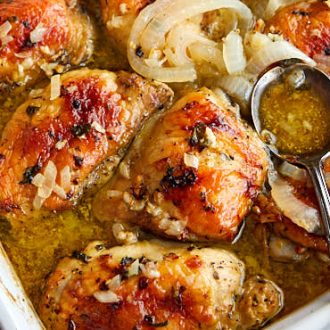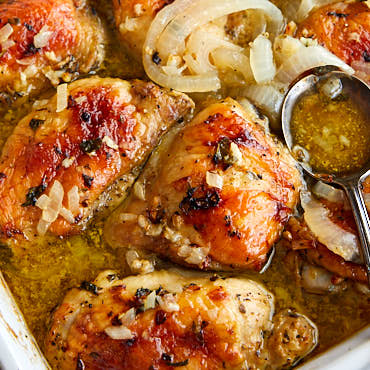 Ingredients
8

chicken thighs

(bone in, skin-on)

1

yellow onion

(sliced into 3/8" rounds)
For the marinade:
3

garlic cloves

(pressed)

1/4

cup

yellow onion

chopped

1/3

cup

orange juice

freshly squeezed

1/3

cup

lime juice

freshly squeezed

1/3

cup

grapefruit juice

freshly squeezed

1/4

cup

olive oil

good quality

2 1/2

tsp

kosher salt

1 1/2

Tsp

black pepper

freshly ground recommended

1

tsp

ground cumin

1

tsp

oregano

(dried)

1

Tbsp

fresh cilantro

chopped

1

Tbsp

fresh mint

chopped

1

Tbsp

rum

optional
For the garnish:
2

limes

sliced into wedges

1

Tbsp

fresh cilantro

chopped

1

Tbsp

fresh mont

chopped
Instructions
To prepare the mariande, simply combine all of the ingredients in a large bowl, Ziploc bag or simply in a baking dish. Set aside.

Add the chicken thighs and cover with the marinade really well. Get some of the marinade under the skin too. Cover and marinate overnight or up to 24 hours.

Preheat oven to 375F.

Spread the onion rings on the bottom of a baking dish. If you marianated the chicken in the dish, simply lift each thigh and slide a ring or two under it. Place the chicken thighs on top and pour in the mariande.

Bake at 375F for one hour to one hour and 15 minutes, until the tops are nicely browned and the internal temperature inside the thighs registers 185F. Rotate the baking dish after about 40 minutes to ensure even browning.

Remove from the oven and let the thighs rest for 5 minutes. Transfer to a serving platter, top with baked onion rings and lime wedges. Serve with pan juices poured over the thighs, those juices are fabulous.
Nutrition
Calories:
339
kcal
|
Carbohydrates:
7
g
|
Protein:
19
g
|
Fat:
25
g
|
Saturated Fat:
6
g
|
Cholesterol:
110
mg
|
Sodium:
816
mg
|
Potassium:
338
mg
|
Sugar:
3
g
|
Vitamin A:
2.5
%
|
Vitamin C:
21.2
%
|
Calcium:
2.7
%
|
Iron:
6.7
%