I typically smoke my jalapeno poppers, but with this icy cold weather we've been having I'd rather stay inside and make some baked jalapeno poppers instead. Baked poppers can be every bit just as tasty if  you make them right. Actually, they are ridiculously good. Make them for Super Bowl and your friends will thank you.
My electric oven, like most other ovens out there I imagine, runs humid and bacon wrapped around food never gets that same crispiness and flavor as I do on the smoker.  It comes out under-cooked and rubbery in places, with only a few spots here and there that are sufficiently browned and crispy. That's why it's better to use pre-cooked bacon when baking poppers. Wrapping pre-coked strips of bacon around jalapeno peppers is not an easy task, nor is it necessary. Instead, I like to chop them up and put inside the stuffing.
Speaking about the stuffing, I like my jalapeno poppers loaded. Like those loaded pizzas or nachos 'supreme' . Hence the name. Yeah, yeah, I know, it's not how you make them, silly, you only put cream cheese, cheddar, and maybe a piece of sausage inside. I know. But that's how we in our family like them and I wouldn't change a thing.
So, what's inside the popper? Before I answer, let me ask you, have you tried grilled cheese with sharp cheddar, bacon bits and green onions? Of course you have, who hasn't? I love those things, they are the bomb. And that's what goes inside my poppers, with the addition of cream cheese. Yep, turkey stuffing (here is your bread), cheddar, crispy bacon and green onions. With that kind of goodness inside I don't think a popper can get any better. This is THE Jalapeno Popper! Made this way, they are very filling too. You get your carbs, fiber, fat and protein. Eat 4-5 of these and you are full. Seriously, we eat these as a meal, not as an appetizer.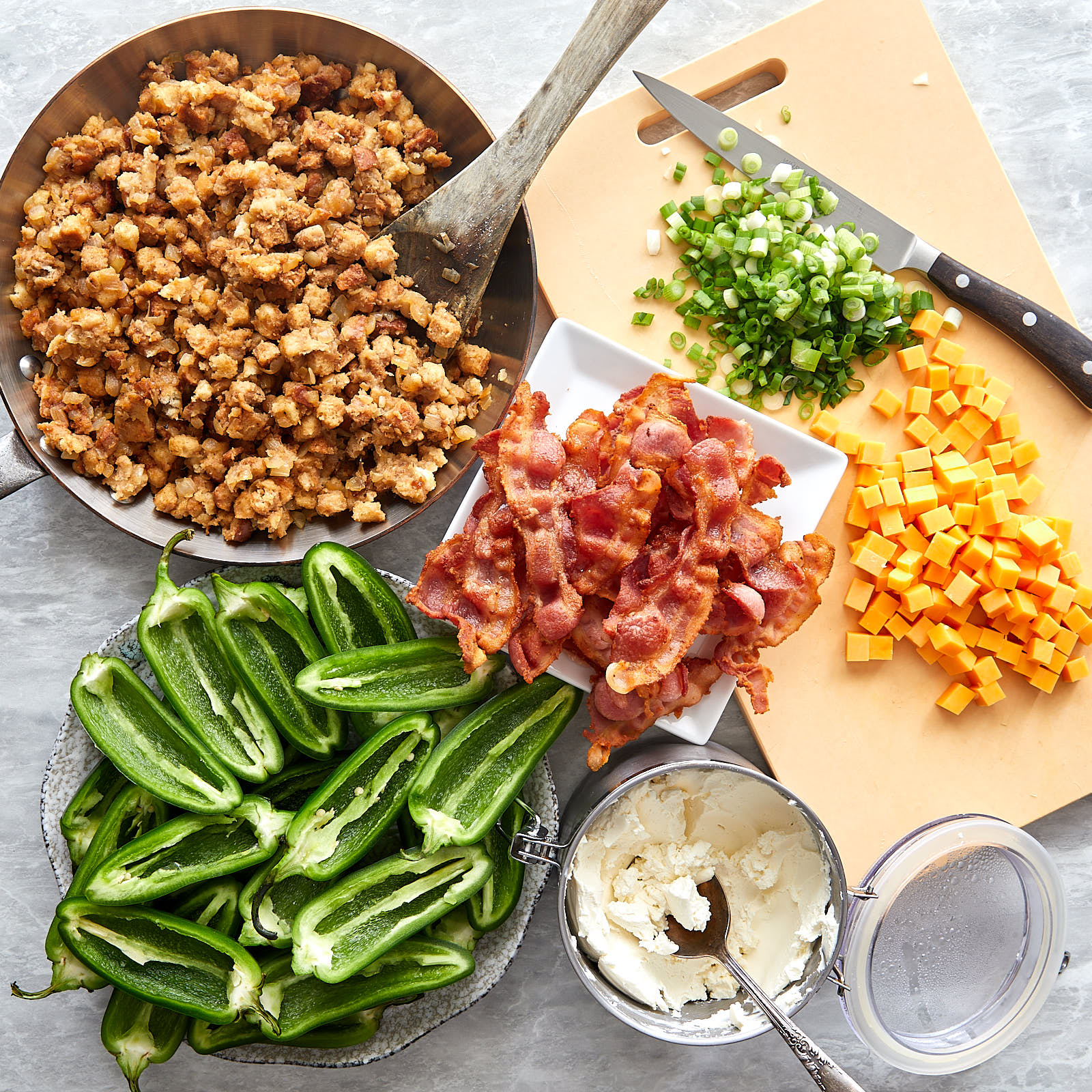 In the oven, baked at 400F for 40 minutes (yes, that long as they are loaded), the tops will crisp up, producing amazingly crunchy bits of bacon and bread. All the while the inside will be soft, moist, plump and cheesy. The poppers will explode in your mouth with intense flavor and amaze you with the contrast of soft and crispy textures.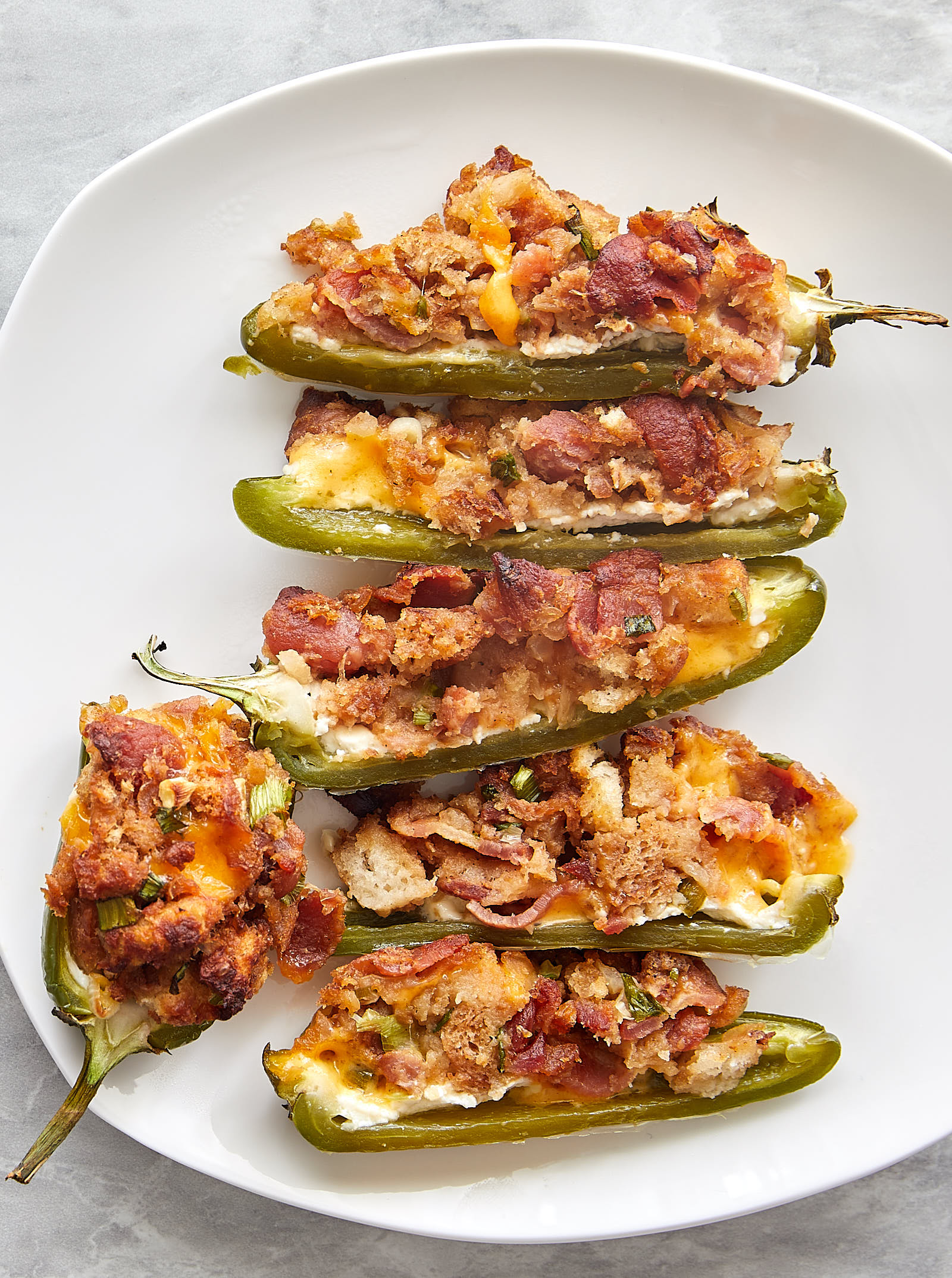 Of course, feel free to experiment and substitute or add your favorite ingredients to come up with your own baked jalapeno poppers supreme. There is no right way to make them.
Enjoy!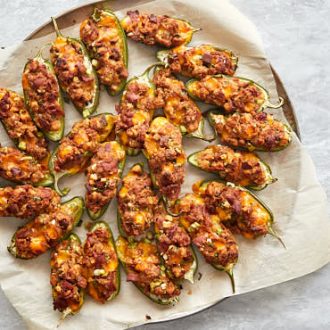 Baked Jalapeno Poppers Supreme
Print
Pin
Rate
Total Time:
1
hour
10
minutes
Ingredients
12

jalapeno peppers, large

(or 16 medium size)

5

cups

turkey stuffing

(heaping)

2

cups

sharp cheddar cheese, diced

(about 1/2 lb)

1 1/4

cups

green onions, chopped

(about 8 medium onions)

18

strips of bacon, fried and chopped

(about 2 cups)

3

oz

cream cheese
Instructions
Preheat oven to 400F.

Wearing food gloves, rinse the peppers, slice in half, remove the membranes and the seeds. Place in a bowl with cold water and set aside.

Prepare the turkey stuffing and set aside to cool.

Fry up 18 strips of bacon and place on a platter lined with paper towels to drain the fat. Once the bacon has cooled down, break into about 1/2" pieces.

Finally, chop the green onions, dice the cheddar and fetch some cream cheese.

In a large bowl, mix together the turkey stuffing, bacon bits, cheddar and green onions. We are now ready stuff the peppers.

First smear about a teaspoon of cream cheese into each pepper half. If you like, you can add more. There is nothing wrong with that.

Take a small handful of the stuffing and shape it into a small sausage, about the length of the peppers. Press into a pepper half. Repeat until you done.

You will likely run out, or have to much stuffing. No worries, you can always scoop up a little bit of stuffing from bigger and fatter pieces to cover the shortage. Leftovers can be added evenly to the peppers or you can just eat them, they taste awesome.

Bake on the middle rack for 40 minutes or until the tops a nicely brown and the cheese has melted.

Enjoy the popper fresh hot out of the oven but be careful, they will be very hot initially.
You may also like:
The Ultimate Smoked Bacon Wrapped Jalapeno Poppers