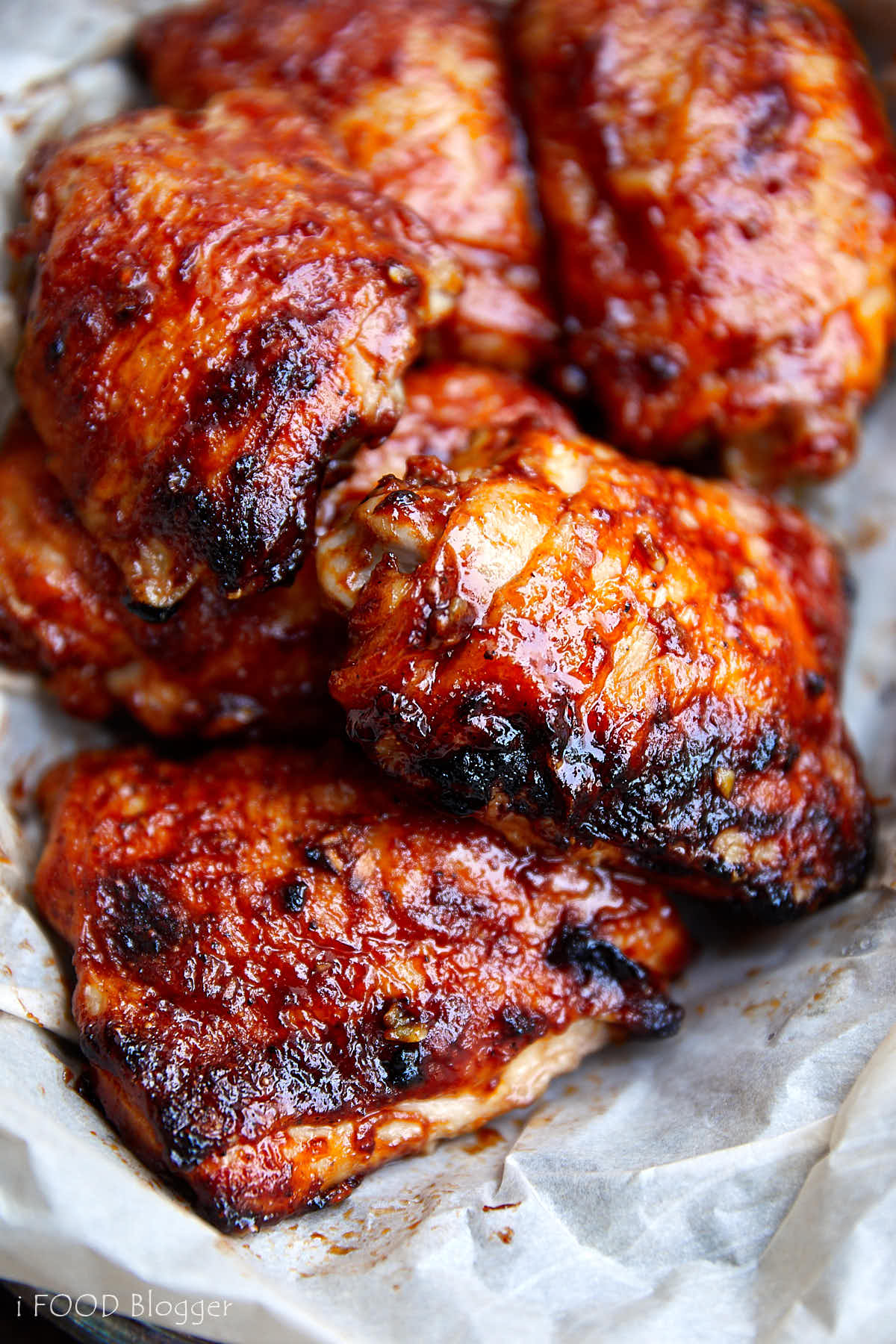 These are absolutely the best baked BBQ chicken thighs I've ever made or tried anywhere. They are fall-off-the-bone tender and juicy inside, covered by a layer of crispy skin, which in turn is covered by deliciously caramelized, in some spots even slightly charred, BBQ sauce. It's hard to believe that they are not grilled. Only lack of smoky flavor is what really gives away the fact that these chicken thighs are baked. Needless to say, when I make these tasty morsels they just disappear in the blink of an eye. People forget about side dishes, salads, bread and just munch on these chicken thighs, until they are gone. You can't blame them.
How to make the best baked BBQ chicken thighs?
Making great tasting BBQ chicken thighs in the oven may seem like a simple thing, but it's not. Just slapping some tasty BBQ sauce on some thighs and baking them won't do the trick. You really need to build the layers of flavor and texture to get those amazing BBQ chicken thighs. That said, once you know a few tricks, the process becomes as easy as pie.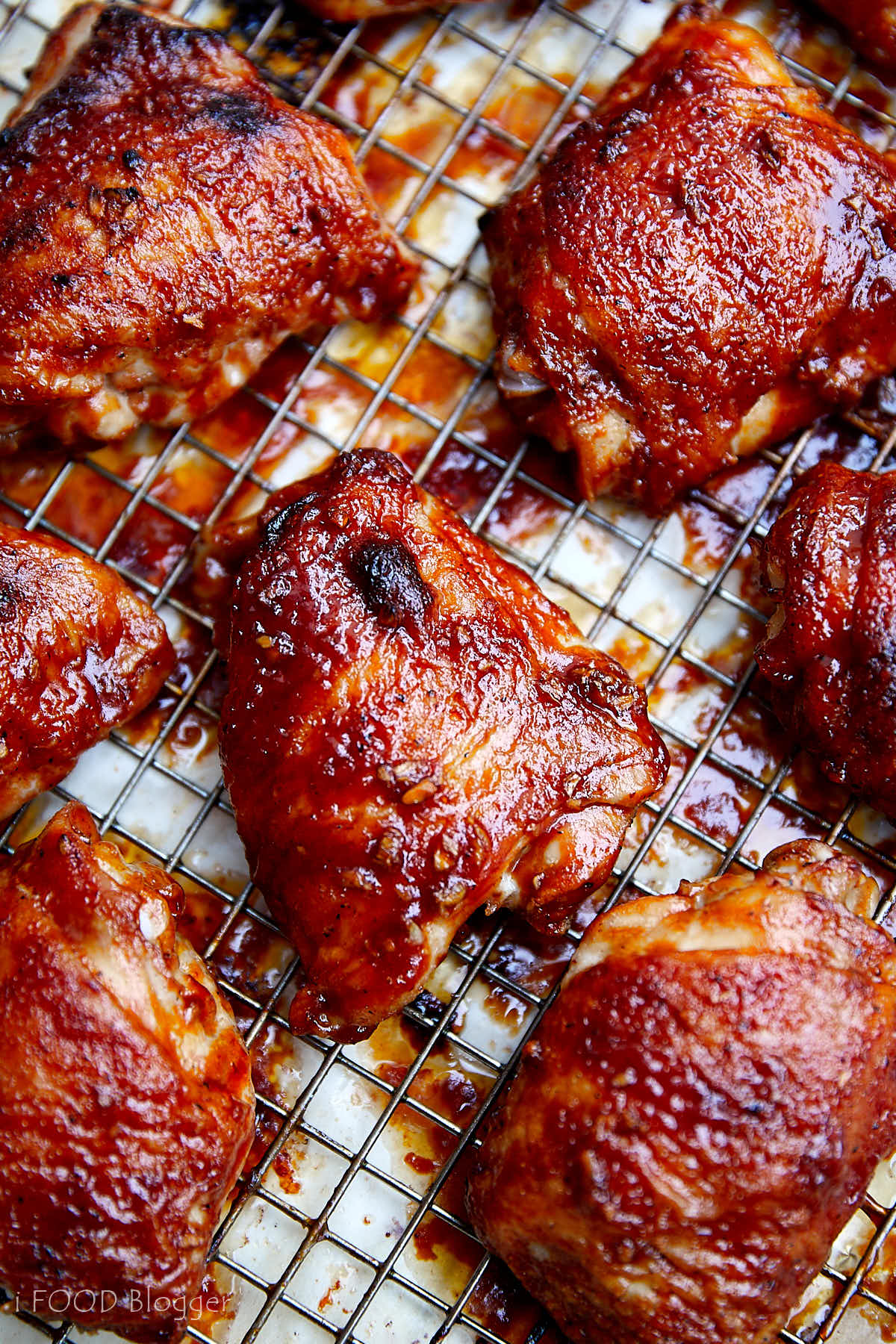 First, you need to bake the thighs on convection at a very high heat. This will do two things – the thighs will cook quickly, resulting in a very juicy meat, while the skin will be nicely browned and crisped up. Using a little bit of baking powder will help get an even crispier skin. According to Cook's Illustrated, tossing chicken thighs with baking powder and salt helps break down the proteins within the skin, as well as aiding in browning. So, do not skip that baking powder. I've used it on wings and thighs before and it works like magic.
Second, once the skin is nice and crispy, you brush the thighs with the BBQ sauce and bake again for a short while. What this does is it thickens and caramelizes the sauce, making it more intensely flavored and tastier. Cooking on convection helps with caramelization of the sauce, creating some charred spots here and there. This makes chicken thighs taste almost like grilled ones.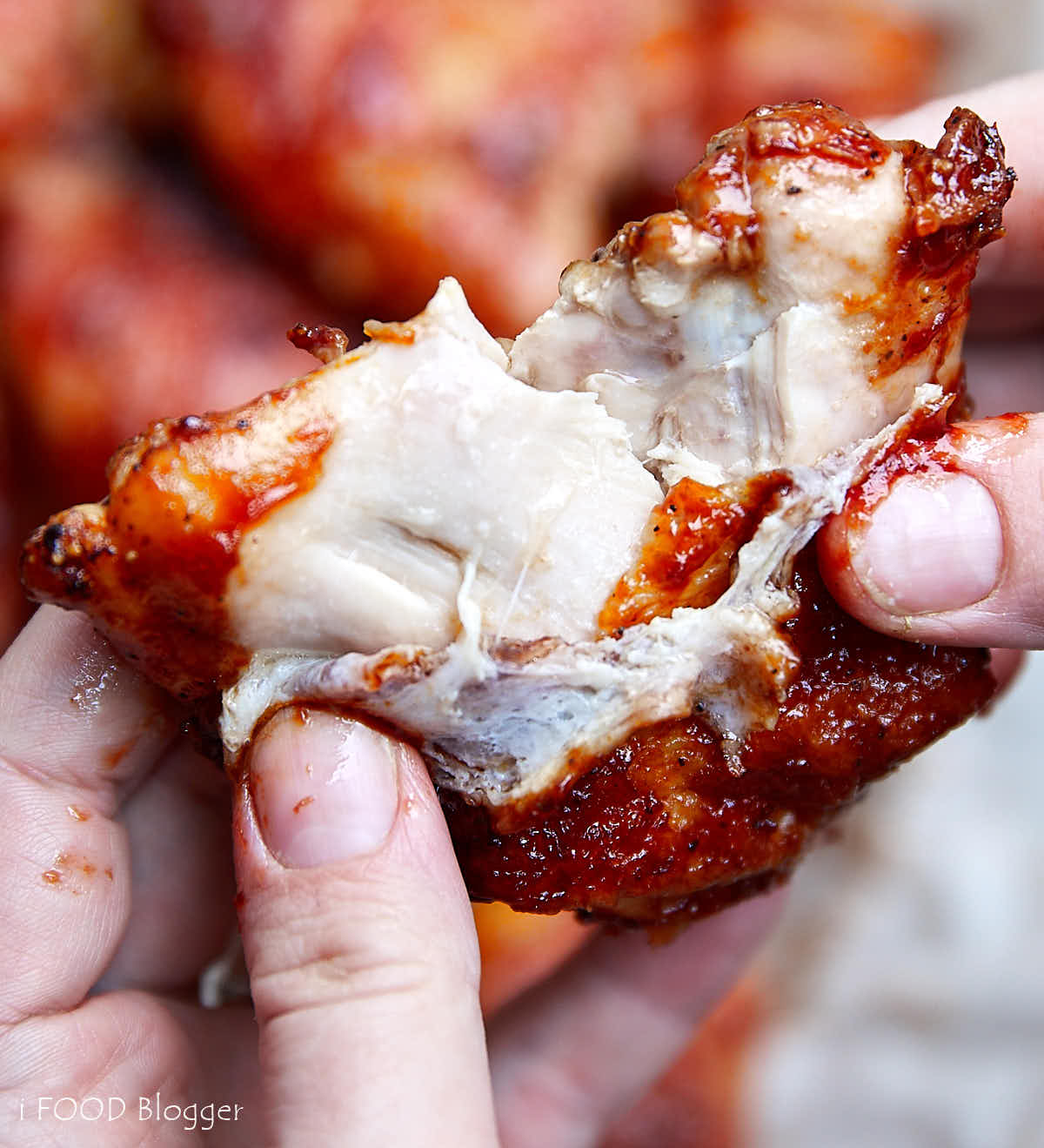 That's all there is to it. It's not exactly simple but it becomes very easy once you know the process.
Looking for more great chicken thigh recipes? Check these out: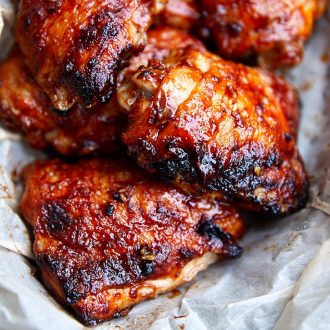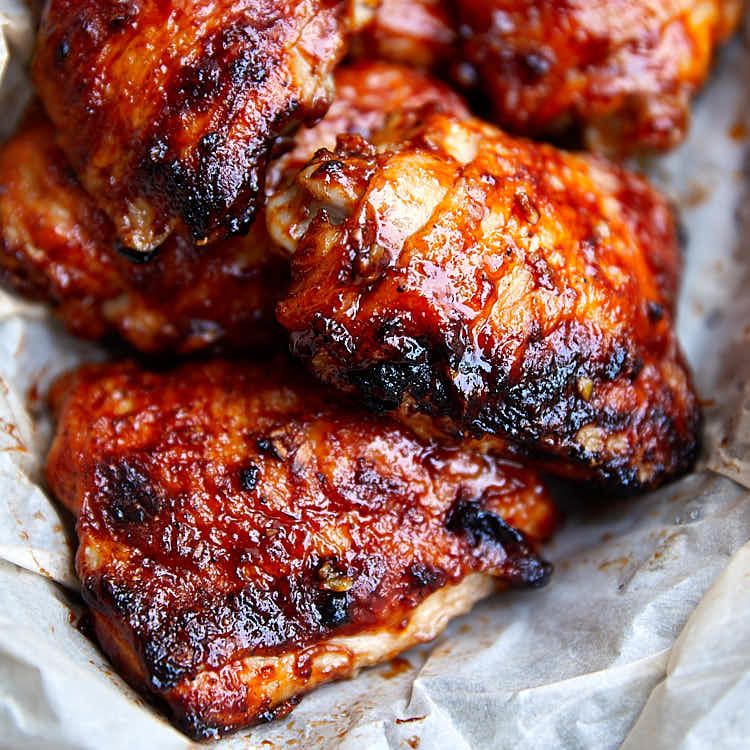 Baked BBQ Chicken Thighs
Ingredients
12

bone-in, skin-on chicken thighs

1

Tbsp

baking POWDER

(do NOT use baking soda, it's NOT the same)

2

tsp

kosher salt

1

tsp

black pepper
For the BBQ sauce
3/4

cup

BBQ sauce

(you can go up to 1 cup if you like more BBQ sauce)

1/4

cup

hot sauce

4

cloves

garlic

(pressed)
Instructions
Preheat oven on 450F convection for 20 minutes.

Sprinkle salt, pepper and baking powder over the chicken thighs. Gently rub the thighs with your hands to evenly spread the seasonings.

Arrange the thighs on a baking sheet, lined with foil and fitted with a cooling rack. Using a cooling rack is optional but will help with keeping grease off the thighs.

Bake the thighs at 450F convection for 20 minutes. The thighs should be browned and have a crispy skin.

Combine the BBQ sauce, hot sauce and pressed garlic in a large bowl. Add cooked chicken thighs and toss. Transfer back to the baking sheet and bake for an additional 10 minutes at 450F convection.

Remove the thighs from the oven and serve immediately with your favorite side dish.
Nutrition Facts
Baked BBQ Chicken Thighs
Amount Per Serving
Calories 563
Calories from Fat 333
% Daily Value*
Total Fat 37g 57%
Cholesterol 221mg 74%
Sodium 1582mg 66%
Potassium 770mg 22%
Total Carbohydrates 17g 6%
Protein 37g 74%
* Percent Daily Values are based on a 2000 calorie diet.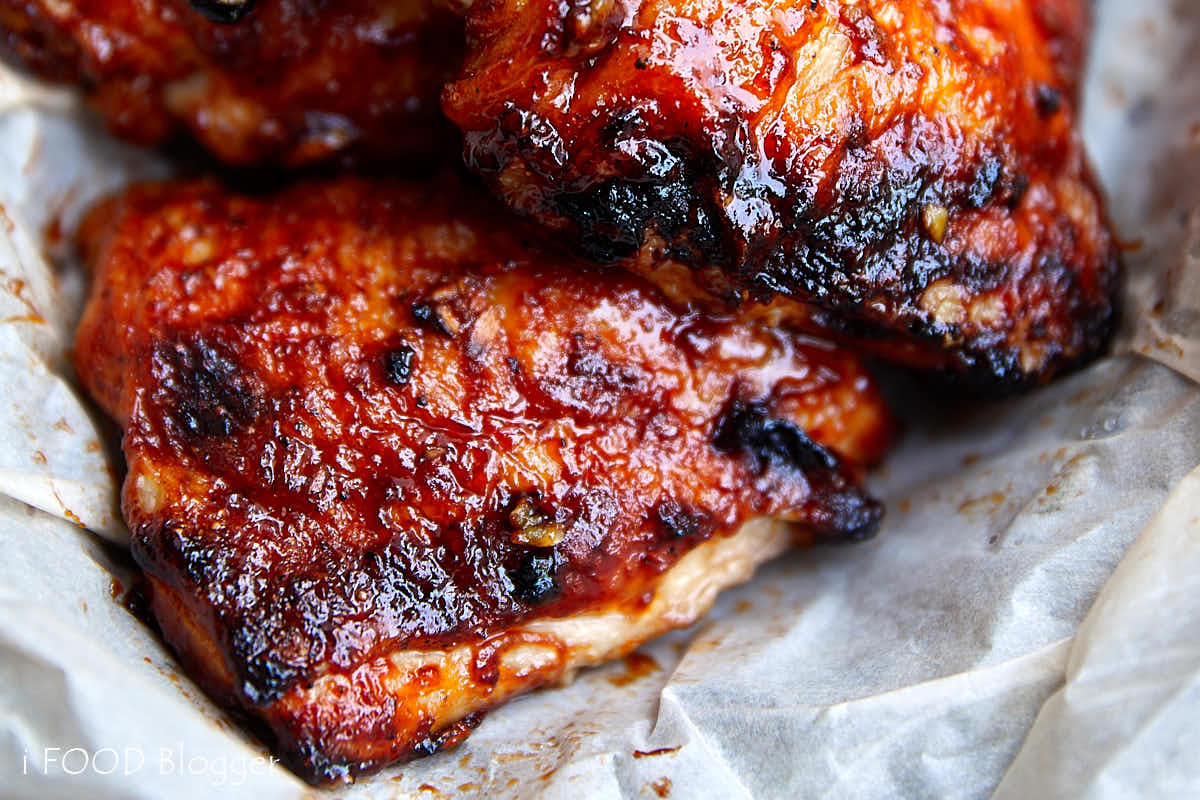 © 2018 i Food Blogger. All rights reserved. All images and content on this website are copyright protected. Please do not use my images, as is or modified, without an explicit permission. If you wish to republish this recipe or post content, please rewrite it in your own unique words and link back to this post, or to ifoodblogger.com. Thank you!