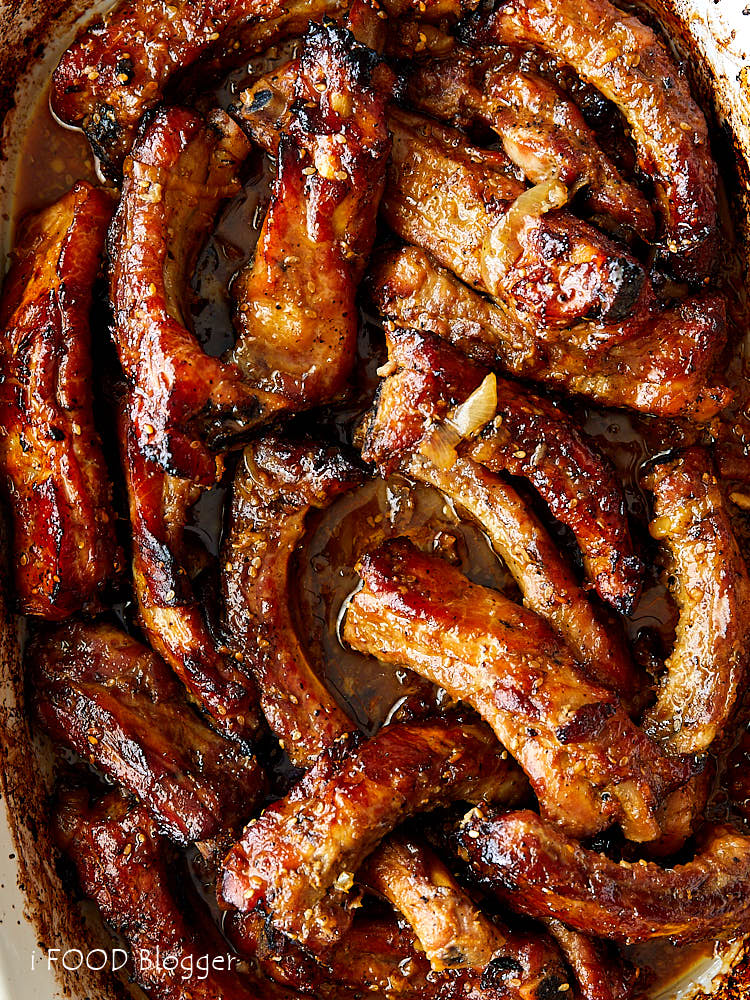 These baby back ribs are an eye candy, and they taste just like they look – amazing! They pack so much flavor that they will make everyone hungry, even your neighbors as the tantalizing aromas will travel far outside your kitchen.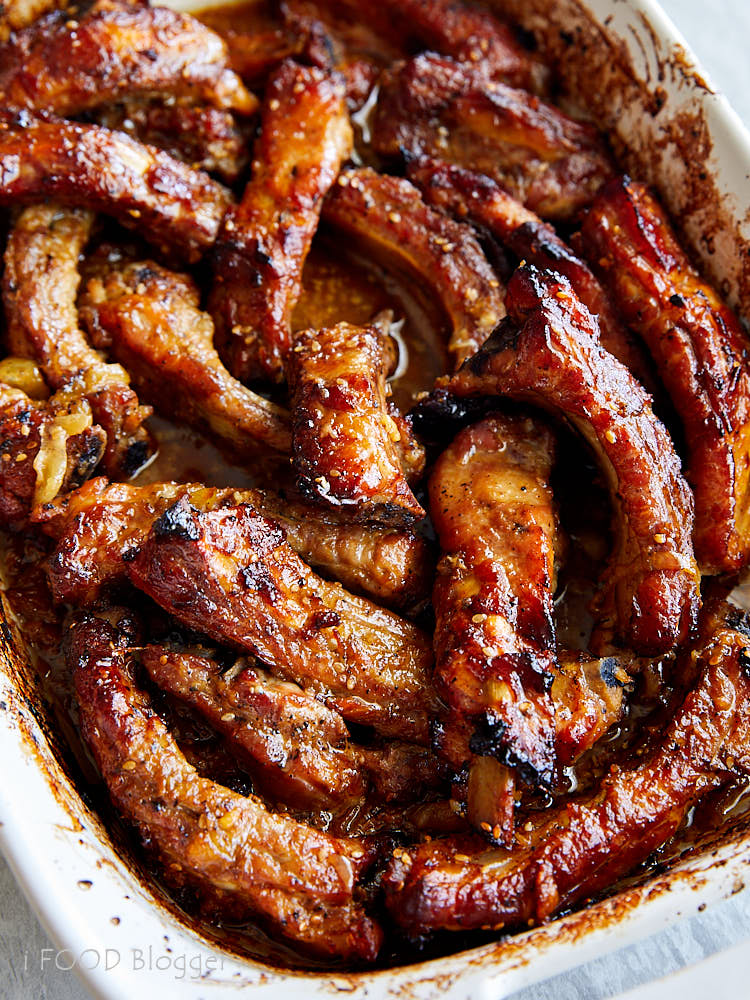 I love baby back ribs. I will pick them over any other pork cut any time. Smoked, baked, grilled or roasted, they always seem to have just the right amount of flavor, juiciness and tenderness. Roasted baby back ribs are my new addiction.  I love the texture of roasted back ribs, and the glaze I use on these ribs. Few ingredients can compete with honey-garlic heavenly sweet and savory flavor profile. Honey will also caramelize during roasting, resulting in a beautiful, dark amber color.  And with that color comes a ton of flavor.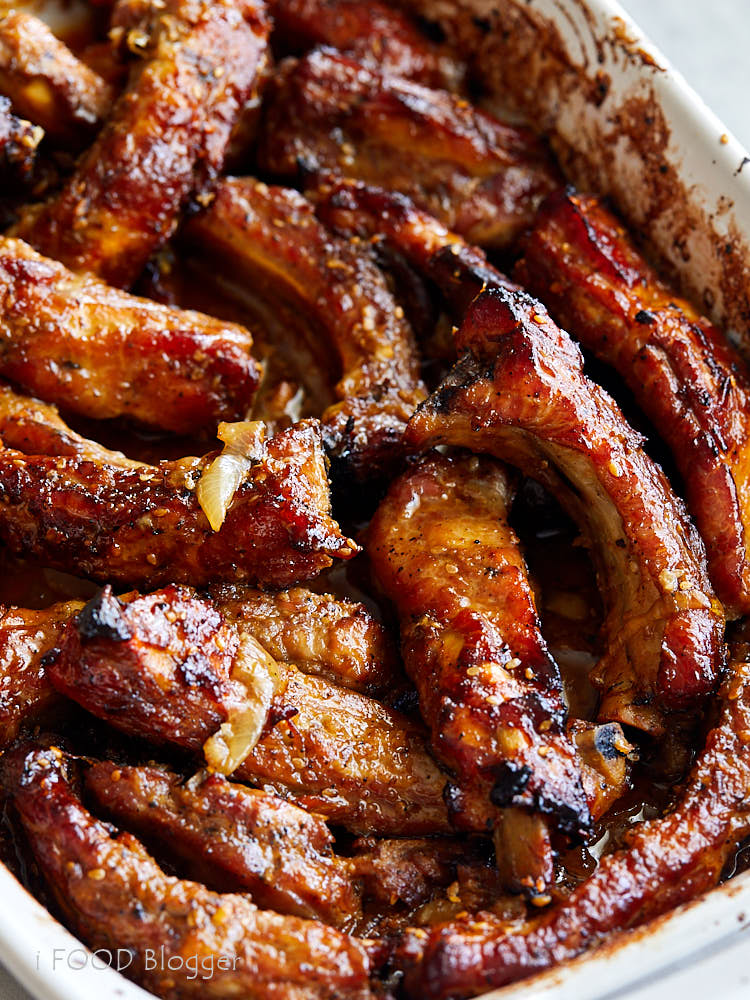 I find that the best way to roast baby back ribs is to cook them first covered with foil, about 90 minutes, then roast them uncovered to full doneness, until the meat starts to fall off the bone. Foil keeps the released moisture inside the baking dish, and the steam helps cook the ribs faster.
Cooking baby back ribs at 350F for 3 1/2 hours may seem like a bit much, but trust me on this one, the ribs will be perfectly fine. A lower temperature, and I've tried that, won't give you the same level of caramelization. You won't get the same flavor without it. Baste the ribs with pan juices every 30 minutes or so, keep the ribs submerged in juices as much as you can and the meat will be moist and succulent. I've never had anyone complain and that's the best indicator to me.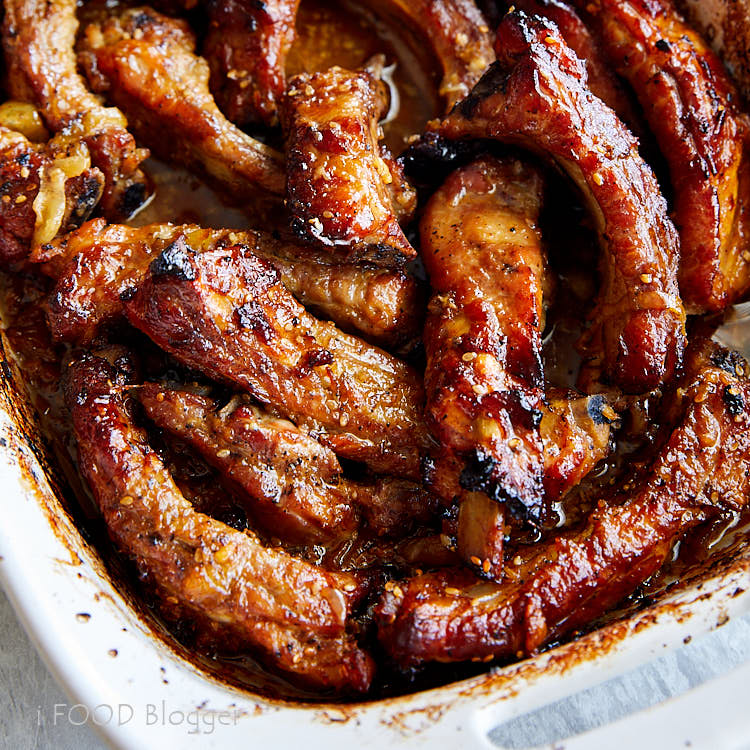 Enjoy!
Honey Garlic Sesame Roasted Baby Back Ribs Recipe
Baby back ribs, covered in honey-garlic-sesame glaze, slowly roasted in oven for hours until a beautiful dark amber color and fall-off-the-bone tenderness is achieved.
Print
Pin
Rate
Ingredients
2

racks of baby back ribs

1

Tbsp

olive oil

1

large onion

(sliced 1/4 inch thick)

Kosher or sea salt

pepper
For glaze
1

Tbsp

sesame seeds

(plus more for garnish)

1

Tbsp

sesame oil

10

cloves

garlic

(minced)

5

Tbsp

honey

Kosher or sea salt

(to taste)
For garnish
fresh chopped parsley

(optional)

1

Tbsp

sesame seeds

(optional)
Instructions
Preheat the oven to 350 degrees.

Prepare the ribs by removing the membrane and cutting the rib racks into individual ribs. You can, of course, leave the racks uncut, but it will be so much easier later to not deal with cutting hot ribs. And the cutting will in no way affect how the meat cooks. If anything, you will get more of that caramelized, tasty surface.

Place the ribs in a large oven-safe baking dish and sprinkle liberally with salt. Add about 1 teaspoon of black pepper, 1 tablespoon of oil and the sliced onion. Carefully toss the ribs with your hands making sure the oil and the seasonings are evenly distributed. Cover the dish with foil and bake for 90 minutes.

Meanwhile, stir together the honey, sesame seeds, sesame oil and minced garlic. Set aside.

Remove the pan from the oven, take off the foil.

Add the honey-garlic mixture and toss with two wooden spatulas or spoons. Keep any accumulated juices in the dish, they will help to keep the ribs moist. After tossing, move the ribs around so that as much of them are submerged in the juices as possible. Return back to the oven and continue baking for another 30 minutes, uncovered.

Remove the dish from oven, stir the ribs and taste the liquid in the baking dish for salt. Add more if needed. Return to the oven

and bake for another 30 minutes.

Remove the ribs from the oven, stir again and bake for another 30 minutes. The ribs should be perfectly done by this time. If you want them to be browned a little more, bake for another 30 minutes.

Remove the ribs from the oven, sprinkle with more sesame seeds and fresh chopped parsley, stir and let rest for 5 minutes before serving.