While salsas made from red tomatoes can be found throughout Mexico, especially in central Mexico, it is the green salsas made with tomates verdes that prevail in most of the country. This simple salsa, known as salsa verde or tomatillo salsa, with its bright and tart chile flavor is a fantastic addition to any grilled meat and many other dishes. You can also serve it as a delicious appetizer with tortilla chips.
The best tool for making tomatillo salsa
If you have ever traveled to Mexico's less touristy markets and tried their gorditas and quesadillas with that hot sauce on top, the first question that probably came to your mind was how they made that sauce. It's so good! You ask the vendor that question and the answer is that the sauce was made using a molcajete. You can't help but buy a molcajete to take home with you.
What makes a molcajete so special for making salsa? Well, the volcanic rock they are made of does not impart any flavor to the salsa like the reactive metal or plastic does. Molcajete helps grind the seeds and fibers and extract flavors and oils that no food processor or blender can. Not without turning the salsa into puree. The texture of the salsa coming out of the molcajete is superb. It's not mushy, slightly chunky, with enough liquid and very flavorful. It's just perfect. Once you try salsa made with a molcajete you can't go back to a blender or a food processor. This is what happened to me.
Buying a molcajete
When buying a molcajete, make sure to get an authentic Mexican one, made of lava rock. You can try local Mexican markets, or online. Amazon sells several authentic molcajetes, such as this Hand Carved Mexican Molcajete, as does Mexican Grocer – Black Lava Stone Mortar & Pestle Molcajete.
Unfortunately, there are many fake molcajetes being sold both in Mexico and in the US, made of a mix of lava rock and cement. Fake molcajetes typically have signs of being molded, are lighter in color, have very tiny pores and have more defined contours. Needless to say, they are not made for cooking and can only be used as ornaments. Cement is toxic and you will never get rid of cement grit in your food as it's not as hard as lava rock.
Other tools for making tomatillo salsa
Now, making raw tomatillo salsa in a molcajete will be very difficult and I would suggest using a hand blender for that. Toasted tomatillos and other vegetables will be much softer than their raw counterparts, and will be much easier to grind in a molcajete.
If you don't have a molcajete yet but want to get as close to the authentic taste as possible, I suggest you use a combination of a mortar and pestle, as well as a hand blender. Using a mortar and pestle, turn salt, garlic, onions and chiles into a paste to get as much flavor extracted as possible. Then use the hand blender to grind the tomatillos. You want a slightly chunky texture that you would get from a molcajete. I find that a hand blender allows for best control to achieve that. That said, you can also use a food processor or a regular blender, just make sure not to over-process, or you won't have that chunky texture you would get from a molcajete.
Tomatillos
The farther you live from Mexico the greater the chance of getting less fresh tomatillos at your store. When picking tomatillos, pull the husks back and inspect them. They should be firm to the  touch and their surface should be shiny, smooth and without wrinkles. While this kind of tomatillo will give a nice bright and tangy flavor, the wrinkly, soft tomatillos will impart an unwanted bitter flavor.
Beware the heat
The first time I made a traditional tomatillo salsa I could barely eat it, and I love spicy food. Traditional salsa verde is hot. Extremely hot. If I were to put just a teaspoon or two on a quesadilla or a steak it would be great, but for eating with tortilla chips, which is what I often do, it's way too hot for me. It may be too hot for many people who can't tolerate spiciness.
While different types of hot chile may be used to make tomatillo salsa, such as chile de arbol (tree chile), serrano chile, jalapeno chile, serrano chile is the most commonly used. When picking serrano chiles for your salsa, pay attention to the color. Chiles that are red in color are fully ripe and are very hot. Green colored serrano chiles are less hot. Both can and are used to make tomatillo salsa.
So, when making your tomatillo salsa you may want to take the following approach to avoid spicy surprises:
Pick green serrano chiles over red ones
Start with half a serrano pepper. Finish making your salsa verde, taste, then add more if needed, or
Remove seeds and veins from the chiles first because that's where the extreme hear mostly is. Set them aside Then, when your salsa is finished, taste it. If you feel more heat is needed, mince some of the veins and seeds and add a little at a time until the desired degree of spiciness is achieved. When you do this, make sure to wear gloves.
If your salsa is hopelessly hot, just make another batch without chiles and mix the two together to arrive at the right degree of spiciness. Don't try to dilute it with water, sour cream or cream (yes, I've seen people do that), that will ruin the integrity of the salsa.
This sounds like too much work, but you really have to do this once. After that you will already know how many serrano chiles to use for your taste.
Raw Tomatillo Salsa – Salsa Cruda de Tomate Verde
Salsa verde is so famous in Mexican cuisine that many variations have been developed to capture different ranges of flavors. The raw versions of tomatillo salsa highlight the freshness of the ingredients used in their preparation. The ingredients are not toasted on a pan or a comal, and are thus full of bright and tangy flavors.
This kind of tomatillo salsa can often be seen in restaurants in Mexico City, served as an appetizer and accompanied by chips and bread.
Authentic Tomatillo Salsa Recipes
Raw Tomatillo Salsa Recipe
Print
Pin
Rate
Ingredients
10 to

matillos

500 gr

3

serrano chiles

36 gr

1/4

white onion

35 g

1

garlic clove

4 g

A small bunch of cilantro

30 gr

1/2

teaspoon

kosher salt

plus more to taste
Instructions
Rinse cilantro and chop finely with a knife. Set aside.

Place tomatillos, serrano chiles, white onion and garlic in a bowl and blend with a hand blender. Do not completely liquefy, you should end up with some texture. Use a regular blender or a food processor if you don't have a hand blender.

Add the cilantro and the salt and mix well with a spoon.
Notes
Three serrano chiles will result in a very spicy salsa. If you want less heat, use green serrano chiles which are less spicy than the red ones, reduce the number of chiles to one, and/or remove membranes and seeds from the chiles, that's where most of the heat is.
Roasted Tomatillo Salsa
Roasting tomatillos, garlic and serrano chiles is very common when making tomatillo salsa. This gives the salsa a deep, rich flavor. Personally, I find that such salsa also has less brightness and tanginess compared to raw tomatillo salsa. This is my favorite way to make tomatillo salsa. I also like my roasted tomatillos ground extra chunky.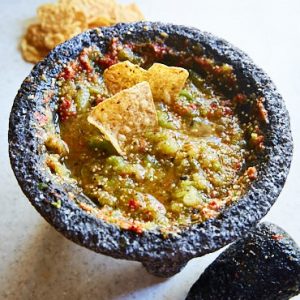 Authentic Tomatillo Salsa Recipes
Roasted Tomatillo Salsa Recipe
Print
Pin
Rate
Ingredients
1

lb

tomatillos

2

garlic cloves

1/4

white onion

3-5

serrano chiles

1

tsp

kosher salt

1

small bunch of cilantro
Instructions
Remove husks from the tomatillos and rinse them to get rid of the the stickiness. Rinse the serrano chiles. Peel the garlic cloves (you can also roast the garlic unpeeled and then peel after roasting.

Preheat a cast iron pan over medium-high heat. Optionally, line the pan with aluminum foil. This will save you a bit of cleaning afterwards. Place the tomatillos, onion, chiles and garlic on the pan and roast, frequently turning, until they are nicely browned on all sides and softened up. Garlic gets soft the fastest so you will have to remove it first. Then the chiles. Then the onion. Tomatillos will need a lot more turning and toasting until they can be removed. Tomatillos will turn from green to brownish-yellow color when they are done. Place the veggies in a plastic Ziploc bag to have them sweat and continue softening up more. Ideally, you would want to keep the tomatillos in the bag for 20 minutes. Soft tomatillos will be very easy to grind in a molcajete.

In a molcajete, grind the salt and the garlic into a paste.

Add the chiles and continue grinding until the chiles turn into a paste.

Then add the onion and grind it down into a paste.

Finally, add the tomatillos, one by one, and grind until you have achieved the desired consistency. You want to have some chunks left for the salsa to have an interesting texture.

At the end, add the juice from the Ziploc bag, then the chopped cilantro and mix together.
Notes
If you don't have a molcajete, try to replicate the texture to get as close to that authentic taste as possible. For that, do the following:
1. Grind the garlic, onion and chiles into a paste using a mortar and pestle.
2. Using a blender, a hand blender or a food processor, pulse the tomatillos until they are blended just enough to have some chunks left. I find that a hand blender works the best for this task, followed by a food processor, and then a regular blender.
3. Now, mix all of the ingredients in a non-reactive bowl with a spoon and serve.
Tomatillo Salsa Martajada
This is a variation of the Roasted Tomatillo Salsa, in Spanish called Salsa Martajada de Tomate Verde.  It only uses three ingredients and salt. But don't be fooled by the simplicity of the recipe – this salsa is very flavorful and goes particularly well with grilled meats.
Be reminded that chiles de arbol are about as spicy as serrano chiles. So, go slowly the first time you are making this salsa to make sure it doesn't come out too spicy for your taste.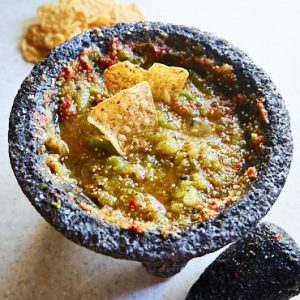 Authentic Tomatillo Salsa Recipes
Tomatillo Salsa Martajada
Print
Pin
Rate
Ingredients
10 to

matillos

about 1 lb

5

chiles de arbol

or to taste

2

cloves

garlic

unpeeled

1/2

tsp

kosher salt

plus more to taste
Instructions
Remove husks from the tomatillos and rinse with cold water.

Heat a comal or a cast iron pan, lined with foil, over medium-high heat. Add tomatoes, peppers and garlic clove. Roast, turning a few times ensure even browning. Remove the peppers when they have toasted but not burned. Let the tomatoes and the garlic burn slightly. Remove from the pan.

Peel the garlic and place in a molcajete. Add the salt and grind to a consistency of a paste.

Add the chilies to the molcajete and grinds to a paste.

Add the roasted tomatoes and grind gently to leave some chunks behind.
Tomatillo Salsa from Camp San Miguel
Ok, this is just another variant of tomatillo salsa but because it was adapted from Mexican Flavors: Contemporary Recipes from Camp San Miguel book, the name I gave it was inspired by the book.
This salsa is inherently less spicy as it only uses one serrano chile pepper and one poblano chile, which is about 25-30 times less spicy than a serrano chile on the Scoville scale. Still, remember to go slowly the first time you are making this salsa. According to the author, in this recipe, the roasted poblano chile deepens and lengthens the flavor of the salsa.
Authentic Tomatillo Salsa (Salsa Verde) Recipes
Prep time:
Cook time:
Total time:
Tomatillo Salsa from Camp San Miguel
Ingredients
8 small green tomatillos, husks removed
1 poblano chile
3 cloves garlic, peeled
1 serrano chile
1/4 cup packed fresh cilantro, leaves and tender stems
1/2 teaspoon salt
Instructions
In a dry, cast iron pan, lined with aluminum foil, over medium-high heat, lightly char the tomatillos. It is impossible to brown the tomatillos on all sides, so brown them on the tops and bottoms and on a few places on their sides. Char the poblano and remove the blackened skin. Then discard the seeds and stem. Cut the tomatillos into quarters. In the same cast iron pan over high heat, lightly brown the garlic and serrano chile. Cut the garlic and the chiles a few times so they are in slightly smaller pieces.
Place the poblano chile, tomatillos, garlic, serrano, garlic mixture (including the seeds), cilantro, and salt in a blender. Blend until smooth.
Alternatively, finely chop the salsa ingredients by hand for a more interesting texture. Taste and adjust the seasonings for salt. This salsa can be stored for 3 days refrigerated in an airtight container. Bring to room temperature before serving.
Notes
An excellent variation is the addition of a finely diced avocado, used in place of or in addition to the poblano.[br][br]While the author recommends blending the ingredients in a blender or finely chopping them (probably because of the assumption that most readers would not have a molcajete), I highly recommend grinding the ingredients in a molcajete as described in the recipes above. The difference in texture and flavor profile is worth the effort and expense of buying a molcajete.
Links:
Salsa Verde Cruda
Roasted Salsa Verde
Salsa Martajada