I love trying authentic recipes, though I can't say I always like them. Having grown up being accustomed to certain textures, tastes and flavors, we can't always fully appreciate foods that are new and different. Homemade guacamole, thankfully, just like the Authentic Tomatillo Salsa, is not one of them for me.
I've tried many authentic Mexican homemade guacamole recipes, each one had something special about it, but this one in particular stuck with me and I keep coming back to it, over and over again. My family loves it so much that we make almost weekly. We can't have enough of it.
The recipe is so simple that you memorize it the first time you make it – two tomatoes, two cloves of garlic, two avocados, one serrano chile, juice of one lime, one teaspoon of kosher salt and a quarter of a white onion. Roast the tomatoes, garlic, serrano chile and onion. Grind in a molcajete, add avocado, grind a bit more, then add lime juice. Stir and enjoy with some tortilla chips.
All ingredients in this homemade guacamole seem to play so well with each other that they all blend together perfectly well and no single component overpowers the other.
My favorite thing about this homemade guacamole, bar far, is the depth of flavors brought about by grinding garlic, chile and onions with salt to a paste-like consistency before mixing with tomatoes and avocado. You can't replicate those flavors in a food processor or a blender – I tried and failed miserably. You must use a molcajete, an ancient mortar made of black lava rock, which allows you to grind seeds and fibers down so fine as to extract every bit of hidden flavors.
If you don't have a molcajete, go get one, it's inexpensive and is totally worth it. In Mexico molcajetes are passed down from generation to generation. They only get better with use.
When buying a molcajete, make sure to get an authentic Mexican one, made of lava rock. Local Mexican stores carry them. Online you can try Amazon – for example this Hand Carved Mexican Molcajete, or Mexican Grocer – Black Lava Stone Mortar & Pestle Molcajete.
Be careful not to buy a fake molcajete made of a mix of lava rock and cement, which is toxic and should not be used with food. Fake molcajetes normally show signes of being molded instead of carved, have well defined edges and much smaller pores.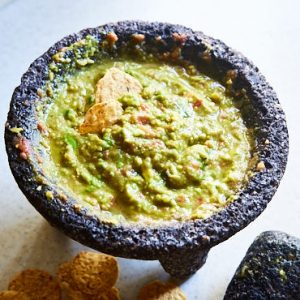 Ingredients
2

red tomatoes

like plum tomatoes

2

garlic cloves

¼

white onion

1

green serrano chile

membrane and seeds removed for a mild version

1

tsp

kosher salt

plus more to taste. I like 1-1/2 teaspoons of kosher salt

2

avocados

Juice of one lime
Instructions
Preheat a cast iron pan or a

comal

over medium-high heat. Optionally, line the pan with aluminum foil. This will save you a bit of cleaning afterwards. Place the tomatoes, garlic, onion and the chile on the pan and roast, frequently turning, until they are nicely browned on all sides and softened up. Garlic and chiles normally get soft and slightly charred first, so remove them as soon as they are done. Then the onion. Tomatoes will need a bit more turning and toasting until they get soft and can be removed.

Wrap the toasted veggies into foil and set aside for about 10 minutes to continue softening up.

In a molcajete, grind the salt and the garlic into a paste.

Add the chile and continue grinding to a very fine, paste-like consistency.

Then add the onion and continue grinding until it turns into paste. If you like your onions chunky, chop them with a knife and add to the molcajete at the very end, together with the lime juice.

Remove skin from the tomatoes, add to the molcajete and grind until you have achieved the desired consistency. You want to have some chunks left for the salsa to have better texture.

Now, peel the avocados, remove pits and add to the molcajete. Smash the avocados until they are mostly blended with the rest of the ingredients, with some chunks remaining.

Add juice of one lime and stir.

Check for salt and add more if needed.
Links:
Guacamole en Molcajete
Una Forma Basica de Preparar un Rico Guacamole