Vietnamese spring salad rolls are one of my favorite Asian foods. I love how minty, refreshing and flavorful they are. When I crave those flavors but don't have the time to spend making individual rolls, I make a salad. I call it a Vietnamese style Asian quinoa salad. It's ridiculously good!
What makes this salad so incredibly good is the flavored soy sauce, whose recipe I adapted from The Slanted Door: Modern Vietnamese Food. By the way, if you like Vietnamese cuisine, this book is a must have. It's full of interesting, proven recipes that the author uses at his San Francisco restaurant named The Slanted Door.
The original recipe is heavy on sugar and uses light soy, which is very salty. I modified it to use low sodium soy and two tablespoons of white sugar instead of 3/4 cup. The original flavored soy sauce is great for dipping spring rolls, I love using it with spring rolls, but a less sweet and less salty version is better suited for a salad dressing.
I chose to use Napa cabbage as the base for this salad, though red leaf lettuce, commonly used to make spring salad rolls, is just as good.
Fresh coriander and lemongrass are great companions to fresh mint in this salad. They add a ton of unique flavor that can't be replicated by any other ingredients. Especially the lemongrass. I find that all three work really well together and don't overpower each other.
This quinoa salad is great as is, but you can add cooked shrimp or thinly sliced cooked beef for more protein.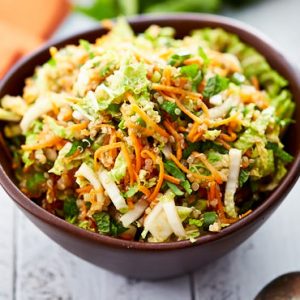 Ingredients
1

cup

quinoa

(uncooked)

3

cups

red leaf lettuce or Napa cabbage

(shredded)

1

cup

carrots

(shredded)

1/2

cup

fresh mint

(finely chopped)

1/2

cup

fresh coriander

(finely chopped)

1

Tbsp

lemongrass

(finely sliced)

1/2

cup

scallions

(finely sliced)
For the dressing:
1/2

cup

low sodium soy sauce

2

Tbsp

white sugar

3

Tbsp

distilled vinegar

2

cloves

garlic

(minced)

1

Thai chile

(stemmed and minced, optional)
Instructions
To make the dressing, combined the soy sauce, vinegar and white sugar in small bowl. Stir until sugar is dissolved. Add the garlic and Thai chile, stir until well combined.

Prepare quinoa as instructed on the package, let cool to room temperature.

In a large bowl, combine quinoa, red leaf lettuce (or Napa cabbage), carrots, mint, coriander, scallions and lemongrass. Add 2 tablespoons of the dressing and mix well. Taste and add more dressing as needed. I find that that 2 tablespoons is generally enough.
Notes
1 Thai chile with membrane and seeds will make the dressing quite spicy. For more spiciness use two Thai chiles. For less spicy dressing use one Thai chile, membrane and seeds removed.
Note: sodium content is based on two tablespoons of dressing per entire salad.