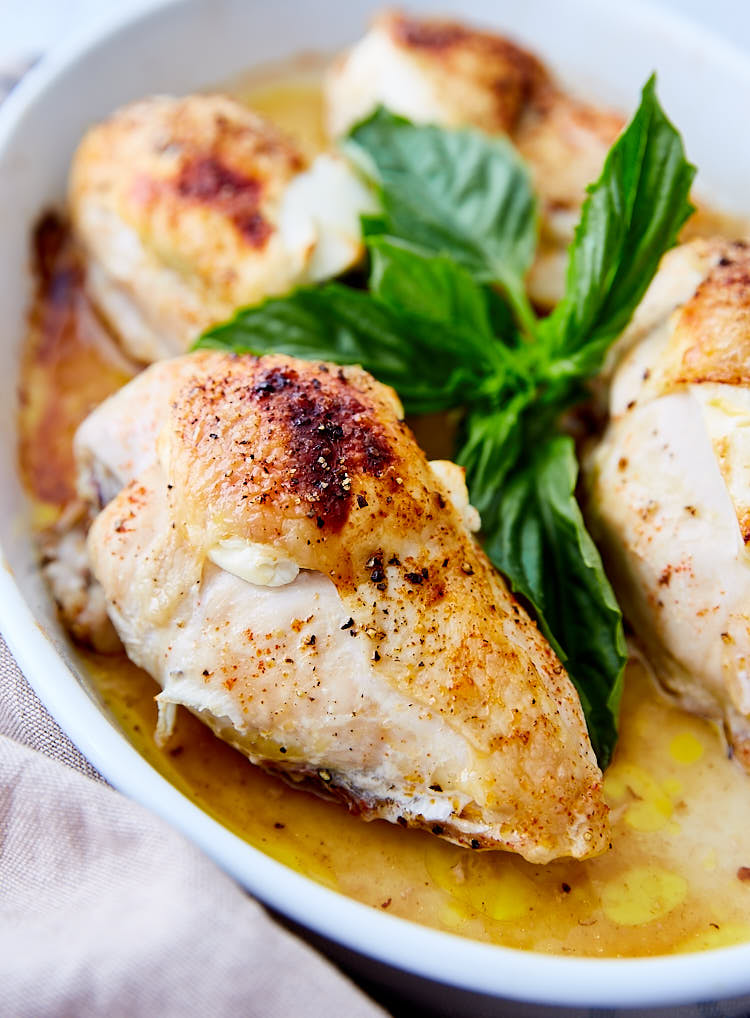 This baked chicken breast with goat cheese and basil is one of the most delicious chicken breast recipes I've ever tried. Goat cheese adds a wonderful tang and creaminess to the otherwise plain and boring white chicken meat. It makes the chicken texture 100 times more enjoyable. Once you try eating chicken breast with goat cheese you will likely be doing it again and again. It's that good. Goat cheese and baked chicken breast are a match made in heaven. The best part about this recipe is that all it needs is three ingredients. Not including salt, pepper and olive oil, that is.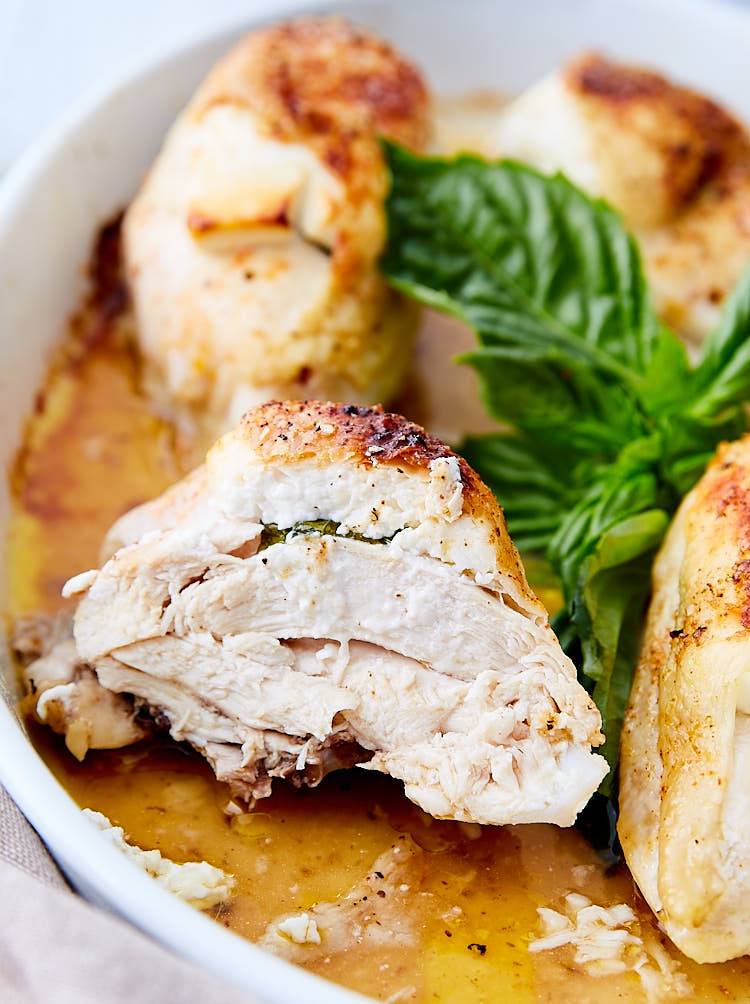 For this recipe to work you really need to use skin-on chicken breasts as the goat cheese goes under the skin. You can, of course, stuff the cheese inside the breast but that would be an entirely different recipe. That crispy skin on top makes the chicken breast much more flavorful and appetizing. You don't need to make it crispy but I recommend that you do as who doesn't like a nice crispy skinned chicken?
To get that golden brown skin you will need to use your broiler. I've experimented with different baking temperatures to get the skin to brown nicely but the moisture from the chicken flesh and the goat cheese just won't let that happen at lower temperatures and at higher temps the meat texture would suffer. Broiling fixed the problem. Just make sure you start broiling about 5 minutes before the chicken is done. I do it when the internal temperature reaches about 150F.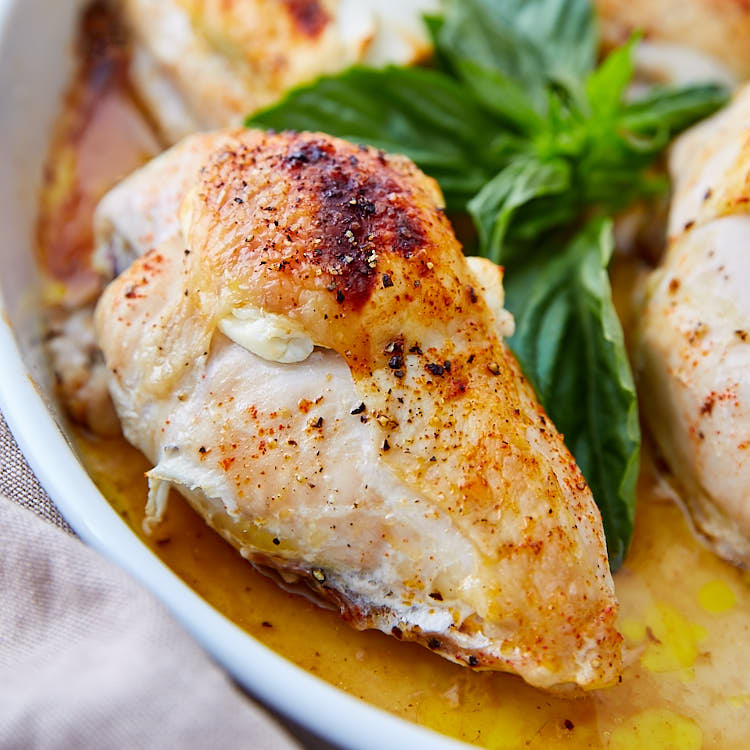 Recipe adapted with some some adjustments and tweaks from Ina Garten's Chicken with Herbed Goat Cheese recipe.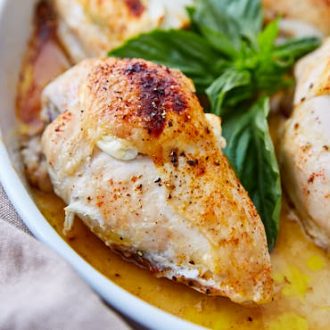 Baked Chicken Breast with Goat Cheese and Basil
Print
Pin
Rate
Ingredients
4

bone-in skin-on chicken breasts

8

ounces

goat cheese

(Montrachet goat cheese with garlic and herbs recommended)

14

fresh basil leaves

(2 per chicken breast plus more for garnish)
For the seasoning:
1

tsp

kosher salt

(1/4 tsp per chicken breast. Add more if needed)

Freshly ground black pepper

( 2-3 turns per breast)

2

Tbsp

olive oil

(good quality)
Instructions
Preheat oven to 375F.

Arrange chicken breasts on an oven-proof baking dish or a baking pan. Loosen the skin from the meat with your fingers such that you have 2 sides attached. Slice the goat cheese into 8 thick pieces. Place 2 basil leaves, then two pieces of goat cheese under the skin of each chicken breast. Rub each piece with olive oil and sprinkle with kosher salt and freshly ground black pepper.

Bake the breasts for about 35-45 minutes, until the internal temperature reaches 160F. You may want to finish by turning on the broiler for a couple of minutes to better brown and crisp up the skin. I usually turn on the broiler (on high) once the internal temperature of the chicken reaches 150F. Make sure to watch the chicken closely as the skin will brown fairly quickly. If that happens before the chicken is done, turn off the broiler and move the baking dish a couple of positions down.

Remove from the oven and let rest for 5 minutes to allow the meat re-absorb some of the lost moisture before serving.
Notes
Note 1 - Finding Montrachet goat cheese with garlic and herbs can be challenging. Regular goat cheese works very well too. You can also substitute goat cheese for feta cheese or cream cheese. I tried both and they work very well. Note 2 - The original recipe is ambiguous with regard to salt and pepper and recommends to "sprinkle generously with salt and pepper". The first time I made this recipe I ended up over-salting. I find that 1/4 tsp of kosher salt and 2-3 turns of black pepper per breast is sufficient. You may increase or decrease the amounts if needed. Note 3 - The original recipe calls for one large basil leaf per breast. I doubled basil for more flavor. Note 4 - Have leftovers? Shred the chicken meat, combine with a little bit of goat cheese you may have left over and a smidgen of mayonnaise and you've got yourself an awesome sandwich spread for next day's lunch.
Nutrition
Calories:
522
kcal
|
Protein:
48
g
|
Fat:
35
g
|
Saturated Fat:
14
g
|
Cholesterol:
141
mg
|
Sodium:
904
mg
|
Potassium:
412
mg
|
Vitamin A:
16.2
%
|
Vitamin C:
0.3
%
|
Calcium:
9.9
%
|
Iron:
13.4
%
Looking for more great baked chicken breast recipes? Check these out: