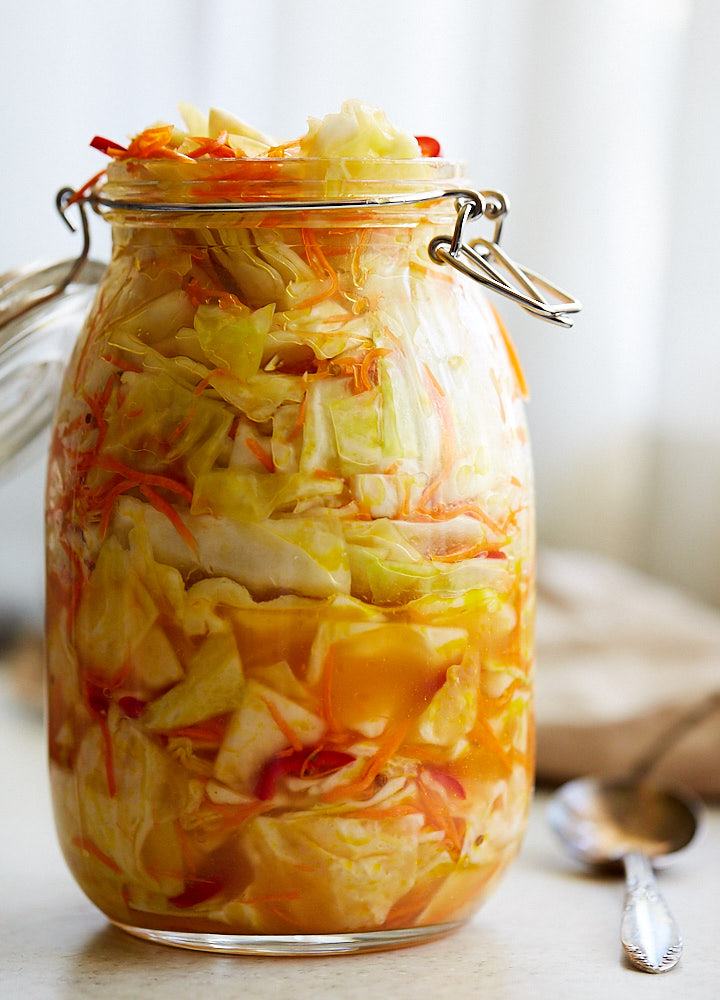 Crunchy, slightly spicy, sweet and tangy, this pickled cabbage is a great accompaniment to meats but can also be had on its own as a substitute for salad. It's delicious and packs a lot of vitamins at only 100 calories per cup. The best part is that it only takes 20 minutes to make so you can make it pretty much any time, even if you have very little time to spare. Every time I serve it to my guests I get a lot of compliments and a good amount of surprise when they learn how quickly it can be made.
I particularly like this crunchy cabbage with roasted, baked or broiled chicken breasts. The pickling juices are great as a sauce so don't leave them out. Pour some over your side dish – rice or potatoes – and you will know what I mean. That sweet and tangy taste will make any side dish taste much better.
For more spiciness double or triple the number of hot red chili peppers. Chili pepper seeds and the membrane is where the real heat is, so leave them in if you want some extra heat. Jalapeno peppers can also be used in this recipe but start with one de-seeded pepper and see how you like it. You can always add more later if desired.
Coriander adds a lot of aromatics in this recipe. You can use black pepper as well but the dominant flavor should be coriander. I suggest using finely ground coriander instead of whole or lightly crushed one as it is less noticeable while you enjoy your pickled cabbage. Those dry shells can be quite annoying if not ground down.
Enjoy!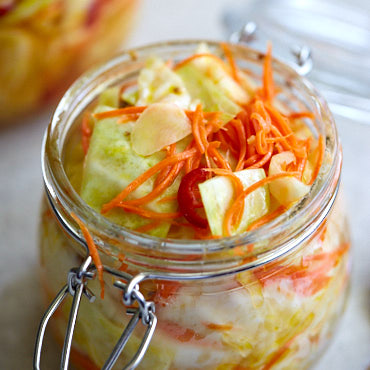 20-Minute Pickled Cabbage Recipe
Serves: 14 loosely filled cups
Print
Pin
Rate
Ingredients
1000

g

cabbage

(2.2. lbs, cut into about 1-inch squares)

2

carrots

(large, shredded)

6

garlic cloves

(very thinly sliced) (see note 1)

1

red chili pepper

(seeds removed and thinly sliced)

100

ml

olive oil

(1/3 cup + 1 Tbsp)

100

ml

water

(1/3 cup + 1 Tbsp )

200

ml

white vinegar

(3/4 cup + 1 Tbsp, 5% acetic acid)

50

g

honey

(2-1/2 Tbsp )

2

level Tbsp

kosher salt

(or sea salt)

1

tsp

coriander seeds

(very finely ground)
Instructions
Mix the cabbage, shredded carrots, garlic, hot pepper and coriander and transfer into a 2 qt jar, packing tightly.

In a small sauce pan, bring the water, olive oil, vinegar and salt to boil. Stir to dissolve the salt. Add the honey, stir and bring to boil again.

Pour the hot pickling marinade over the cabbage then toss the cabbage with two large spoons. You can enjoy the cabbage immediately. Cover the rest with a lid and let cool to room temperature then refrigerate. It will only get better and better from then on.
Notes
Note 1 - Fresh garlic adds a lot of flavor but if you are worried about your breath leave the garlic out or denature it before adding in. Denaturing garlic is a simple process of heating it up to 140F to deactivate the enzymes responsible for the peculiar pungent aroma. It can be done in a microwave (I zap it on high for 10 seconds or so) or by blanching in hot water for a minute or so. Note 2 - Pickled cabbage can be stored in a refrigerator for up to 2 weeks or even longer but will get more sour (starting to resemble sauerkraut) with time.
Nutrition
Serving:
1
cup
|
Calories:
101
kcal
|
Carbohydrates:
8
g
|
Protein:
1
g
|
Fat:
7
g
|
Saturated Fat:
1
g
|
Sodium:
75
mg
|
Potassium:
164
mg
|
Fiber:
2
g
|
Sugar:
5
g
|
Vitamin A:
31.1
%
|
Vitamin C:
38.4
%
|
Calcium:
3.6
%
|
Iron:
2.7
%
Also see:
Marinated Zucchini with Garlic and Fresh Herbs
Marinated Shredded Carrot Salad
Marinated Eggplant and Tomatoes
Pickled Turnips